Definitive Ranking of Sidney Crosby Rookie Cards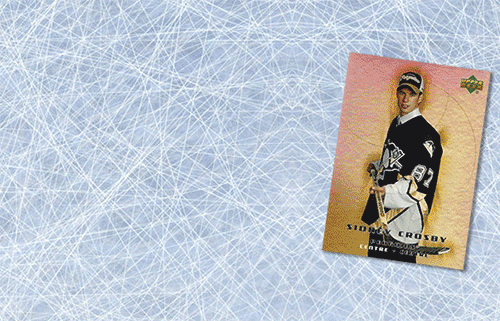 By Ryan Cracknell | Hobby Editor
One of the greatest players of his generation, or any generation, all Sidney Crosby rookie cards have a broad appeal. Even in a career that has been slowed by injury, he's a legitimate superstar who has won championships in the NHL and on multiple levels of international play. Equally important, Sidney Crosby is a likable player that kids adore and hockey fans respect — even if they can't admit it openly because they're allegiances reside outside of Pittsburgh.
A total of 19 Sidney Crosby rookie cards exist ranging from the relatively affordable up to five figures for one in the right condition. Crosby's rookies came out in a year that was a dream for hockey card collectors. If there was a bright spot from the lockout that cost the loss of the 2004-05 season, it was the resulting double-rookie class that followed. Even without Crosby, most of these sets have deep checklists filled with several strong rookies. But the presence of Crosby, along with rival Alexander Ovechkin, made it one of the strongest season of sports cards ever.
It also coincided with a turning point in the hobby. 2005-06 marked the launch of Upper Deck's NHL exclusive. It was the first of the major four sports leagues to go this route. The NBA, NFL and MLB have all followed, although hockey had a short non-exclusive window when Panini made NHL cards for four years starting in 2010-11.
Although the initial mania over Sidney Crosby rookie cards has subsided somewhat, there's still plenty of interest in his key cards. All of his rookies would be considered this. Although 19 might seem like a fairly large number, most of Crosby's rookies come with a unique spin that makes them distinct. This might be a theme, the type of stock its printed on or whether it has any premium elements like an autograph.
Delve deep into Sidney Crosby rookie cards as we count them all down from the cheapest to the most valuable.
Most Valuable Sidney Crosby Rookie Cards
Rankings are based on values in the Beckett Hockey Card Price Guide. Only cards with the RC tag, not parallels, inserts or subset cards, are included. Specific values are available to subscribers.
19. 2005-06 McDonald's Upper Deck Sidney Crosby RC #51
The cheapest Sidney Crosby rookie card wasn't sold at local hobby shops (initially). Rather, it probably came with a side of fries or a pop. Throughout much of the 1990s, McDonald's played a big role in the hobby in Canada. 2005-06 McDonald's Upper Deck marked the return of hockey cards to the fast food restaurant following a one-year absence. The reach of McDonald's is huge. That meant widespread availability for both casual and dedicated collectors. It's that supply that keeps prices in check still today. And even though it isn't high-end foil, it still has a bit more of a premium look when put down next to Crosby's other rookies.
Buy on: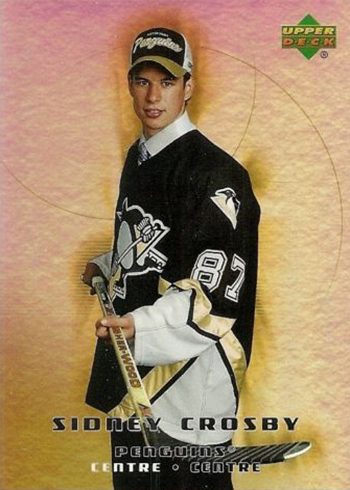 18. 2005-06 Upper Deck Victory Sidney Crosby RC #285
Before you go out and buy packs of 2005-06 Upper Deck Victory to find one, stop. It's actually part of a 100-card update set that was included in 2005-06 Upper Deck Series 2. The main Victory release came out before the start of the regular season and Crosby's debut.
Buy on: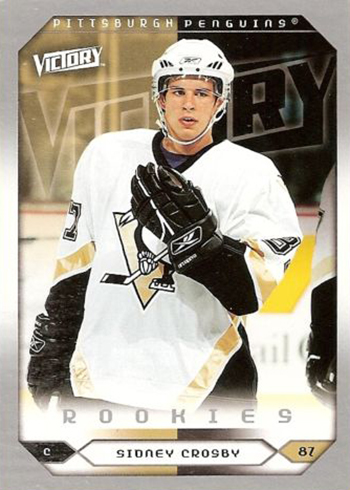 17. 2005-06 Upper Deck Power Play Sidney Crosby RC #133
Although all 2005-06 hockey products still carry a certain amount of heat, Power Play isn't exactly a bonfire. The brand failed to fully catch on and has been largely forgotten. The result for Sidney Crosby's rookie card? It's one of the more affordable ones out there. That said, it's not in packs. It was part of the product's rookie redemption program. They weren't tough to pull, but the offer has long since expired.
Buy on: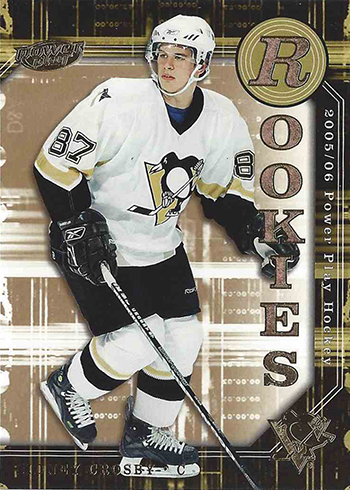 16. 2005-06 Parkhurst Sidney Crosby RC #657
2005-06 Parkhurst Hockey is a product with a massive checklist and a simple configuration. In a lot of ways, it's like what the revamped O-Pee-Chee line became the following season when Upper Deck acquired the brand. As a base-style product, the 2005-06 Parkhurst Sidney Crosby rookie  falls on the affordable end of the spectrum. Rookies are lumped together with a few other subsets to fall one per pack. With 200 total subset cards, it is a short print but because the main checklist is so large, not by a huge amount.
Buy on: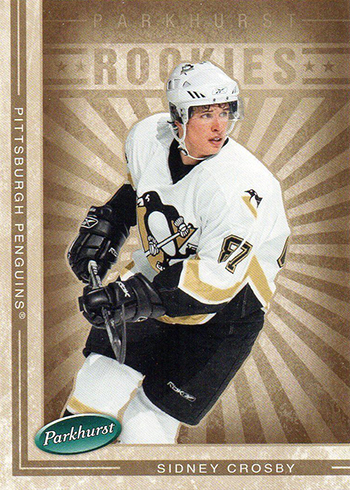 15. 2005-06 Upper Deck MVP Sidney Crosby RC #393
2005-06 Upper Deck MVP Hockey released as a more affordable product for the second half of the season. Rookies are moderate short prints in the product, landing 1:2 packs with nearly 50 to track down. Something that might appeal to some collectors is the presence of a facsimile signature. It doesn't do much to add to the card's value and it's definitely not real, but to a young hockey fan, it might be that bit of personal touch that connects them to Crosby a little more.
Buy on: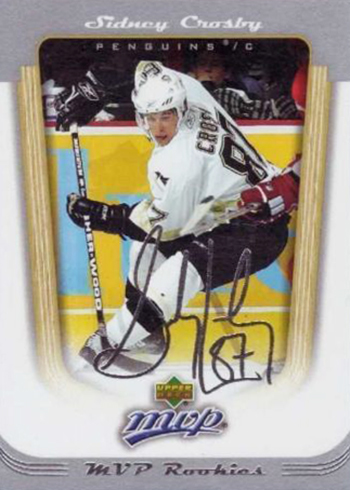 14. 2005-06 Beehive Sidney Crosby RC #101
2005-06 Beehive Hockey was another attempt on Upper Deck's part to tap into the nostalgia market. Overall, though, it was a fairly quiet product. As a brand, Upper Deck's Beehive line lasted just three years with 2005-06 being the middle. Rookies land 1:4 packs. Multiply that by 90 players and individual cards are fairly tough to come across. This adds significantly to the value of the Crosby. One of the interesting things about the set's several parallels is that they all use different images. So it's not just a different color border that differentiates things. The most common of these parallels can be found for roughly the same price or less than Crosby's base card.
Buy on: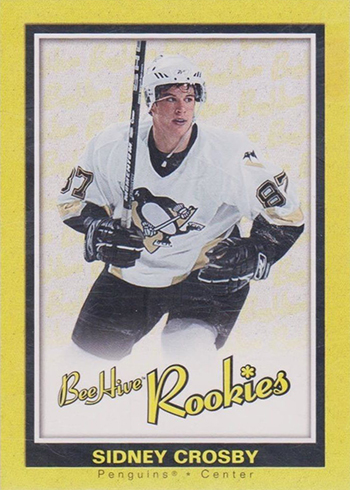 13. 2005-06 Ultra Sidney Crosby RC #251
Here's where short printing cards really comes into play as far as value and Sidney Crosby rookie cards. The first 50 rookies in the product combined to fall a reasonable 1:4 packs. Crosby is one of 21 players to have much tougher odds at one per box. So the odds of landing the Penguins superstar center was 1:21 boxes.
Buy on: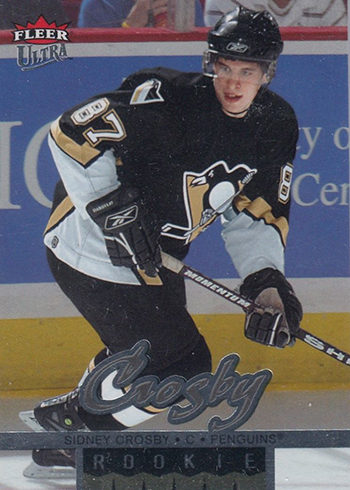 12. 2005-06 SP Game Used Sidney Crosby RC #101 /999
The 2005-06 SP Game Used Sidney Crosby starts a shift into more premium territory. While memorabilia was a big part of the product as a whole, it doesn't come into play on the base cards. The key draw here is the serial number. There's no guessing about how many of the card exist. A total of 999 copies exist. To many in today's hobby, that's not considered small anymore but Crosby was one of those players that brought a lot of people into collecting, some of whom it may have been a brief stay. Today, the card can still be found but not in the same amounts as many of his cheaper rookie cards.
Buy on:
• eBay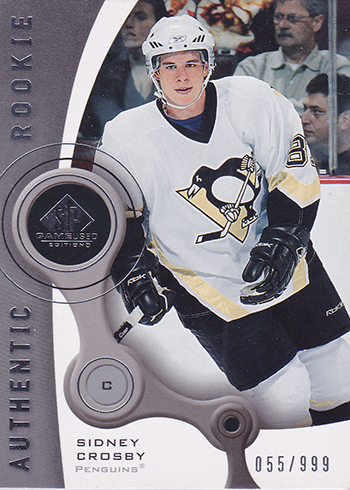 11. 2005-06 Upper Deck Trilogy Sidney Crosby RC #211 /999
2005-06 Upper Deck Trilogy is a hit-heavy product. Like SP Game Used, this doesn't carry over to the main set like more recent versions of the brand where rookie cards are autographed. Crosby's card comes numbered to 999, which puts it in the same ballpark value-wise as SP Game Used. If you're looking to choose between the two, it will likely come down to the foil look of Trilogy and the more traditional, albeit modern, look of SP Game Used.
Buy on:
• eBay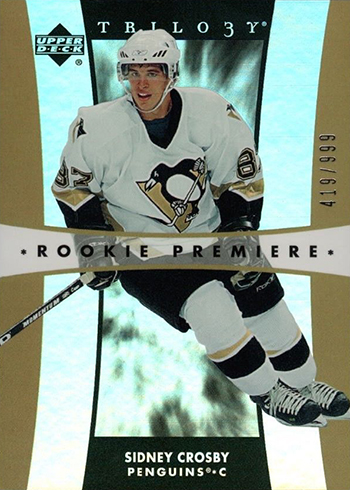 10. 2005-06 Artifacts Sidney Crosby RC #224 /750
2005-06 Artifacts Hockey came out a little too early to squeeze the stellar double-rookie crop into packs. Instead, Upper Deck started a tradition that has become a hallmark for the brand — Rookie Redemptions. They come numbered to 750 copies each. However, because the Crosby isn't live in packs, in the rare instance you come across a box, it's important to know the redemptions expired a long time ago.
Buy on:
• eBay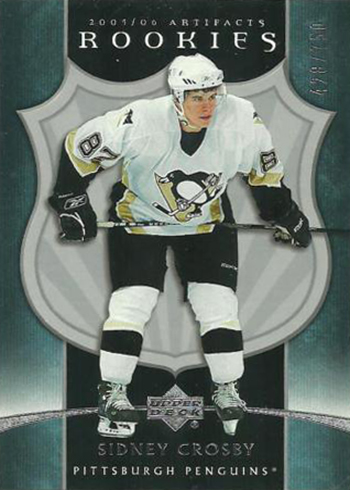 9. 2005-06 Black Diamond Sidney Crosby RC #193
Black Diamond is one of those brands that carved out a following in hockey after not working elsewhere. Even though it's not serial numbered, go to look for on of these Crosby's and you'll quickly discover that there aren't many of them out there and they cost a fair bit. That's because of Black Diamond's tiered structure. Basically, the more diamonds there are, the rarer the card. Crosby is one of 41 players in the main release to get the Quad Diamond treatment, the toughest with just one per box (the checklist was later expanded with new cards that were part of 2005-06 Upper Deck Rookie Update). Besides the rarity of the card, the 2005-06 Black Diamond Sidney Crsby rookie card also comes with a look that sets it apart from his other first-year cards. The etched-foil approach was one of the brand's most distinguishing marks.
Buy on:
• eBay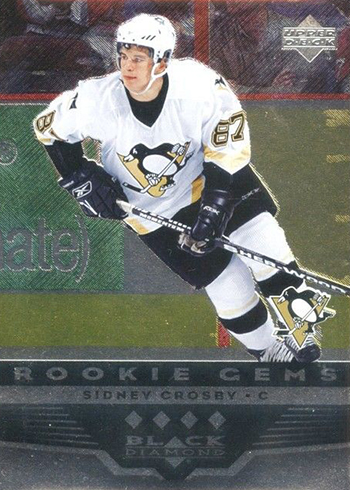 8. 2005-06 Upper Deck Sidney Crosby RC #201 Young Guns
The 2005-06 Upper Deck Young Guns card isn't the most valuable Sidney Crosby rookie card. And it's far from the rarest. Still, it's his most popular one. A handful of high-end cards are worth more, some significantly so. But they mostly too rare and they cross a certain price threshold that puts them out of reach for a lot of collectors. This card hits that sweet spot. It also cemented Young Guns as one of the top subsets in not just hockey but the entire hobby. Found in 2005-06 Upper Deck Series 1 packs, it's a short print but not impossibly so.
Buy on: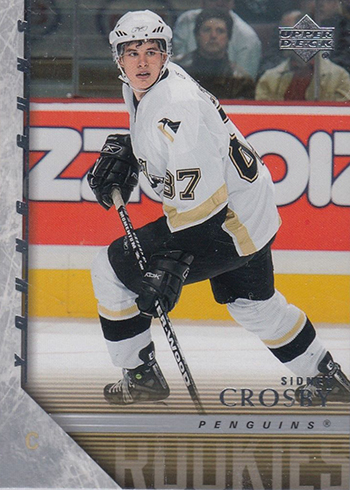 7. 2005-06 SPx Sidney Crosby RC #191 Auto Jersey /499
Sidney Crosby has six signed rookies that are found in base sets. For obvious reasons, none are cheap. On most days, this is the one that's on the lowest of the spectrum. Numbered to 499 copies, it's one of the most plentiful of the autographed Sidney Crosby rookie cards. In addition to the signature, which is on a sticker, it has a big piece of a player-worn jersey. SPx has deep roots in the modern hobby, but as this card demonstrates, some of Upper Deck's other high-end brands supersede it.
Buy on:
• eBay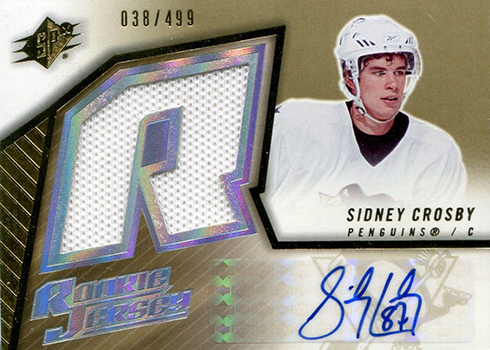 6. 2005-06 Hot Prospects Sidney Crosby RC #276 Auto Patch /199
When you're spending hundreds of dollars on a hockey card, it's tough to call something a value. But this might be the closest thing among Sidney Crosby rookies. Other than The Cup, which runs thousands, this is his only RC with both a patch and an autograph. And with just 199 copies, it ranks among the rarest.
So why isn't it more valuable?
The first is brand power. Upper Deck has brought the brand back in recent years, but it's still not one of their strongest. And the revamped Hot Prospects gets a lot of its identity for being a retro-themed set that focuses on Fleer sets from about 20 years ago. Another reason for this card not being worth more likely has to do with the fact that the signature is on a sticker. Most will agree that an autograph is still an autograph, but there's something premium about having it on-card.
Buy on:
• eBay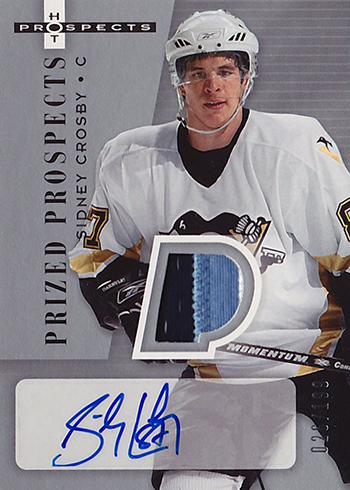 5. 2005-06 SP Authentic Sidney Crosby RC #181 Autograph /999
If there's a card that speaks to the strength of a brand, it's the 2005-06 SP Authentic Sidney Crosby. Part of the Future Watch subset, it has 999 copies. That's not exactly rare by modern standards. And maybe that moderate availability actually helps. Sometimes, a card can be so rare that people don't bother chasing it.
But if you find that space that appeals to player collectors and has a passionate set-building base, interesting things can happen. That's why this card is easily more valuable than other autographed cards with half as many copies (or 80 percent less in the case of Hot Prospects).
SP was Upper Deck original premium brand. From its earliest days, it captured a strong fanbase looking for something a little more upscale. Those set builders stuck around as the brand evolved to what it was here.
This is also one of just three Sidney Crosby rookie cards that's hard-signed, another reason for its appeal and strong value.
Buy on:
• eBay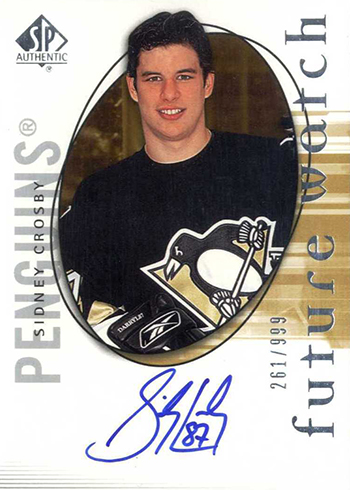 4. 2005-06 Ultimate Collection Sidney Crosby RC #91 Autograph /299
With 299 copies, we're moving into much rarer territory. Add the on-card autograph and the lofty price tag of 2005-06 Ultimate Collection and it's understandable why this card is worth so much.
Buy on:
• eBay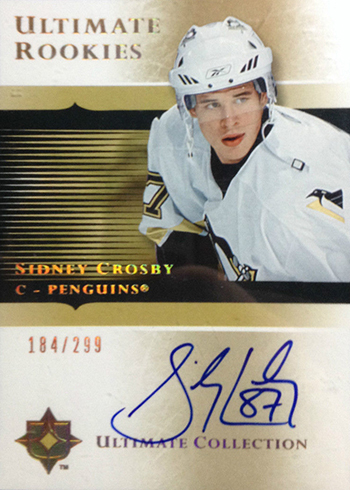 3. 2005-06 Upper Deck Rookie Update Sidney Crosby RC Autograph /199
As a whole, 2005-06 Upper Deck Rookie Update was a product designed to update several existing brands. But it had some new elements. Among them was a base set that paired up rookie signatures with autographs from comparable stars — all except Sidney Crosby. His card, which is numbered to 199, has a signature along with the inscription "2005 #1 Pick."
Both the autograph and the note aren't on-card. They're not traditional stickers, either. Instead, they're done on trapped paper or stock. Done properly, it's a solid alternative to labels.
The combination of the unique signature pairing and the low print run result in one of Crosby's most valuable rookie cards.
Buy on:
• eBay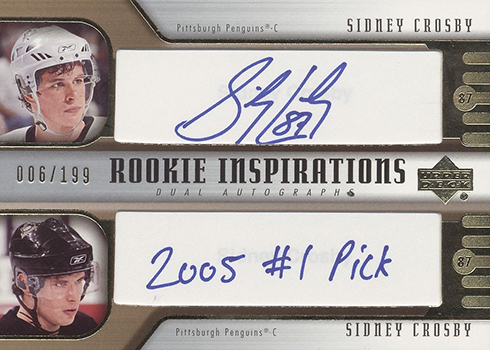 2. 2005-06 Upper Deck Ice Sidney Crosby #106 /99
Autographs are great, but they're not always required to make for a top-line modern card. The 2005-06 Upper Deck Ice Sidney Crosby rookie card is limited to just 99 copies. The minuscule supply matched up with the demand a generational talent brings has made this one of the most coveted modern hockey cards.
It may not add a lot of value, but the fact that the Ice Premieres card is printed on acetate, a clear, plastic-like stock, makes it unique from Crosby's other first-year cards.
Buy on:
• eBay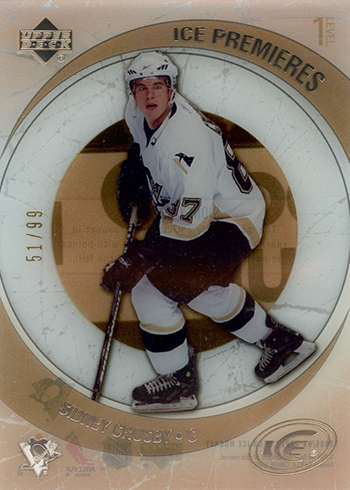 1. 2005-06 The Cup Sidney Crosby RC #180 Auto Patch /99
There's all the superstar's other rookies and then there's The Cup. The 2005-06 The Cup Sidney Crosby rookie card is one of those cards that has an iconic appeal to it. And for good reason. It's tied with Ice for being the rarest Crosby RC. It's signed and it comes with a patch swatch. More than that, it's the focal card for a new product that launched hockey cards into the ultra-premium arena. Much like 2003-04 Exquisite did for basketball, 2005-06 The Cup launched with a price point that was scoffed at by some but, ultimately, opened up hockey to a new level of cards.
It's no surprise, then, that this is one of the key cards in all the hobby released in the new millennium. All Crosby's other rookie cards don't come close to the prices The Cup fetches.
Buy on:
• eBay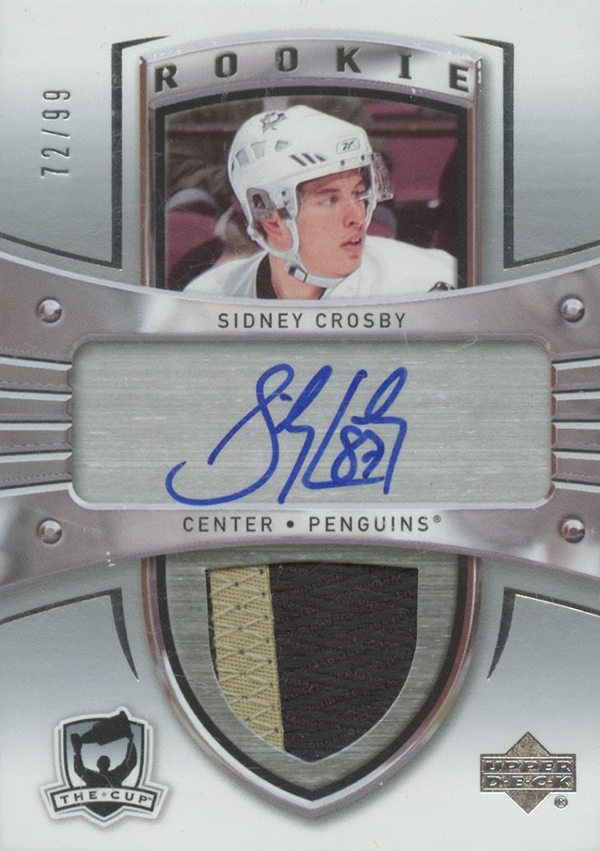 Comments? Questions? Contact Ryan Cracknell on Twitter @tradercracks.