2017 Leaf In The Game Used Hockey Details
Since diving into the hockey market three years ago, Leaf Trading Cards has occasionally utilized some of the brands that were established by In The Game – especially those that focus on vintage memorabilia. One of those releases is going to help kick off the next collecting season as 2017 Leaf In The Game Used Hockey is arriving in time for the National Sports Collectors Convention in Chicago.
With five game-used memorabilia cards and the possibility of autographed memorabilia cards in every box, expect production to be limited.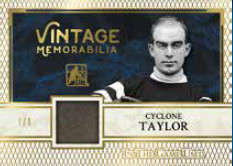 Game-Used Memorabilia Cards
Right off the bat, 2017 Leaf In The Game Used Hockey is loaded up with pieces from the game's past. Vintage Memorabilia is a single-swatch effort which goes back as far as the dawn of the professional game with iconic names like Cyclone Taylor and Georges Vezina leading the way. On top of that, there are multi-player Vintage Memorabilia cards which have up to eight swatches.
There will also be traditional Game Used Memorabilia collection which has anywhere from one to eight players featured alongside pieces of jerseys and other materials. Team 8's is back and the combinations will connect players from the same team or a fantasy lineup from the same franchise.
Rare Materials contain eight pieces of memorabilia from an individual player and Leaf has revealed some intriguing names for the checklist that perform well on the secondary market like Manon Rheaume and Pierre Turgeon. Locker Room Collection has half the swatches, but strong names like Gordie Howe and Mario Lemieux.
Gloves Are Off! is an old In The Game favorite and brings the leather, but if you want to collect some of the toughest customers to ever hit the ice (and their opponents), it is worth checking out Putting On The Foil. Le Forum de Montreal is an examination of the greatest talents to play for the Montreal Canadiens at one of the greatest arenas of all-time.
Draft History takes six players who were selected the same year and puts them together on a single card. Jumbo Patch is expected to live up to its name, too.

Autographed Memorabilia Cards
Finally, there are a couple of collections in 2017 Leaf In The Game Used Hockey which have signatures in addition to memorabilia pieces. While some will have a single player, including Leaf autograph exclusives like Jack Eichel, Nolan Patrick, and Nico Hischier; the are also combinations with two or three stars to track down.
Stay tuned to this page for larger images of cards that are slated to appear in this product.
2017 Leaf In The Game Used Hockey at a glance:
Packs per box: 1
Cards per pack: 5
Boxes per case: 10
Set size: n/a
Release date: July 26, 2017
What to expect in a hobby box:
– Five Game-Used Memorabilia or Autographed Game-Used Memorabilia cards
Stephen Laroche can be found on Twitter @Stephen_Laroche.