Statistically speaking, he's one of the greatest goalies of all-time. But when it comes to Martin Brodeur Rookie Cards, you're not going to find any record breakers. Instead, you'll find a slim checklist, a huge supply, not much value and a hint of a mustache.
Brodeur has just two Rookie Cards. And even then, they're pretty much the same. 1990-91 Score Hockey was the only NHL set to include the 20th overall pick in the 1990 draft.
Although the goaltender made his debut with the Devils in 1991-92, his initial stint in the NHL was short-lived. It wasn't until the 1993-94 season that Brodeur became a regular in the New Jersey net. And it stayed that way for the next two decades.
In that time, he helped backstop the Devils to three Stanley Cups. Among the individual accolades, Brodeur was a Vezina Trophy finalist as the NHL's top goalie nine times, winning four. In 2003, 2004 and 2007, he was also a Hart finalist for the league's MVP. It's comparable to pitchers in baseball — a rare feat for a goalie on its own, let alone three times.
Martin Brodeur holds numerous NHL records. His 691 wins are higher than anyone else. Patrick Roy is second with just 551. Brodeur's 125 shutouts are another all-time mark. That's like a little over two full seasons of wins just for shutouts. Terry Sawchuk is the only other goaltender to break 100 and he finished with 103.
The goalie GOAT debate can rage on with different people throwing out different names from different eras. One thing is clear, though, no matter the generation, Brodeur deserves consideration for his play. Martin Brodeur Rookie Cards? Not so much.
Here's a look at what's out there.
Martin Brodeur Rookie Card Checklist and Other Early Highlights
1990-91 Score Martin Brodeur RC #439
1990-91 Score Hockey garnered a lot of buzz back in the day by sneaking in a little prospect before they were even drafted — Eric Lindros. For many years, Lindros' "Future Superstar" card was the one to get. Now it's another Score exclusive that drives the set, although it wasn't an exclusive in the intentional way. Brodeur simply was signed by other companies.
1990-91 Score is easy to spot thanks to it's red, white and blue borders. There's also the fact that it was from 1990-91, meaning it was probably available on just about every corner in just about every town across North America. Exposure was high and print runs were on par with an exploding market.
You're not going to have any trouble finding copies today. And even with all of his records and place in history, this Martin Brodeur Rookie Card won't cost much.
If you're looking at it from a value perspective, Gem Mint copies can be moderately tough, at least compared to the supply. The card stock isn't the strongest. Combine that with the red borders and it makes even small dings stand out like the pink Energizer bunny hiding in the snow.
Buy on: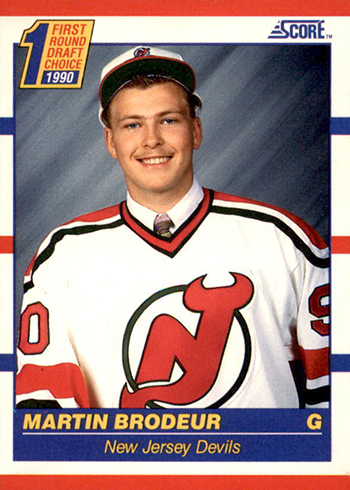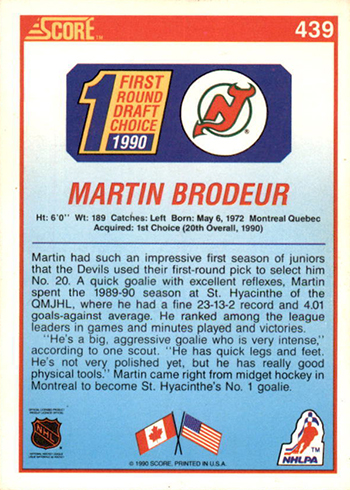 1990-91 Score Canadian Martin Brodeur RC #439
Wait a second. Isn't this the same card? Yes and no. 1990-91 Score took a familiar path for hockey card collectors of the era — particularly those living in the Great White North. Similar to Topps and O-Pee-Chee, 1990-91 Score had two versions. The basic, or American, version is entirely in English. 1990-91 Score Canadian takes from OPC and has bilingual text on the back in both English and French.
Another telltale sign is the Score logo on the front. Canadian cards have it in red, all-English in Blue.
Both versions are readily available so there shouldn't be any significant difference in demand or price for the "other" Martin Brodeur Rookie Card.
Buy on: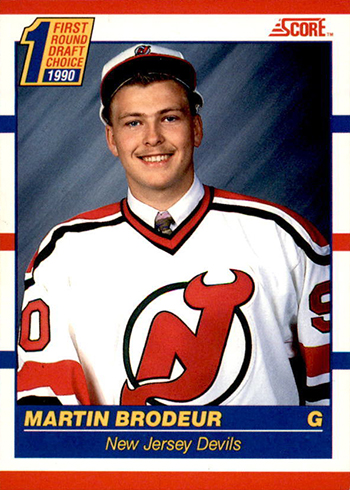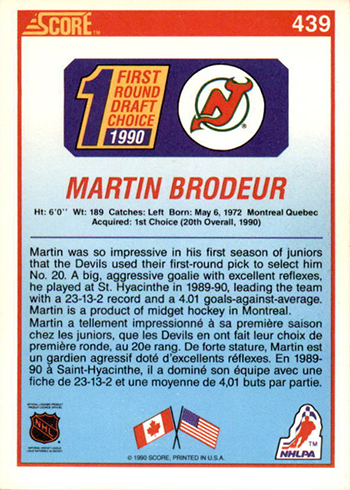 1990-91 7th Inning Sketch QMJHL Martin Brodeur #222
The 1990-91 7th Inning Sketch QMJHL Martin Brodeur isn't a Rookie Card. However, it is his first minor league card. It's also significantly tougher to find than either of his Score RCs. That gives it some added value and a slight challenge for those chasing all of the Hall of Famer's earliest cards.
Buy on: