Final Update: Funko readies for Comic Con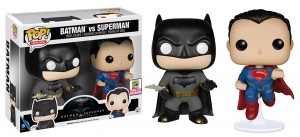 By Matt Bible | Beckett Non-Sports and Gaming Analyst | Commentary
San Diego Comic Con is a little less than a month away and all the hype surrounding Funko and its exclusives has the vinyl collectors in a frenzy. There will be plenty of variety as Funko has been announcing SDCC releases. The ten waves have finally been revealed and fanboys  and con-goers alike will be pleased.
Just about every major licensee is represented. DC, Marvel, Star Wars, Disney and Doctor Who will all have a presence in this year's exclusives. They will be released in these major lines of Funko collectibles: Pop Vinyls, Hikari, ReAction, Dorbz and Vinyl Idolz. With the 10th wave also came the announcement that Funko will begin producing official Pop Tees (the official T-shirt of Funko). Each shirt will come in its very own Pop Vinyl style box and they will depict all the favorite Pop Vinyl figures, such as Teenage Mutant Ninja Turtles and Black Widow from The Avengers.
Some of the pieces reflect this season's summer blockbusters such as Avengers Age of Ultron, Inside Out and Ant-Man. Others pay homage to the classics such as Ghostbusters, T2 and Jaws.
Pop Vinyl
Update: As of June 24, Bryan Fuller will be appearing at Funko's booth on July 10 at 2pm. He will be signing his exclusive Hannibal Pop Vinyl figurines which are limited to just 114 pieces.
Hikari
ReAction
Dorbz
Vinyl Idolz
The New Pop Tees
Pop Conan O'Brien Exclusives
For more details, you can visit Team Coco's Comic Con webpage here.
Pop Fugitive Toys Exclusives
Pop Blizzard Exclusives
Pop UCC Distributing Exclusive
This year, unlike in years past, Funko's exclusives will not be up for pre-sale. They will be first-come, first-served at the convention. Overall, there will be 10 waves of exclusives for a grand total of 56 figures and six Pop Tees. More than likely many of these pieces will have limited production runs which will be announced later. Also, make sure to check out all the latest prices of Funko figures in Beckett's Funko price guide.
Matt Bible is the non-sports and gaming analyst for Beckett Media. Have a comment, question or idea? Send an email to him at mbible@beckett.com.