The Empire Strikes Gold
When you click on links to various merchants on this site, like eBay, and make a purchase, this can result in this site earning a commission.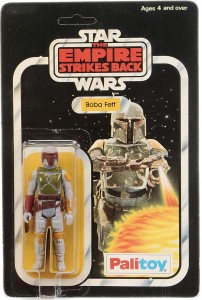 By Matt Bible | Beckett Non-Sports and Gaming Analyst
Papa Jango would be proud.
On Wednesday, a Boba Fett action figure brought in a record bid of $27,221. It was one of at least 70 Star Wars action figures that was sold at the Vectis Toy Auction in the UK. This massive collection belonged to Craig Stevens, the former chairman of the UK Star Wars Fan Club. His little bundle brought in a grand total of $63,209.
What makes this figure so unique, at least to American collectors, is the company that distributed the figure. In the late 1970s and early 1980s, the vast majority of Star Wars action figures were distributed in the United States by Kenner. However, as shown in the image above, this Boba Fett action figure was produced by the now-defunct UK company, Palitoy. The Boba Fett is believed to be one of only five that exist in similar condition. The card back is still unpunched which makes this a truly pristine collectible. Stevens collection not only garnered English versions of Palitoy Star Wars figures, but also tri-lingual versions. Several of the figures contained main titles that were simultaneously printed in English, Spanish, and French (see the Yoda figure below).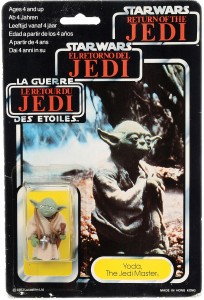 While the Boba Fett figure garnered the most attention, it wasn't the only significant Star Wars character to be sold. Characters such as Obi-Wan Kenobi ($7,622), R2-D2 ($2,359), Princess Leia ($580) and, of course, Darth Vader ($290), all fetched very respectable prices in the auction.