Panini gives a virtual look at NBA draftees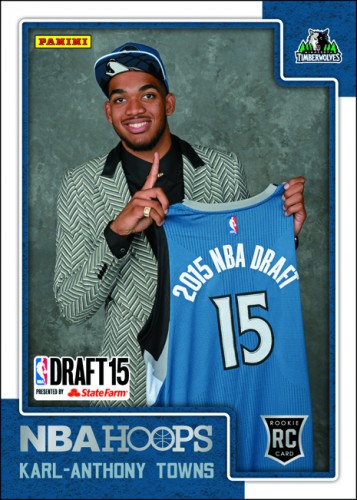 By Stephen Laroche | Beckett Basketball Editor
The 2015 NBA Draft saw 60 up-and-coming players chosen by the league's clubs and in a matter of months, several of them will be making an impact with basketball card collectors in next season's trading card releases from Panini America which start hitting store shelves in October with 2015-16 NBA Hoops.
Earlier that day, Panini had announced that they had signed contracts with approximately 50 players that were eligible for the draft. During the event, however, the hobby received a sneak peek at that product's design as the company's design team was busy creating cards and communications staff went into overdrive on their social media feeds to show off the first virtual trading cards of many picks. Starting with first overall selection Karl-Anthony Towns of the Minnesota Timberwolves, the company created cards for nine of the top 10 picks and added several more throughout the night.
Look at the "first" Panini trading cards of next season's hot rookies after the jump.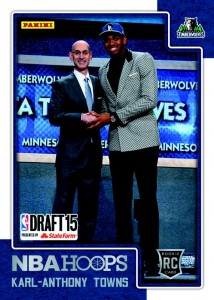 #1
Minnesota Timberwolves
Karl-Anthony Towns
Center
7'0″
250 lbs.
Kentucky
#2
Los Angeles Lakers
D'Angelo Russell
Point Guard
6'5″
180 lbs.
Ohio State
#3
Philadelphia 76ers
Jahlil Okafor
Center
6'11"
270 lbs.
Duke
#4
New York Knicks
Kristaps Porzingis
Power Forward
7′
220 lbs.
Baloncesta Sevilla (Spain)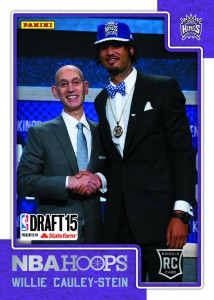 #6
Sacramento Kings
Willie Cauley-Stein
Center
7'1″
240 lbs.
Kentucky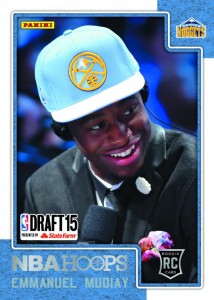 #7
Denver Nuggets
Emmanuel Mudiay
Point Guard
6'5″
200 lbs.
Guangdog Southern Tigers (China)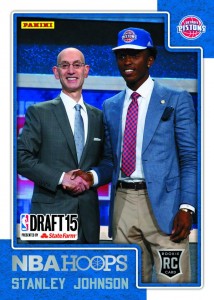 #8
Detroit Pistons
Stanley Johnson
Small Forward
6'7″
245 lbs.
Arizona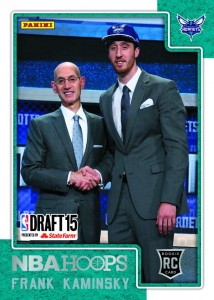 #9
Charlotte Hornets
Frank Kaminsky
Power Forward
7'1″
242 lbs.
Wisconsin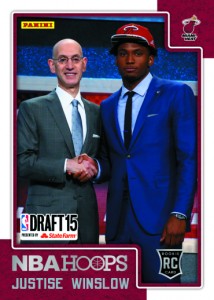 #10
Miami Heat
Justise Winslow
Shooting Guard
6'7″
230 lbs.
Duke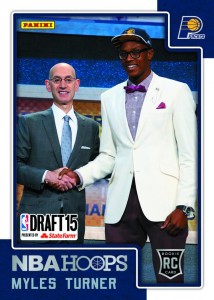 #11
Indiana Pacers
Myles Turner
Power Forward
7′
243 lbs.
Texas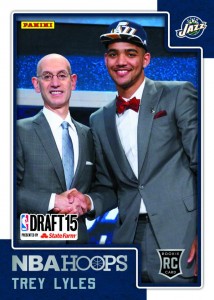 #12
Utah Jazz
Trey Lyles
Power Forward
6'10"
235 lbs.
Kentucky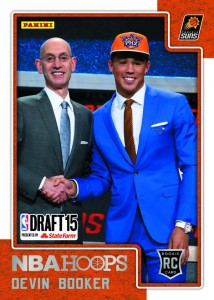 #13
Phoenix Suns
Devin Booker
Shooting Guard
6'6″
205 lbs.
Kentucky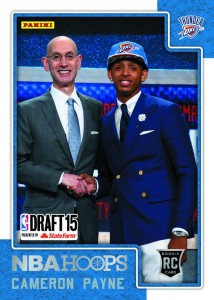 #14
Oklahoma City Thunder
Cameron Payne
Point Guard
6'2″
185 lbs.
Murray State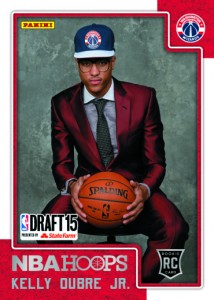 #15
Atlanta Hawks
Kelly Oubre, Jr.
Shooting Guard
6'7″
200 lbs.
Kansas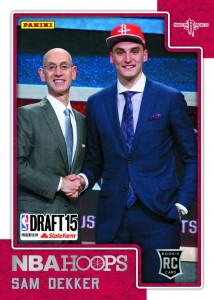 #18
Houston Rockets
Sam Dekker
Small Forward
6'9″
230 lbs.
Wisconsin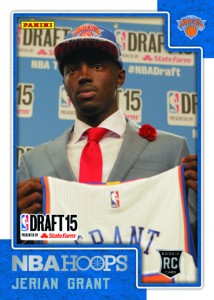 #19
Washington Wizards
Jerian Grant
Point Guard
6'4″
205 lbs.
Notre Dame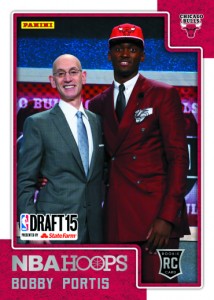 #22
Chicago Bulls
Bobby Portis
Power Forward
6'11"
242 lbs.
Arkansas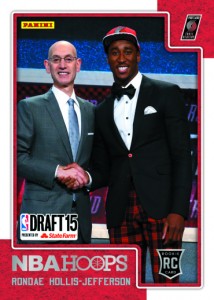 #23
Portland Trail Blazers
Rondae Hollis-Jefferson
Small Forward
6'7″
220 lbs.
Arizona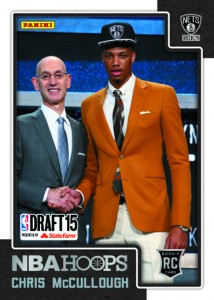 #29
Brooklyn Nets
Chris McCullough
Power Forward
6'9″
220 lbs.
Syracuse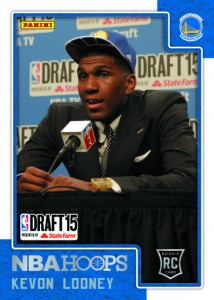 #30
Golden State Warriors
Kevon Looney
Small Forward
6'9″
220 lbs.
UCLA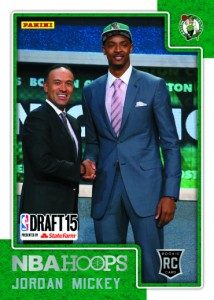 #33
Boston Celtics
Jordan Mickey
Power Forward
6'8″
235 lbs.
LSU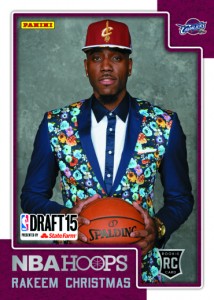 #36
Minnesota Timberwolves
Rakeem Christmas
Power Forward
6'10"
250 lbs.
Syracuse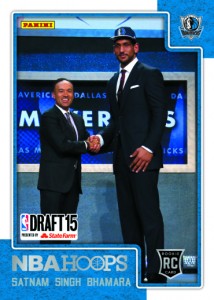 #52
Dallas Mavericks
Santam Singh
Center
7'2″
290 lbs.
IMG Academy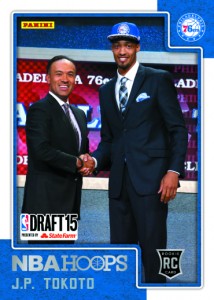 #58
Philadelphia 76ers
J.P. Tokoto
Small Forward
6'6″
200 lbs.
North Carolina
Stephen Laroche is the editor of Beckett Basketball and Beckett Hockey magazines. Have a comment, question or idea? Send an e-mail to him at slaroche@beckett.com. Follow him on Twitter @Stephen_Laroche.