2014 Panini Classics Baseball Details
After nearly a decade on the bench, Classics is back. Panini America announced its return on Tuesday with 2014 Panini Classics Baseball, the latest edition of the brand that was a Donruss/Playoff staple from 2001 to 2005. It returns as a product with 24 packs per hobby box with two autographs, two memorabilia cards and plenty more inside. It will use the familiar mini box format from the brand's past with one auto and one mem per box when it arrives on Nov. 5.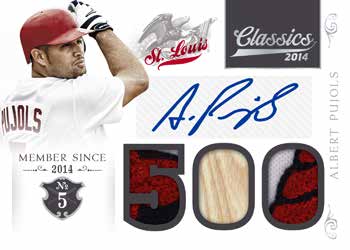 Among the firsts in this one are the first memorabilia cards for Hall of Famers Roger Bresnahan and Gabby Hartnett among a lineup of memorabilia cards that celebrates the game's past as well as its present. The company touted six memorabilia sets in the product with three types of cards carrying autographs.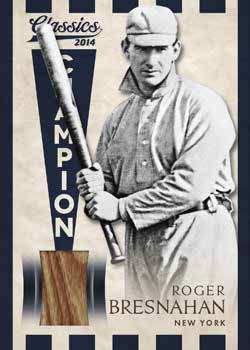 A base set size was not announced (nor was a preliminary checklist), but each box is slated to have 48 Rookie Cards inside as well as 26 insert cards — two Timeless Tributes and six each from the Home Run Heroes, Legendary Lumberjacks, October Heroes and Stars of Summer sets.
For the autographs, there will be Membership Materials Signatures cards with three diecut swatches per player. These will showcase 500 Home Run Club members, 300 Win Club members, MVPs, Rookie of the Year winners and Hall of Famers. They will be numbered to 25 or fewer copies with prime versions limited to 10. A bit more attainable will be Significant Signatures cards featuring 100 players — a mix of retired stars, current players, rookies and prospects. They will be limited to no more than 299 copies apiece with Gold parallels limited to 25 and 1/1 Platinum cards for collectors to chase. The final autograph set will be Classic Cuts, which will showcase the game's legends and be limited to five or fewer copies.
Signers for this one tentatively include Clayton Kershaw, Jace Peterson, Kris Bryant and Albert Pujols based on preview information.
On the game-used side of things, there are Classic Combos cards that will pair teammates — except for a single card pairing Texas Rangers ace Yu Darvish alongside New York Yankees pitcher Masahiro Tanaka. These cards will be limited to no more than 99 copies with some pairings — Ty Cobb and Sam Crawford, for example — likely being less.
Champion Materials cards will showcase 20 players with a World Series win on their resume. Joining Bresnahan as a first-time memorabilia card-holder is Bob Meusel, a member of the 1927 New York Yankees, along with Honus Wagner, Lou Gehrig, Eddie Collins, Frank Chance, Jake Daubert and Dave Bancroft. These will be limited to no more than 99 copies.
Even more legends will be found in the Legendary Players set with a lineup that includes Joe DiMaggio, Roger Maris, Jackie Robinson, Roberto Clemente, Enos Slaughter and Bob Feller to name a few. These, too, will be limited to no more than 99 copies.
For collectors of more modern players, the Player Collection insert will have Jose Abreu, Stan Musial, Nolan Ryan, Tony Gwynn and Derek Jeter on its 20-card checklist along with Jim Thorpe, Gehrig and Cobb in the mix. Again, 99 copies or less.
A pair of Heroes-related sets round things out with October Heroes focusing on players who performed in the Fall with prime versions, autographed versions and standard versions to be found. These will be limited to 99 or fewer copies. The same will be had for Home Run Heroes cards with those cards made in the same quantities.