2014 Topps Heritage High Number Baseball Details
Topps is turning back the clock to 1965 once again this season.
How? With the 2014 Topps Heritage High Number Baseball set, a 100-card offering that will arrive via a box set.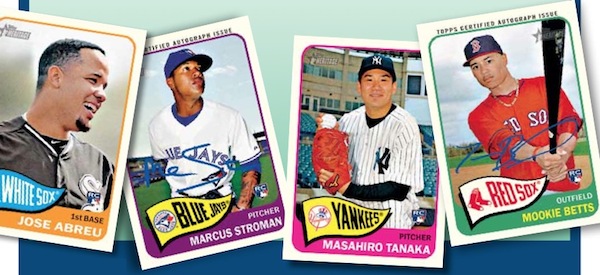 Each factory set will include one autographed Rookie Card and there will be 24 sets per case.
A preliminary checklist was not released, but it's not a reach to expect that top rookies Jose Abreu and Masahiro Tanaka will be found in the hobby-channel release as they are featured among the previewed players. (In previous years, this release was a Topps.com exclusive.) Also joining them will be rookies George Springer, Oscar Taveras and Kennys Vargas.
Among the tentative signers for this one are Mookie Betts, Jacob deGrom, Marcus Stroman, Gregory Polanco, Aaron Sanchez and Arismendy Alcantara.
There also will be red-ink versions limited to just 10 copies apiece.