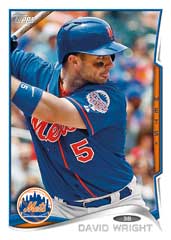 By Chris Olds | Beckett Baseball Editor
The new year isn't yet here — but the first glimpse at Series 2 is.
Topps recently released the basic breakdowns and information for 2014 Topps Series 2, the second installment of its flagship baseball card product that arrives in January. Its update will arrive on June 13 with one autograph or memorabilia card in every 36-pack hobby box or one autograph and two Relics in every 10-pack HTA Jumbo box.
Series 2 will continue where the first installment leaves off with 330 more base cards and a number of parallels for every card. There will be the customary Gold (/2,014), Camo (/99), Black (hobby-only /63), Pink (/50), 1/1 Platinum, Red Hot foil (six per standard box), Clear (/10) and 1/1 printing plates to chase. There also will be silks for some players with those limited to 50.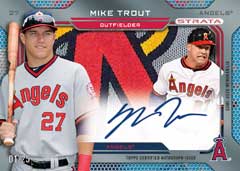 Among the new inclusions for 2014 will be Strata inserts — hobby-only autographed cards limited to 25 that will have a shadowbox effect for both living players as well as those no longer with us coming via 1/1 cut autos. Also new will be framed Jackie Robinson reprint cards — reprints that get the Museum Collection treatment with a black frame around the card. Parallels will include Silver (/99) and Gold (/25). Also framed in this one — and also new — will be Framed Gold Label cards that utilize the 2000 Topps Gold Label design and will be limited to just 25. These framed cards will be found one per case.
Also new for 2014 Topps Series 2 will be the 2014 Topps Power Players program, a code card project that will be found six per box. Details of the program, which Topps is noting as a parallel card, were not detailed.
As with Series 1, which arrives on Jan. 29, there is a themed emphasis on future stars and young talent in this one and that's seen in the insert card lineup, which then carries over into autographs and memorabilia. Among them are The Future Is Now, SaberStars (a Sabermetric tribute), Future Stars That Never Were, 1989 Topps Minis. The Never Were set re-imagines cards for past player who didn't get the Future Star notation in past sets. These hobby-only cards also will have a Gold parallel limited to 99 copies.
Like the recent past, the autograph and memorabilia lineups will parallel the insert sets with a few other inclusions. For autos, there will be Trajectory autos that will also be found with a Gold parallel (/10), while the remainder of the four insert sets get inked treatment. All cards are limited to 25 or less except for the Trajectory (unnumbered) and the SaberStars, which are limited to 50. Relics follow the same trajectory with 99 being the maximum quantity for those that are serial-numbered. Joining that lineup will be Own the Name Relics, 1/1 game-used letter cards. Autographed Relics will be found for The Future is Now, SaberStars and the Never Were sets with each limited to 10, 25 and five respectively.
Commemorative (manufactured) Relics will be found one per hobby case or one per Jumbo box for Series 2 with Class Rings being the lone offering. There will be Silver, Gold (/99) Gold Gems (/25) and Gold Gems autographs (/10). hese cards will feature notable players from the past with their debut-year noted on the ring.
Also in the mix will be buyback redemption cards for "50 of the most-popular cards in Topps history."
Among the signers on a limited preliminary autograph and/or Relic checklist are Jose Canseco, Buster Posey, Evan Longoria, Mark McGwire, Bryce Harper, Randy Johnson, Juan Marichal, Craig Biggio, Mariano Rivera, Tony Gwynn, Mike Trout, Robin Yount, Tom Seaver, Greg Maddux, Albert Pujols and the late Earl Weaver.
Chris Olds is the editor of Beckett Baseball and Beckett Sports Card Monthly magazines. Have a comment, question or idea? Send an email to him at colds@beckett.com. Follow him on Twitter by clicking here.