First Look: Leaf In The Game Ultimate Memorabilia 14th Edition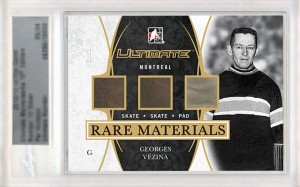 By Stephen Laroche | Beckett Hockey Editor
One of the hobby's original premium brands, Ultimate Memorabilia was originally released at the end of the 2000-01 season and gathered a loyal following over the years due to its offering of a limited base set, desirable autographs and pieces of game-used memorabilia from the past and present.
Many collectors hoped that the product was going to carry forward following the merger between Leaf Trading Cards and In The Game and preliminary details have come to light showing that Ultimate Memorabilia 14th Edition is going in a much more limited direction than ever before.
For a gallery of pre-release images and more information on this highly-anticipated release, read on after the jump.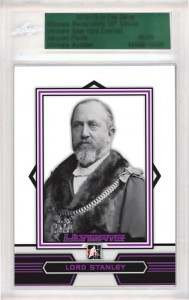 According to the recently-released product information sheet from Leaf, production for Ultimate Memorabilia has been slashed from 10,000 packs to a mere 4,000. This means that there will only be 800 five-pack boxes and there will be four boxes per case (200 total cases). As in previous years, each pack will contain one base card, one autograph card and one game-used memorabilia card. The tradition of each card being individually slabbed and serial-numbered will continue as well.
This time, the Ultimate base set will be produced on clear stock and there are 50 different cards to collect. There will be four different tiers to collect: Gold (#'d to 50 or less), Silver (#'d to 20 or less), Blue (#d to 10 or less) and a 1/1 Purple parallel.
As for the autographs and memorabilia, look for a wide variety of individual collections where each basic Silver parallel is numbered to 25 copies or less for autos while the memorabilia cards will be limited to 20 copies or less. Each type will also have a Gold edition numbered to 10 or less and a 1/1 Platinum parallel. Many favorites such as Decades, Blades of Steel and Stick Rack will return and there is the addition of new sets such as Rare Materials and Legendary Sweaters that have the potential to be major hits.
Leaf has also announced that there will be some Ultimate Cut Signature cards as well and the preliminary list includes such icons as Lord Stanley of Preston, Howie Morenz, Jacques Plante and Conn Smythe. There will also be Ultimate Artwork Memorabilia Redemption cards that hobbyists can redeem for actual original art cards that will feature a piece of rare game-used material.
Longtime collectors may be a bit confused as to what happened to the 13th Edition of Ultimate Memorabilia, but Leaf noted on its sales sheet that it will not exist since "Thirteen is unlucky and this product is absolutely not!" While brand loyalists may or may not have strong feelings about that decision, the move will certainly have people talking.
With an anticipated release of November 7, Ultimate Memorabilia will be on store shelves at the 2014 Fall Sportcard &
Memorabilia Expo and Leaf's President, Brian Gray, noted to Beckett Hockey there will be a redemption program announced in the upcoming weeks.
Stephen Laroche is the editor of Beckett Hockey and Beckett Basketball magazines. Have a comment, question or idea? Send an e-mail to him at SLaroche@beckett.com. Follow him on Twitter @Stephen_Laroche.