First look: In The Game's History of Hockey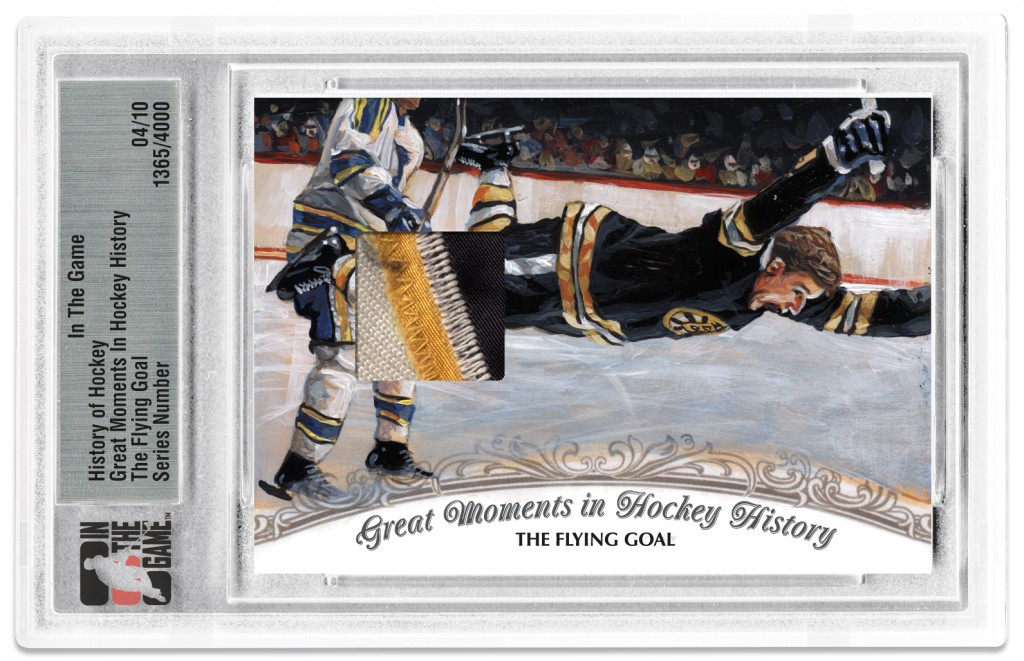 By Susan Lulgjuraj | Beckett Hockey Editor
In The Game's hockey products have been around for more than a decade. Now, Dr. Brian Price is bringing together a product that highlights its past with History of Hockey.
There are just four cards in each box: a memorabilia card, a PSA/DNA certified autograph, a Rookie Card and a buyback.
ITG hasn't released dates or pricing yet, but there are plenty of pictures and early information about History of Hockey for hockey collectors.
Most of the original work comes in the 145-card set Great Moments in Hockey. These are all memorabilia cards and includes an extensive checklist.
Some of the highlights include Paul Henderson's "Goal of the Century" in 1972 to clinch the Summit Series against the USSR, Wayne Gretzky's record-setting 802nd goal, Bobby Orr's flying goal to complete the sweep of the St. Louis Blues in 1970 and the Miracle on Ice.
These first two group of cards in Great Moments in Hockey will have artwork by Jared Kelley and Mike James, whose cards will include vintage authentic memorabilia. Each card will feature hand-painted artwork with nine silver versions and just one gold version. The final 85 in the group will also have artwork, but will have 30 silver versions and 10 gold.
ITG's buy backs will be cards from past products starting with 1998-99. There are some huge names that are going to be included such as Steve Yzerman, Mario Lemeiux and Patrick Roy. ITG will include 4,000 buy backs (which should give you an idea of how many boxes will be made of History of the Game).
Half of the 4,000 will be autographs and the other will be memorabilia cards.
ITG has combed the years to find some of the best Rookie Cards of top players. There are opportunities to snag Orr's 1966-67 Topps RC or Maurice Richard's 1951-52 Parkhurst RC. Some of the Rookie Cards will be more valuable than others, but there is a chance to pull some great cards.
The final card in the box is an authentic autograph on cards various sets and companies such as a Gretzky on a 1981 O-Pee-Chee or Phil Esposito on 1975 Topps. All the autographs have been verified by PSA.
Each of the cards are encapsulated, clearly labeled and serial-numbered.
Susan Lulgjuraj is the editor of Beckett Hockey magazine. You can email Susan here with ideas, comments and questions. Follow her on Twitter here.