First look: 2011 Topps Update baseball cards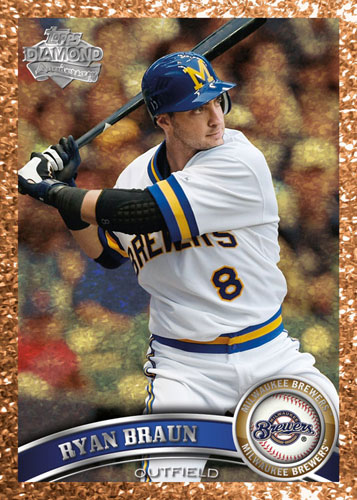 By Chris Olds | Baseball Editor
The baseball season isn't even at its midpoint — and Topps Series 2 hasn't yet arrived — but that means one thing with new product news.
It's time for 2011 Topps Update to be unveiled.
Topps released the basic product information and preview images for its season-capping set on Friday, a 330-card set that will arrive in early October.
The first half of the 2011 season will be recapped with 55 new rookies, recently traded players and highlights from this year's All-Star Game all among the checklist.
New this year will be Hope and Cognac Diamond Parallels with base and base variation cards from the first two series in these packs as well as Glove Leather cards, 1/1 player-produced sketches, All-Star autographs and Relics and, of course, Silks and other inserts that we have seen this season.
Each 36-pack hobby box will include one autograph or Relic, while the 10-pack HTA Jumbo boxes will include an autograph and two Relics.
Read more and see more images after the jump.
Because of the added parallel cards, the 50-card Jumbo packs will include four parallel cards while the standard packs will include just 10 cards total (parallel quantity not noted).
The All-Star Stitches Relic cards will include Canary and Platinum 1/1 parallels along with a piece of jersey worn at the event, while 15 of the 65 players will have autographed versions. Just 55 of the players will have Jumbo Patch cards — each limited to just six — while the other 10 will have jumbo autograph patch cards. There also will be dual and triple Relics — the triples only found in hobby and jumbo boxes.
The manufactured glove Relics are back again, falling one per hobby case and one per jumbo box. Also back will be 1/1 nickname versions. There also will be another batch of Diamond Duos cards with Relic versions, a 1966 Mickey Mantle reprint Relic, 60th Anniversary sketch cards, the aforementioned player sketches, the final batch of Kimball Champions minis and another batch of 60th Anniversary autographs.
The newly signed Joe DiMaggio will appear on some of the inserts, while notable autograph signers for the Topps 60 cards includes Albert Pujols, Hank Aaron, Sandy Koufax and Gary Carter. That checklist has a heavy amount of younger players.
New for this series, though, are Next 60 Autographs, a checklist that includes Brandon Belt, Michael Pineda, Mike Stanton, Aroldis Chapman, Jeremy Hellickson, Neftali Feliz, Freddie Freeman and more.
The All-Star autographs and Relics are, of course, still to be determined.
Chris Olds is the editor of Beckett Baseball. Have a comment, question or idea? Send an e-mail to him at colds@beckett.com. Follow him on Twitter by clicking here.