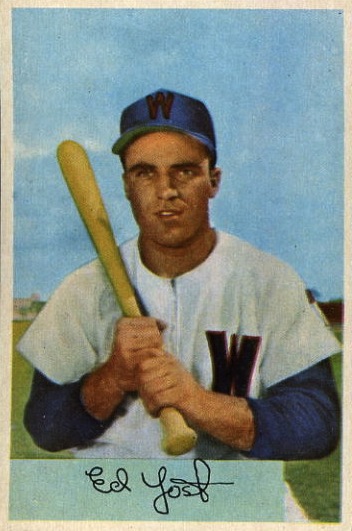 By Chris Olds | Beckett Baseball Editor | Commentary
For the longest time, one near-common card from the 1950s held an important, yet trivial, place in my collection.
My 1954 Bowman card of Eddie Yost, a third baseman for the Washington Senators, was the oldest card in my collection for years — a seemingly random purchase for pocket change at the Talkin' Baseball store in Billings, Mont., circa 1989.
While my buddies were busy stashing Rated Rookies of Tom "Flash" Gordon and some guy named Ken Griffey Jr. in bulk, I found it more interesting to explore older cards that were cheaper and seemed less plentiful. But mostly cheaper.
Unknown to me, Yost turned out to be a good selection. While I bought my once rolled-up card because of its clean photo and its showing a Senators player — a defunct team seemed cooler — when I got home I looked him up in my copy of Total Baseball and saw he had a cool nickname.
The Walking Man.
I wasn't sure how he got the name, actually, but I eventually learned (not sure when) that his nickname came from his propensity to draw walks. During his 18-year career with the Senators, Detroit Tigers and Los Angeles Angels, he walked 1,614 times.
Today, after a generation of feared — and tainted — sluggers got free passes down to first to pad their stats alongside their home run totals (though not as much compared to the longball), this one-time All-Star (that's it) still ranks 11th on the career list. Barry Bonds, Rickey Henderson, Babe Ruth, Ted Williams, Joe Morgan, Carl Yastrzemski, Jim Thome, Mickey Mantle, Mel Ott, Frank Thomas, Eddie Yost.
At the time of his retirement in 1962, a guy with a 254 career average, 139 home runs and 683 RBI trailed only Ruth, Williams and Ott on that list.
Unusual company, ain't it?
That's just one of the reasons that baseball's quirks make it great.
I hadn't seen my Bowman card in some time, but I still have it in one of my many card albums. I was prompted to go look for it when I learned that he died Tuesday at the age of 86. There's plenty more that makes his career interesting (read The New York Times story at the link) but he's also an interesting one on cardboard.
He appears on just 76 cards in the Beckett.com database — his Rookie Card in 1949 Bowman — and has just eight certified autographs despite his fascinating place in MLB history. His first two were cut autographs made in 2009, while his only signing ever done for a card company was last year when Topps got him to sign for its Black Diamond wrapper redemptions as well as its Heritage and Lineage releases.
I was surprised to see he had certified autographs at all — but was satisfied, too.
I realized that, one of these days, because of that I'll be able walk on down to a shop to add a second card, one signed, to my Eddie Yost collection.
Chris Olds is the editor of Beckett Baseball magazine. Have a comment, question or idea? Send an email to him at colds@beckett.com. Follow him on Twitter by clicking here.