First look: 2011 Topps Prime Football
By Andrew Tolentino | Football Editor
On the eve of Memorial Day weekend, Topps released details describing its upcoming 2011 Prime football brand.
Slated to hit shelves in late September, it's a product that should arrive after a few weeks of regular season play. Whether the lockout remains or recedes by then, 2011 Topps Prime will make its hobby debut.
On to the details.
Box breakdown

10 packs (mini boxes) per "display box"
Six display boxes per "packer carton"
Two "packer cartons" per case
Each box promises four autographed or Relics, usually yielding one autograph Relic, one autograph Rookie Card and two additional Rookie Cards. New to the product are rookie autograph Jumbo Relics, rookie autograph variations, rookie Jumbo Relics and hobby-only Red Zone autographs (on-card rookie signatures).
Autograph Rookie Cards feature 50 top 2011 draft picks on numbered hits including:
Prime (1/1)
Gold (numbered to 25)
Silver (new and numbered to 50)
Autograph Relic cards fall in the following forms:
Prime I Rookie QBs: Seven rookie quarterbacks in book cards with five swatches made from wristbands, footballs, patches and other memorabilia (numbered to 10)
Prime I Rookies: 29 various book cards featuring rookies with  six swatches from gloves, wristbands, footballs, patches, home and away jerseys (numbered to 10)
Prime II Rookies: The same 29 rookies as Prime I, but with five (instead of six)  memorabilia pieces (numbered to 15)
Prime III Rookies: 29 rookies with four memorabilia pieces (numbered to 25)
Prime IV Rookies: 36 rookies showcased alongside a jumbo multi-color patch Relic ( new and numbered to 15)
Prime V Rookies: The same 36-rookie crop, but featured on one-of-one book cards with three jumbo relics
Prime VI: 36 rookies and 14 venerable veterans on cards with four pieces
In addition to the roman-numeral nuances, collectors can expect to find new powder blue parallels (numbered to 75) and aqua variations (numbered to 199) that mirror the 100 veterans on the checklist. The set's 50 rookies are paralleled by Prime, Silver Rainbow, red, blue, gold as well as new green and purple cards.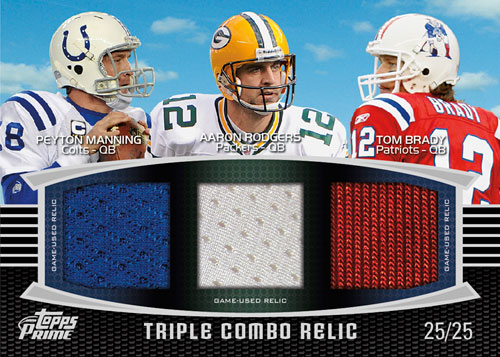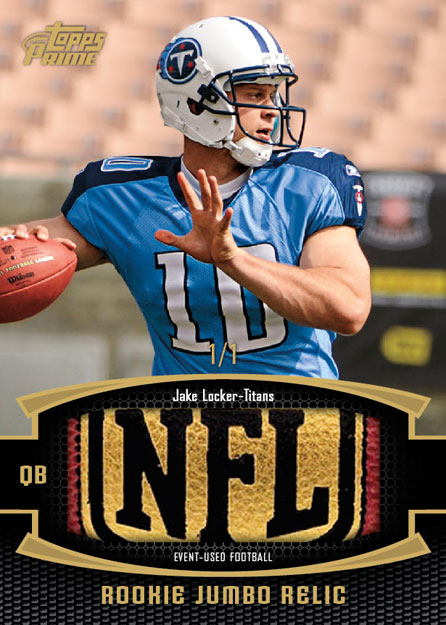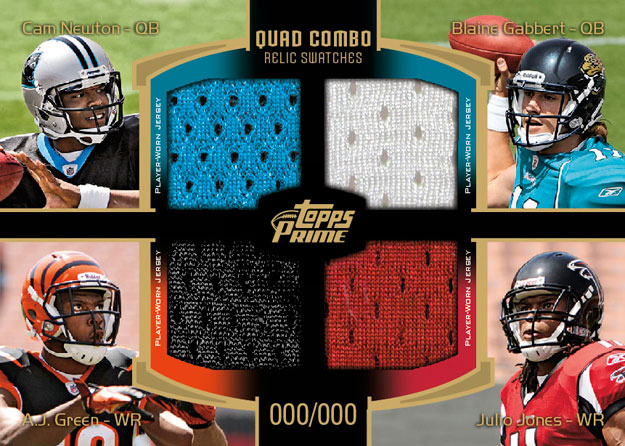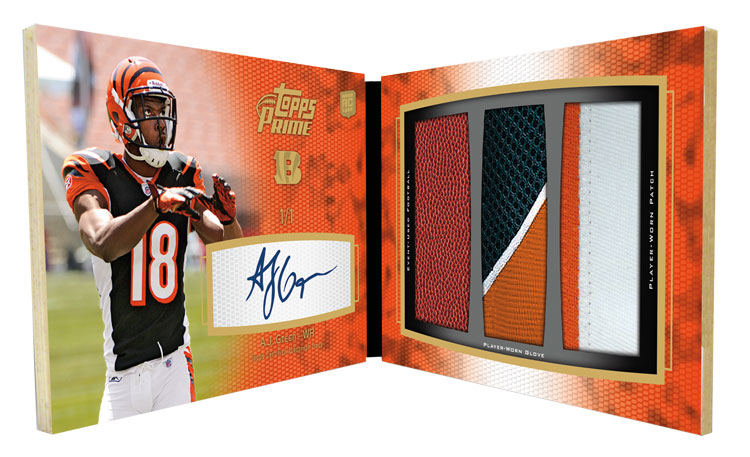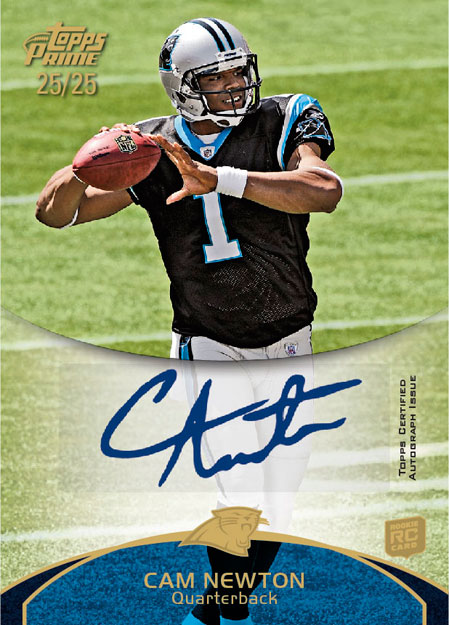 Stay tuned to Beckett.com for more information on the upcoming release on 2011 Topps Prime.