Boxing loses a legend — Joe Frazier dead at 67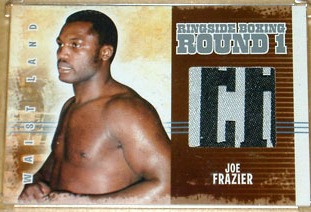 By Susan Lulgjuraj | Contributing Editor
The boxing community lost one of its greatest fighters on Monday night with the death of Smokin' Joe Frazier.
The former world heavyweight champ will forever be remembered for his three sensational fights with Muhammad Ali, including the The Fight of the Century" and the "Thrilla in Manilla."
He died of liver cancer at age 67.
Times like this make you think about the man. If you got to see him fight, you remember the greatness behind his left hook. If you met Frazier, you think about that brief encounter.
Trading card fans have a unique opportunity to get closer to Frazier and the sport by owning an autographs or memorabilia card.
Frazier had just 28 autograph cards beginning in 2007 with Topps' Allen & Ginter, set according to the Beckett database. A year later, he signed with Sportkings and then was featured in 2010 Ringside Boxing and 2011 Leaf Muhammad Ali sets.
There isn't a large amount of the autographed cards, either. The Allen & Ginter autos have the highest output with a print run of 120 — a high book value of $250.
Frazier has some unique memorabilia cards with Sportkings and Ringside Boxing, but those seem even harder to come by than his autos with fewer cards.
Do you have a favorite Joe Frazier card or piece in your collection?