Stanley Cup coaches inscribe for 2010-11 Zenith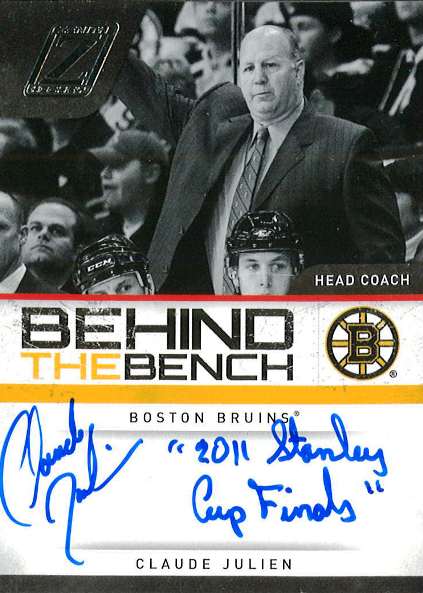 By Andrew Tolentino | Hockey  Editor
Apparently, coaching a team through the rigorous NHL Playoffs isn't a factor that interferes with the inking process.
According to Panini anecdote, a focused, yet friendly Claude Julien — head coach of the Boston Bruins — replied to a special inscription request with a brief, but effective can-do attitude. "No prob," Julien wrote in a response to Panini's appeal for a "2011 Stanley  Cup Finals" inscription on one of his Behind the Bench inserts in 2010-11 Zenith Hockey.
Clearly the ink dried before game seven, as the request would have otherwise read something like "2011 Stanley Cup Champions" or "Do you like apples? We just won the Stanley Cup. How do you like them apples?"
Furthermore, the manufacturer also unveiled the same inscription from not-yet-vanquished Canucks coach Alan Vigneault. Eight more NHL coaches — including the likes of Lindy Ruff, Ron Wilson and Mike Babcock — offered only their names for the 10-coach autographed insert set.
See the gallery of signers after the jump.