First impressions: 2011 Donruss Elite Extra Edition baseball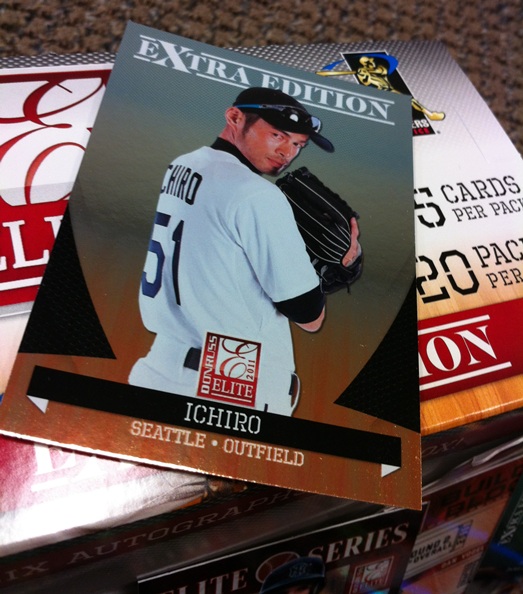 By Chris Olds | Beckett Baseball Editor | Commentary
Some of the first behind-the-scenes glimpses of real, printed cards from Panini America's first MLBPA-approved baseball card set, 2011 Donruss Elite, have arrived.
Now, it's time for some first impressions before the product's arrival next week …
— No logos? So what? Look at that Ichiro card. It's better than others I saw, but it's not as bad as many collectors' knee-jerk or default reactions/preferences will likely make it out to be. (Also will be more of a moot point on mem cards in later products.)
— Rated Rookies are back — though apparently only as part of the MLB veteran presence (guys who already have played an MLB game). Starlin Castro, Michael Pineda and Jeremy Hellickson are among them. It's a short list, though.
— What's the base set made of? Well, there are 25 MLB veterans numbered 1-25 on the packed-out checklist. Then there are 190 prospect base cards — numbered 1-190. So are there two base sets? Is there one? What's a Rookie Card here? This looks more like the Bowman structure … but does it need to be?
— It's Elite, so expect foilboard. While most of you probably don't mind, this writer hates fingerprints on cards (unless there's a mem swatch involved).
— MLB vets who are in … Josh Hamilton, Albert Pujols (listed as an Angel), Justin Verlander, World Series hero David Freese … they're all inside.
— Structure is the same. Or close enough. Fans of past Elite editions will be comfortable with this one. It's all about prospects and autos — at least six per box, sometimes more in Hot Boxes.
— Inserts and texture. There's a good use of textures in designs here — from the dirt and baselines of Best Compared To, to the wood touches on Back To The Future and the glove and frames for Yearbook.  There should be some good visual variety found in the boxes. The Building Blocks cards stand out as well.
Should be fun to see more of this stuff next week. Let us know what you think via comments and  our polls.
—
Loading ...
—
Loading ...
—
Chris Olds is the editor of Beckett Baseball magazine. Have a comment, question or idea? Send an email to him at colds@beckett.com. Follow him on Twitter by clicking here.