Unconfirmed short-prints in 2010 Contenders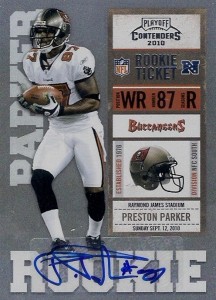 Dan Hitt | Sports Data Publishing Manager
Collectors have become accustomed to identifying and chasing the short-printed autographed Rookie Cards from Playoff Contenders and for the past four to five years it has almost become an obsession for some.
Closing in on the first full week of 2010 Contenders being out on shelves, the market has a sample size large enough now to fully analyze. Based upon our research of available single cards on the market, below is our list of believed, but unconfirmed short-prints in 2010 Contenders.
Since the definition of "SP" is all a matter of degree, we've divided what seems to be the toughest cards into three tiers with Tier 1 being the most difficult to pull from packs.
Tier 1 (Scarce, Extremely low print run)
112    Carlos Dunlap AU RC
130    Dominique Curry AU RC
148    Jeremy Williams AU RC
156    Joique Bell AU RC
157    Kareem Jackson AU RC EXCH
179    Preston Parker AU RC
184    Rusty Smith AU RC
194    Thaddeus Lewis AU RC
Tier 2 (Difficult, very low print run)
102    Andrew Quarless AU RC
103    Anthony Dixon AU RC EXCH
104    Anthony McCoy AU RC
106    Blair White AU RC
109    Brandon Spikes AU RC EXCH
110    Brody Eldridge AU RC
113    Carlton Mitchell AU RC
120    Dan Williams AU RC
126    Dennis Pitta AU RC
133    Dorin Dickerson AU RC
134    Duke Calhoun AU RC
139    Fendi Onobun AU RC
140    Garrett Graham AU RC
143    Jared Odrick AU RC
147    Jeremy Horne AU RC EXCH
151    Jimmy Graham AU RC EXCH
154    John Conner AU RC
162    Kyle Williams AU RC
166    Lonyae Miller AU RC
168    Marlon Moore AU RC
169    Max Hall AU RC
170    Max Komar AU RC EXCH
171    Michael Hoomanawanui AU RC
182    Roberto Wallace AU RC
183    Russell Okung AU RC
185    Michael Palmer AU RC
188    Chris Gronkowski AU RC
189    Seyi Ajirotutu AU RC
196    Tony Pike AU RC
197    Trent Williams AU RC EXCH
198    Tyson Alualu AU RC
200    Zac Robinson AU RC
215A    Gerald McCoy AU RC
215B    Gerald McCoy AU RC
Tier 3 (more difficult than the average auto)
107    Brandon Banks AU RC
108    Brandon Graham AU RC
116    Chris McGaha AU RC
118    Corey Wootton AU RC
121    Danario Alexander AU RC
124    David Reed AU RC
127    Derrick Morgan AU RC
129    Dezmon Briscoe AU RC EXCH
132    Donald Jones AU RC
136    Ed Dickson AU RC
137    Ed Wang AU RC
149    Jerry Hughes AU RC
150    Jim Dray AU RC
158    Keiland Williams AU RC
159    Keith Toston AU RC
161    Koa Misi AU RC
165    LeGarrette Blount AU RC
172    Mickey Shuler AU RC
174    Nate Allen AU RC
178    Perrish Cox AU RC
180    Ricky Sapp AU RC
190    Shay Hodge AU RC
192    T.J. Ward AU RC
213A    Eric Berry AU RC
213B    Eric Berry AU RC