Topps teases Five Star – No fair!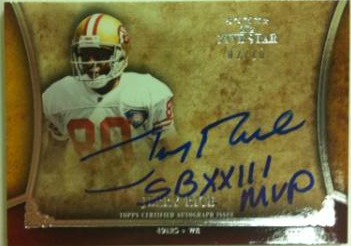 By Susan Lulgjuraj | Contributing Editor
After a well-received rookie debut, Topps Five Star Football is back for a sophomore campaign.
The company released some teaser photos earlier this week to get football fans excited for the high-end product ready to come out in mid-February.
As you can see by the preview photos, inscriptions are very popular this year. Inscriptions can give a more personal feel to the card, adding a little something extra for collectors.
The checklist for Five Star includes rookies, veterans and retired players.
There is just one pack per box (which retails close to $500) and five cards in a pack. Each pack will have four autographs and one jumbo jersey or patch card.
Check out the First Look on Five Star done back in September for more details on the product, after looking at the cards Topps has already received from players.
Susan Lulgjuraj is a contributing editor for Beckett Media. You can email Susan here. Follow her on Twitter here.
Click on the pictures for an unobstructed view.