First look: 2013 Fleer Retro Football cards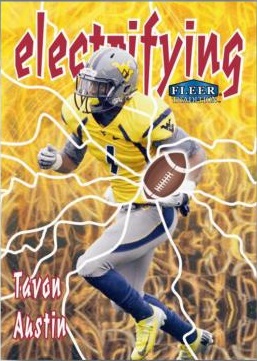 By Susan Lulgjuraj | Beckett Football Editor
Upper Deck's twist on Fleer cards is making a return – 2013 Fleer Retro Football will be out this spring.
Each box will contain two autographs. Some of the autographs are included on designs such Great of the Game and Skybox Premium Prime Time Rookies.
The base set will feature 100 cards. There will be 18 packs in each box with five cards per pack.
The most popular cards in last season's Fleer Retro Football were the inserts and Precious Metal Gems parallels. Upper Deck is bringing many of them back with some new Fleer inserts as well.
Each pack will feature one Metal Universe card. Each box will also have three EX Century Football inserts and nine Flair Showcase cards. Each box will also have at least four inserts from the following list:
– Precious Metal Gems
– 1999 Flair Showcase Legacy Collection
– 1999 EX Essential Credentials
– 1998 Touchdown Royalty
– 1999 Metal Universe Quasars
– 1998-99 Fleer Tradition Electrifying
– 1999 Fleer Tradition Under Pressure
– 1999 Metal Universe Planet Metal
– 1999 Flair Showcase Shrine Time
– 1999 Fleer Focus Wondrous
– 1997 Skybox Premium Players
– 1997-98 Z-Force Rave Review
– 1998 Exclamation Points
The PMGs could be a popular card once again. Rookies and Legends will get Teal (numbered to 50), Magenta (numbered to 5) and Gold (numbered to 1) parallels. There will also be Red, Blue and Green PMGs for new players.
2013 Fleer Retro Football is schedule to come out in late March.
Susan Lulgjuraj is an editor at Beckett Media. You can email her here with questions, comments or ideas. Follow her on Twitter here. Follow Beckett Media on Facebook and Twitter.