The Derek Jeter Rookie Card lineup isn't a huge one, but it has a good level of variety in both styles and prices. There are also some interesting side roads for some of his other early cards.
Derek Jeter Rookie Card Details
After being drafted by the Yankees in 1992, Jeter appeared in several 1993 MLB sets put out by Topps, Upper Deck and Score. All told, there are eight different Derek Jeter Rookie Cards to track down.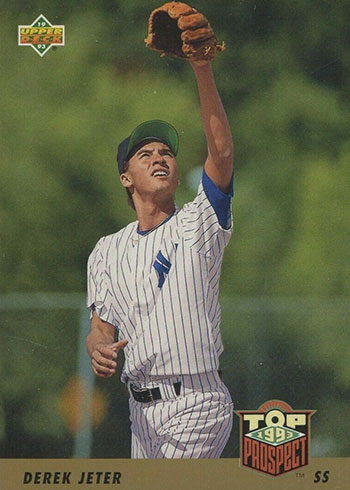 All carry value now, but that's what happens when you're a Yankee legend and winner of five World Series. The range in values, though, is significant. Most are still affordable if you're looking at raw copies. Things jump significantly when you get into the upper-tier of professionally graded cards.
The outlier is the 1993 SP Derek Jeter. One of the most significant cards of the 1990s, it's one that has seen big gains, particularly in the years since his retirement. And it was already popular and pricey before that. This is the clear favorite Derek Jeter Rookie Card.
What's the Most Valuable Derek Jeter Rookie Card?
Based on values in the Beckett price guide.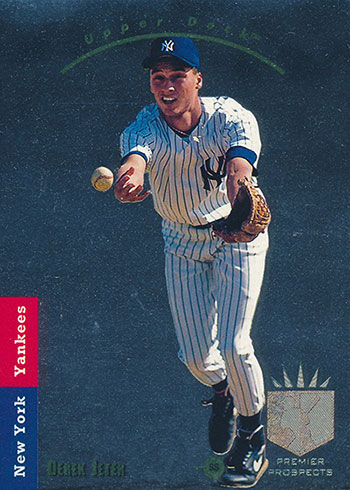 1. 1993 SP Derek Jeter RC #279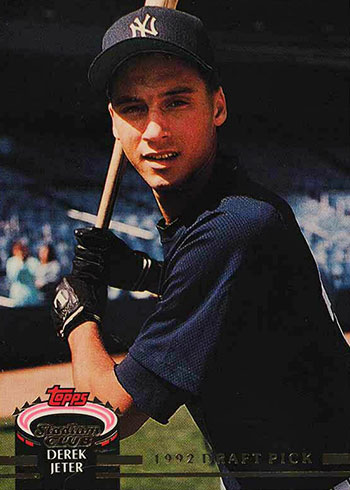 2. 1993 Stadium Club Murphy Derek Jeter RC #117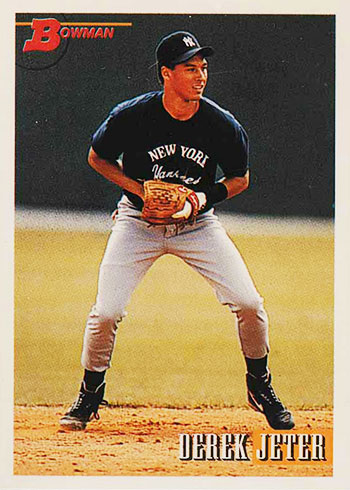 3. 1993 Bowman Derek Jeter RC #511
Here is a breakdown of every Derek Jeter Rookie Card as well as his other 1993 MLB cards that don't fit the traditional Rookie Card definition.
Derek Jeter Rookie Card Guide
The following list highlights every Derek Jeter Rookie Card (cards with the RC tag in the Beckett database) as well as highlights of other key early cards.
1993 Bowman Derek Jeter Rookie Card #511
Following up on the classic 1992 Bowman set wasn't going to be easy. 1993 Bowman sticks with the more glossy design introduced for the brand the previous year. However, it doesn't have nearly as deep a checklist when it comes to rookie star power. After Derek Jeter, the next biggest RC is Andy Pettitte. The drop off from there goes to the likes of Jason Kendall, Jose Vidro and J.T. Snow. All were pretty good for parts of their careers but not major players in the collecting world.
Still, with The Captain, 1993 Bowman holds on just fine. This isn't among the top-tier Derek Jeter Rookie Cards but it's not among the lowest, either. It's a clean card without much in the way of design elements. One can only imagine what the card may have looked like if Topps kept the fashion focus of 1992 Bowman.
Buy on: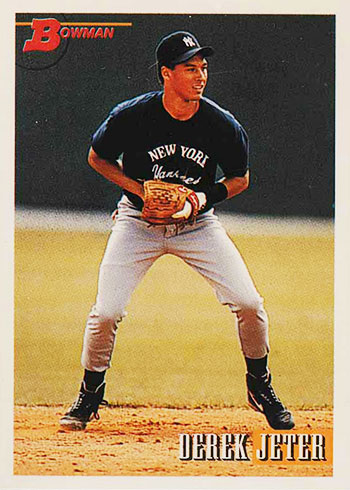 ---
1993 Pinnacle Derek Jeter Rookie Card #457
Found in 1993 Pinnacle Series 2 packs, this is an attractive Derek Jeter Rookie Card. The black and white design elements are a nice compliment to Jeter in his pinstripes. This marked the second year for the Pinnacle line, Score's answer to high-end baseball cards. And it played along the lines of other companies including slick glossy card stock and a hint of gold foil with the Pinnacle logo on the front.
While the black borders add to the visual appeal, they sometimes do the card no favors as even minor dings and imperfections are that much more apparent.
As far as value goes, even though it's "high-end Score," it's not too expensive as far as key Derek Jeter cards go. But that's still relative.
Buy on: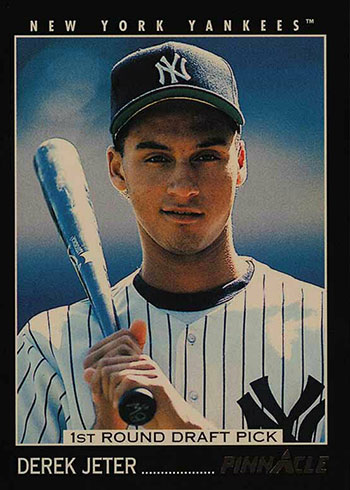 ---
1993 Score Derek Jeter Rookie Card #489
There is a lot going on here. Lines going up, line going down, thick stripes, thin stripes, a variety of colors — it's chaotic. It's almost like the anti-thesis to the slick, clean look of Pinnacle.
From the beginning, Score was an entry-level brand where, outside a couple of exceptions, there isn't a lot of value. As a Derek Jeter Rookie Card, there is a little bit here but it's still one of his cheapest first-year cards. After a couple of years of taking a multi-series approach, 1993 Score Baseball is one series so there's no need to worry about grabbing the right packs.
Buy on: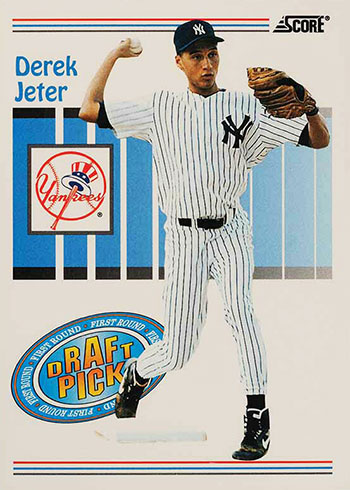 ---
1993 Select Derek Jeter Rookie Card #360
The 1993 Select Derek Jeter Rookie Card takes the "head in the clouds" cliché literally. It's certainly the standout feature of the Draft Pick card. This is also the first set under the Select brand.
Buy on: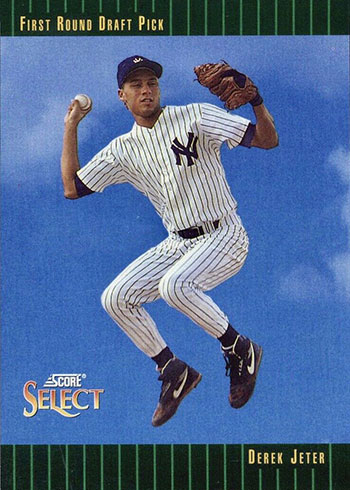 ---
1993 SP Derek Jeter Rookie Card #279
This is the big one. And it's not even close. The 1993 SP Derek Jeter Rookie Card has emerged as not only the most iconic card of one of the most popular players of all-time, but of an entire era.
1993 SP Baseball saw Upper Deck up the ante as far as premium cards go. While it may not look it today, one could argue this was the first super premium baseball card set.
This isn't a particularly rare card. However, finding one in the top possible condition is. Premier Prospects cards are done with foil fronts. Saying they're condition sensitive is an understatement with edges and corners being the worst offenders. It's typical for the 1993 SP Derek Jeter Rookie Card to come out of packs with flaking and edge wear. This has made Gem Mint graded copies extremely scarce and equally valuable. In the months leading up to Jeter's Hall of Fame election, three PSA 10 copies of the card topped six figures, going for $138,000, $168,000 and, finally, $180,000.
Although this card has seen significant growth, it's the top-condition ones that have been professionally graded that are commanding the extreme prices.
Buy on: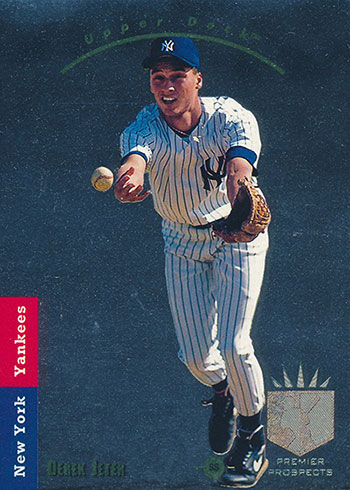 ---
1993 Stadium Club Murphy Derek Jeter Rookie Card #117
Part of a box set, 1993 Stadium Club Murphy is one of the toughest Derek Jeter Rookie Cards. It has a production run of 8,000 cases, each with 16 sets. It may seem like 128,000 sets is a big number and today it would be. But back then, it was a much more reasonable number.
The design resembles the one used for 1992 Stadium Club. This could be seen as an update to the main release, with draft picks, USA Baseball members and more. However, its considered a 1993 release due to when it came out.
Today, this is one of the more valuable Derek Jeter Rookie Cards, combining its limited availability with the quality that came with Stadium Club at the time.
Buy on: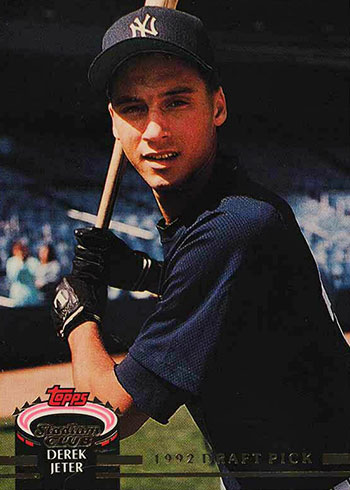 ---
1993 Topps Derek Jeter Rookie Card #98
Tradition follows any big-name Rookie Card in flagship Topps. That's a major drawing point here, elevating the 1993 Topps Derek Jeter above his other base-level RCs. Found in Series 1 packs, it's part of the distinct Draft Pick subset making it instantly recognizable.
Even among early Jeter cards, this isn't a hard card to find. It finds much of its popularity thanks to the continuity Topps Baseball brings.
Buy on: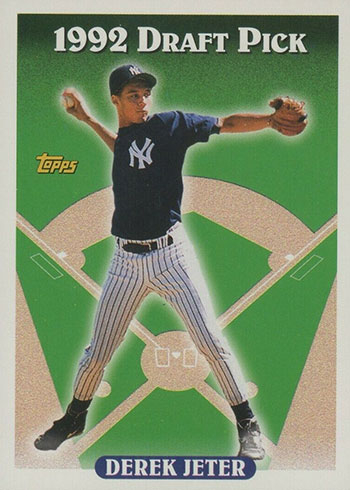 ---
1993 Topps Gold Derek Jeter #98
Believe it or not, there was a time when the hobby didn't have parallels. By the time the New Jersey-born shortstop turned pro, they were starting to show up but in small numbers. The 1993 Topps Gold Derek Jeter represents one of the hobby's earliest pack-inserted parallels. A followup to 1992's debut, Topps ditched the "Gold Winners" step and went right to Gold.
The different between this and the main version is small enough that it's possible some may have one sitting in a box without knowing. For starters, the Topps logo on the front is now in gold foil and has the Topps Gold name. Jeter's name is also in the colored foil. These were available in a variety of ways: one per wax pack, three per rack pack, five per jumbo pack and ten per factory set. Needless to say, it's not rare overall. But with that being a common theme with virtually every early Derek Jeter card, it does command significant attention.
Buy on: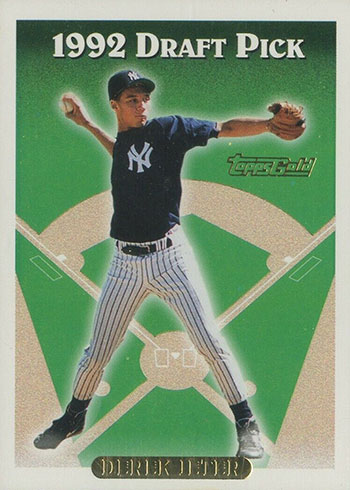 ---
1993 Topps Inaugural Marlins Derek Jeter #98
The Florida Marlins made their debut in 1993. To help commemorate the occasion, Topps produced a special factory set. Base cards in the sets are the same as regular Topps factory sets but with one minor change – a gold foil Marlins inaugural stamp on the front.
The change may not be significant but it's a tough card. Sets were sold locally in a couple of places including the stadium team shop. At most, 10,000 1993 Topps Inaugural Marlins were made, although it's possible that number is smaller.
Buy on: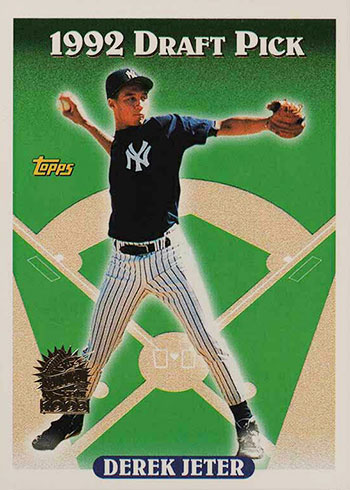 ---
1993 Topps Inaugural Rockies Derek Jeter #98
See the 1993 Topps Inaugural Marlins Derek Jeter and apply it to the Colorado Rockies and their first season. Also rare, Rockies sets were available at Mile High Stadium. Colorado versions are slightly more common than their Florida counterparts, but not by a massive amount.
Buy on: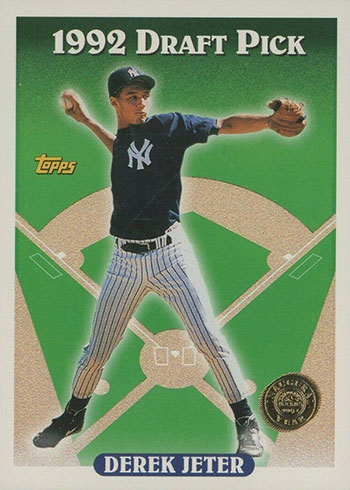 ---
1993 Topps Micro Derek Jeter #98
The 1993 Topps Micro Derek Jeter is easily overlooked. Issued in a special factory set, they're not that much bigger than a postage stamp. Other than being tiny, the card carries the same design as Jeter's main 1993 Topps card.
Size matters with a lot of collectors so many don't gravitate towards these tiny sets. That said, professionally graded copies on the top part of the scale aren't easy to find. Centering and poor printing are common problems found on a lot of the cards.
Buy on: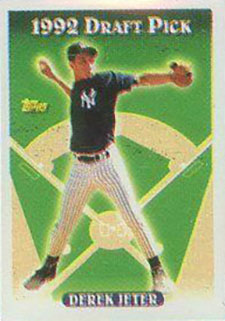 ---
1993 Upper Deck Derek Jeter Rookie Card #449
The highlight of the 1993 Upper Deck Baseball set, Jeter is part of the Top Prospect subset found towards the top of the Series 2 checklist. It's a clean design with one of the largest photos among Derek Jeter Rookie Cards.
Buy on: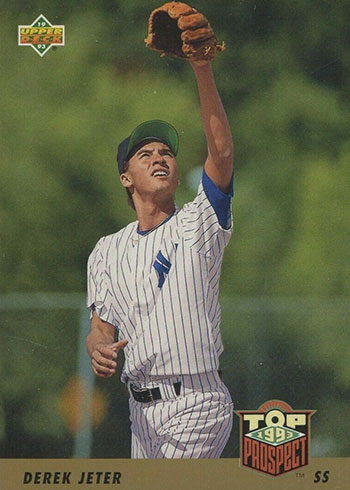 ---
1993 Upper Deck Gold Hologram Derek Jeter #449
The 1993 Upper Deck Derek Jeter Gold Hologram isn't available in any packs. To find one, you have to look at factory sets. But even then, not every factory set has them. 1993 Upper Deck Gold Hologram sets were one per case, or 1:15 factory sets. On the front, the card is identical. On the back, there isn't a huge difference, either. Instead of the regular silver colored hologram on the back, this one is gold.
It's a subtle variation but one that's both relatively scarce and very coveted today.
Sealed 1993 Upper Deck factory sets still exist. The wrap has the Upper Deck logo on them. However, they can sometimes "brick," which is when cards are stuck together and can't be easily separated without risk of surface damage. This is common in a lot of 1990s sets. It may not mean all sealed sets are like this, but it is something to think about should you decide to go that route.
Buy on: