1993 SP Derek Jeter Rookie Card Sells for $180,000
A 1993 SP Derek Jeter Rookie Card set a record on Saturday, January 11, selling for $180,000 to lead Memory Lane Inc.'s Winter Classic 2019 auction. Graded a Gem Mint PSA 10, it's the third time the card has crossed the six-figure threshold. The price includes the buyers premium.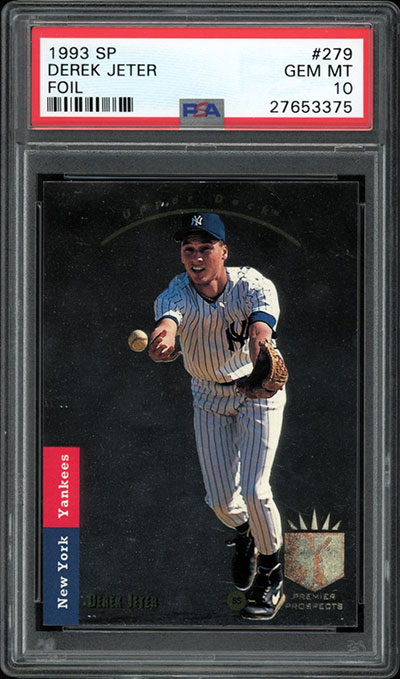 The sale comes less than two weeks before Jeter is expected to be elected to baseball's Hall of Fame.
1993 SP Derek Jeter Rookie Card: Explosive Growth
The 1993 SP Derek Jeter Rookie Card has been popular for decades. It has long been considered the Yankee legend's top RC and prices have reflected this. However, the last several years have seen the already iconic card explode.
A PSA 10 topped $50,000 for the first time 2017. In 2018, a pair of PSA 10 copies of the card flirted with six figures but never quite crossed the mark.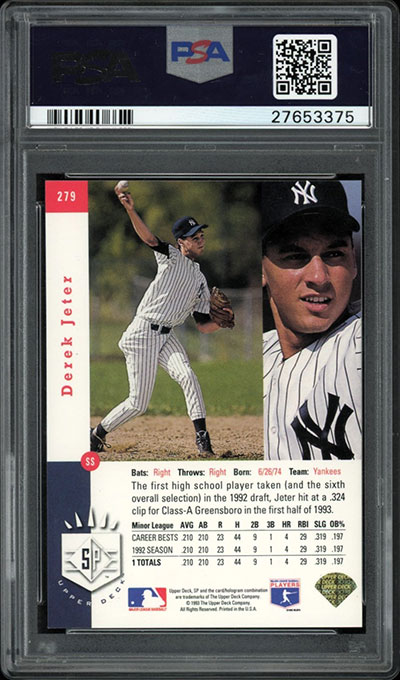 However, a pair of copies toppled the mark in December, 2019. On that day two different 1993 SP Derek Jeter PSA 10s sold surged well past $100,000. One closed at $138,000 in a Heritage Auctions sale. On December 8, Robert Edward Auctions sold another one for $168,000.
This time, record price lasted a little more than a month.
A Gem Mint Rarity
1993 SP Baseball raised the bar for premium cards at the time, taking the hobby further into the premium realm. The Premier Prospects subset, which is where the Derek Jeter is from, uses all-foil fronts. The look is distinct and elevated, however, it also made the cards extremely condition sensitive.
Corner dings are easy to see. Edge chipping is common.
Finding Gem Mint copies are extremely rare. To date, just 22 copies of the Jeter card have Gem Mint 10 grades. That's out of more than 14,000 times the card has been graded by the company.
BGS has graded the card more than 15,000 times with 259 Gem Mint 9.5 copies and zero Pristine 10s.
The 1993 SP Derek Jeter Rookie Card isn't exactly a rare card. It's the grade that's scarce and driving these record prices.