Hockey Supercollector: David Wilson and His Markus Naslund Collection
When you click on links to various merchants on this site, like eBay, and make a purchase, this can result in this site earning a commission.
A lucky pull led David Wilson to amass the gold standard collection of former Vancouver captain Markus Naslund.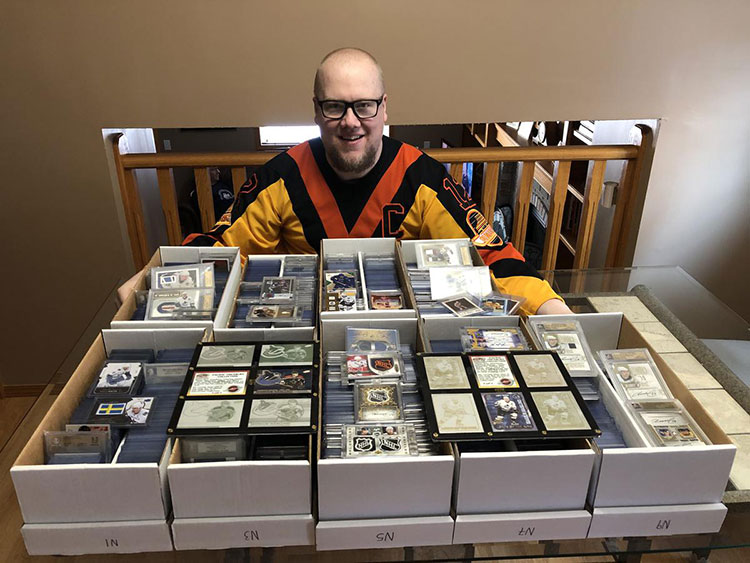 Meet David:
"My name is Dave Wilson, I'm 36 years old and I work in a signage print shop in Calgary, Alberta."
Why Markus Naslund?:
"I was born in Langley, British Columbia, and am a lifelong Canucks fan. Once the West Coast Express line of Naslund, Todd Bertuzzi, and Brendan Morrison started to take off in the early 2000s, I was all aboard. Back then, I would just open boxes for fun. I'd never delved into a player collection at the time. Then, in 2003, I was opening a box of 2002-03 SP Game Used when I pulled a Naslund/Bertuzzi Dual Authentic Fabrics Autograph serial numbered 12/21. With that, I decided to start my first ever player collection. I could just as easily have chosen Bertuzzi but, as the captain, Naslund became my guy."
The Collection:
"I'm a Naslund completionist, so I collect literally everything, from European stickers to show-stamped cards to ITG Final Vault and everything in between. My collection currently sits at 2,092 unique Markus Naslund cards, with more incoming. That total includes more than 300 autographs, more than 700 memorabilia cards, 1,200 serial numbered cards, and 39 1 of 1s. That last number does include show-stamped cards, but not ITG Vault cards, of which I have 56."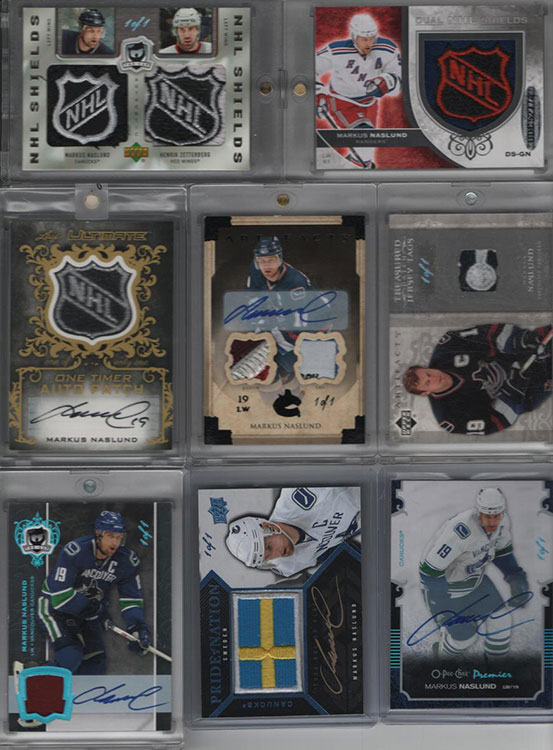 Favorite Cards:
"I have a couple of Shield Patch cards and some tags and those are all really great, but three of my favorite pieces are from European sticker sets released before he came to the NHL. Naslund appears on four such stickers, but in 2009 I only had one of them. I had never even seen any of the other three. One night, in lieu of studying, I decided to do some eBay sleuthing. I randomly came across a seller in Sweden who had a lot of vintage stickers listed but, alas, none of the Naslunds. I decided to message him and ask him if he could help. Amazingly, he had all three! We quickly came to terms on a price of just $8 each (I will never forget that). And a couple of weeks later these three stickers, including the first known Markus Naslund piece, a 1990-91 Swedish Semic Elitserien Sticker, were in my collection.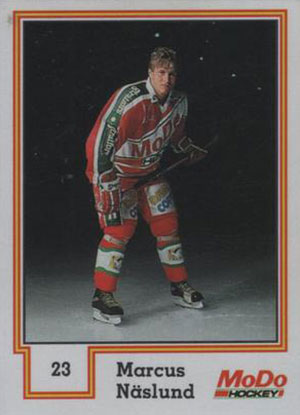 "I also love the two Pacific Treasury Collection pieces that I have. I had never heard of them until I came across the first Naslund. I initially assumed they were just part of a stamped parallel series, but later learned they were a full set of printing plates. That was pretty cool."
Net Filler:
"Most of my collecting is done online, but I have come across some nice Naslund pieces at card shows. My favorite find happened at a local show back in 2016. I was chatting with Brett Miles, a friend who was set up at the show, when he suddenly stopped and began flipping through a binder. He eventually pulled out a sheet featuring eight Pittsburgh Penguins head shots from the 1993-94 season, and one of the players pictured was Naslund. I like it because seven of the players are smiling … and then there's Naslund, who looks completely put-out by having his photo taken.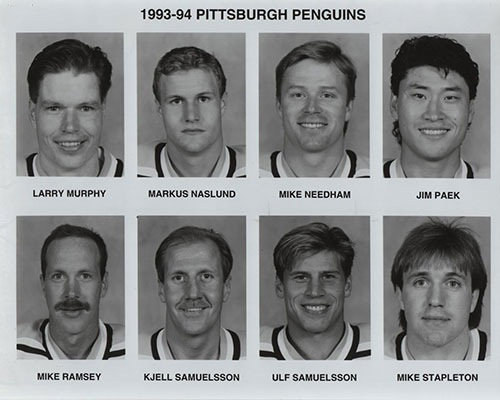 "Just recently, after commenting on the acquisition of a 2018-19 Chronology Mini Blank Back Pavel Bure /3 by my Twitter friend, @Burefanatic10, he replied that he would keep an eye out for the Naslund from the same set. Less a month later, he tagged me in a tweet of one of the Naslund blank backs. After contacting the owner of the card a deal was quickly struck, and I'd added a very tough, new parallel. It's connections with fellow collectors like these that help keep the hobby a steady part of my life. I have had the good fortune to meet some great people, and develop some special relationships with collectors here in Calgary, which has a great collector community. I love setting up at shows and talking shop with fellow collectors. Those friendships are what keep me engaged in the hobby."
Challenging Times:
"Some of the recent Leaf offerings have featured Naslund alongside other Canucks greats like Trevor Linden, Pavel Bure, and the Sedin twins. All of those players have some pretty fanatical collectors so, with extremely limited print runs, the chase for those remains competitive."
White Whale:
"The item atop my want list is also the oldest item missing from my collection – the 1995-96 Penguins Foodland team issue. I have his Foodland singles from the two previous seasons, but in all my years of collecting I've never even seen a copy of this card."
Dare to Share:
"I'm in a slow process of scanning my entire Naslund collection, front and back. In time, I hope to put up a website to show off the entire collection."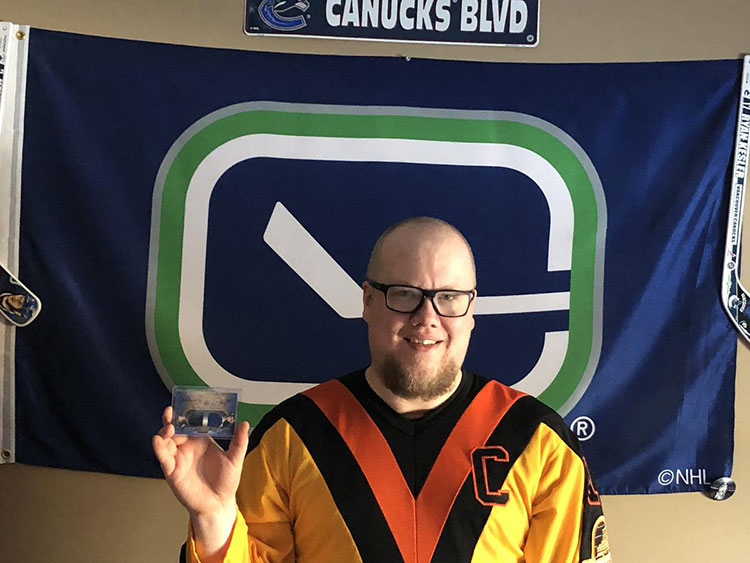 Connect with David:
"The best way to contact me is via e-mail at davidkwilson19@gmail.com. I'm also on Twitter and Instagram @davidkwilson19."