Collector Lands the 1/1 2018-19 Optic Luka Doncic Gold Vinyl Autograph
When you click on links to various merchants on this site, like eBay, and make a purchase, this can result in this site earning a commission.
Anthony Gomez didn't even want to buy a 1st Off the Line box of 2018-19 Donruss Optic basketball. But Ryan King of What's on Second Sportscards talked him into it, so Gomez headed home with the box.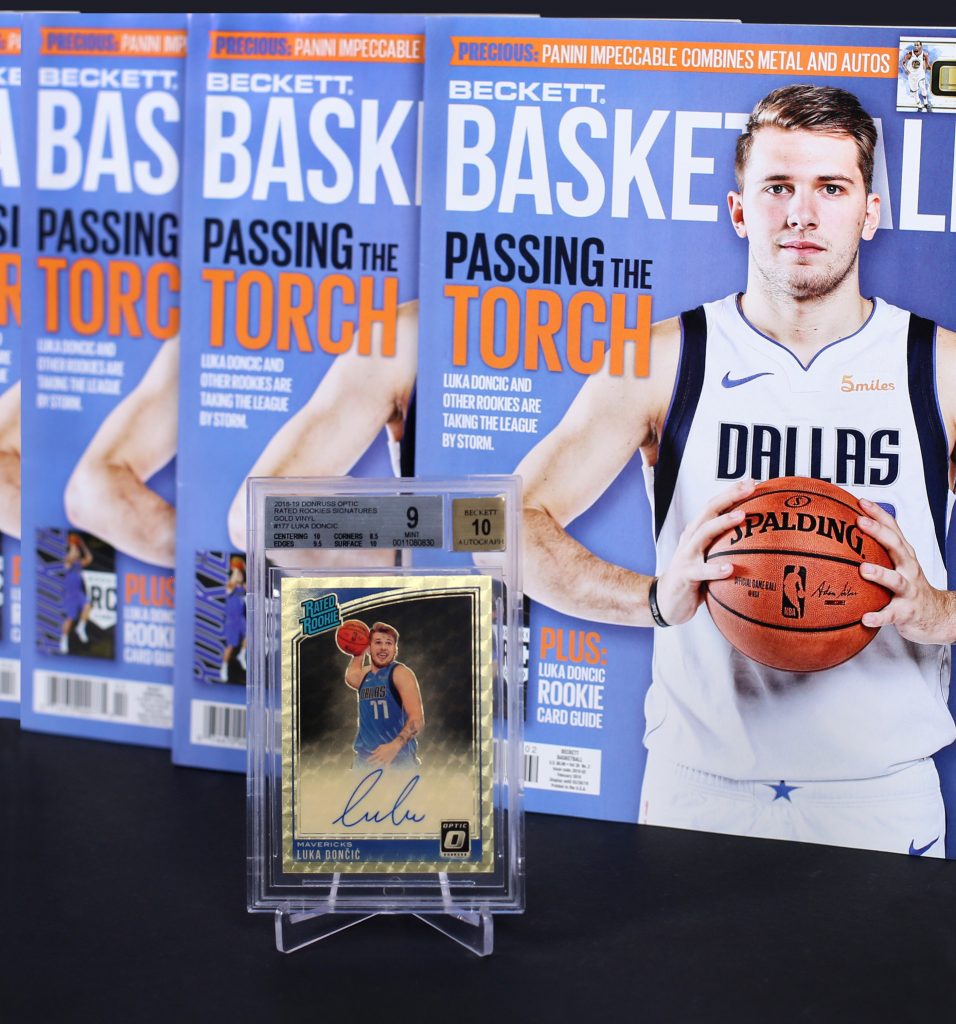 Gomez likes to open cards at home instead of in the shop because he's very protective of the cards and wants to take care of them.
As he's done many times before, Gomez began opening packs of cards looking for the big hits, but never in his life has he come across a hit as big as the one-of-one Luka Doncic Rated Rookies Signatures Gold Vinyl parallel.
"I opened the pack and I saw the back of the card and I said, 'Cool, looks like a Luka auto,'" says Gomez. "So I put it down on the table and I called for my wife to come look. Then I put it in a penny sleeve and a top loader, then I turned it around and I saw the 1/1. I was like 'Oh my God, it's real!'"
Gomez's wife, Michelle, laughs about the fact that Gomez didn't even turn it around until he had the card secured in the top loader.
"Everyone that knows him knows that's he's very particular about the handling of his cards. So he couldn't even turn it over until his hands were dry," says Michelle. "I was like 'Hurry up! Turn it around!'"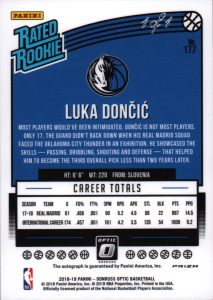 Gomez was, as expected, overjoyed. He may have even shed a tear or two.
"I even shed a tear!" says Michelle.
Gomez began collecting in 2012 after accompanying Michelle on a fateful visit to the nail salon. While she was getting her nails done, Gomez wandered over to What's on Second Sportcards in San Antonio, TX.
"I collected as a kid, but not that much. So when I was in the shop I was looking for cards that looked similar to what I had when I was a kid," says Gomez. "But instead there were all of these shiny chrome cards with autographs and stuff like that. I didn't understand it at first, but I came to like them."
Autographs helped draw him in and he pulled a Robert Griffin III auto, but didn't realize how big of a pull that was until he saw RGIII on the hot list in the Beckett magazine he purchased that day. Once he saw that, he was hooked.
Anthony and Michelle drove up from San Antonio to Beckett's headquarters in Dallas to have the card graded. Gomez says it was nerve-wracking making sure that the Doncic card was well-taken-care-of on the trip.
The card was graded by Beckett Grading Services and returned with a solid grade of a Mint 9. The corners scored an 8.5, which brought the overall score down a bit. Gomez was a little disappointed with the result, but kept a bright outlook on the experience as a whole. After all, Mint is still Mint.
"We've all experienced that initial shock when the grade isn't what we expect, but at the end of the day, I love this hobby," says Gomez. "Some people get really upset about that stuff, but to me it's not about all that. I mean, this is a 1/1!"
Gomez had the card slabbed by BGS so he won't have to worry about taking care of its condition anymore. He's still considering whether he wants to sell the card.
"I'm not on the level of the big money and big cards guys," Gomez says. "At the moment I can't sit on something like some guys can, so if I can make a little something over the cost of any box then I'm blessed."
For now, Gomez will continue basking in the notoriety he's gained amongst his circle of collecting buddies at What's on Second. Anthony's friends went crazy when he let them know about the card. He says they all seemed genuinely happy for him, which is his favorite part about the hobby.
"I'm always happy for everyone else no matter how big of a hit it is," he says. "I love getting to point out to people when they pull really big hits. In fact, I watched a guy pull two different Luka Doncic hits recently," says Gomez. "I remember telling people in the shop, 'Man, ain't nobody going to top that!'
"Well, I think I did."