Hardcourt Heroes of the Week: Jordan Clarkson and Isaiah Thomas
When you click on links to various merchants on this site, like eBay, and make a purchase, this can result in this site earning a commission.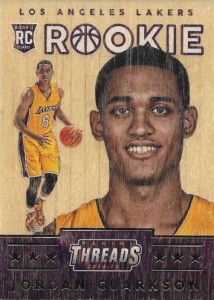 Each week, we will take a look inside the NBA and will give you the top players of the week and provide a rundown on why collectors should take notice. Please feel free to leave your comments for a healthy debate.
By Derek Ficken | Beckett Basketball Analyst
Jordan Clarkson – PG, Los Angeles Lakers
Last 5 Games: 21.6 PPG, 7.2 APG, 2.6 STLPG
The Lakers have had little to celebrate for throughout the 2014-15 season. Luckily for them, the lone bright spot has been the emergence of a young rookie from Mizzou, Jordan Clarkson. His PPG averages since February has gone up from 9.8 PPG to an astounding 19.4 in the early stages of April. Clarkson looks to be their point guard to guide them back into the promise-land and some collectors have started to take note. Because Clarkson was never a touted rookie coming out of college, he was not involved in any of the pre-draft showcasing with card companies, and it shows with only 87 total cards in the Beckett Online Price Guide with only 28 autographs. With that said, you can easily grab a key card of his and still have some money left over to get your favorite issue of Beckett Basketball Monthly! Look for his 2014-15 Donruss Rookie Autographs /199 ($30) or his 2014-15 Panini Prizm Rookie Autographs Prizms /499 ($30) to buy now and hold onto for the future. This kid has what it takes to make it in the NBA, and like I said above, some collectors are taking note, but everyone needs to get on the Clarkson bandwagon now before he becomes a potential All-Star.
Key Cards To Collect:
2014-15 Court Kings Fresh Paint Autographs #18 /260 ($30)
2014-15 Panini Threads #366 WOOD RC ($20)
2014-15 Prestige Premium #195 RC ($4)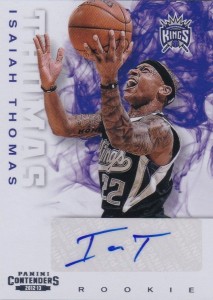 Isaiah Thomas – PG, Boston Celtics
Last 5 Games: 23.2 PPG, 5.4 APG, 2.2 RPG
As one of the most underrated players in the NBA currently, Isaiah Thomas seems to of finally have a home in Boston. The man out of Washington is a pure shooter and nothing more, but his production has skyrocketed since being traded from Phoenix at the Trade Deadline. Even though the Celtics aren't an exciting team, they are in the playoff picture and Thomas will finally have a spotlight on him to shine with the rest of them come May and June. In the Beckett Online Price Guide, out of his 317 priced cards, only eight surpass the $100 mark. With that said, grab what you can now, because if he continues his run of big numbers, he can be a highly touted free agent come negotiation time. Look to get his 2012-13 Select AU/449 RC ($15) or his 2012-13 Panini Gold Standard JSY AU RC ($20) to invest low and reap the benefits down the road.
Key Cards To Collect:
2012-13 Absolute #237 AU/399 RC ($12)
2012-13 Panini Contenders #270 AU RC ($10)
2012-13 Immaculate Collection #133 JSY AU RC ($80)