From Aussie Rules to the NBA: The Best Sports Experiences in the World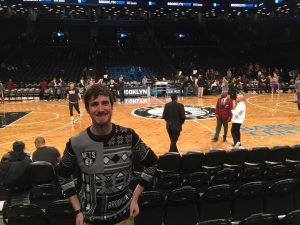 In my travels I've been very fortunate to see a lot of beautiful places. Despite the fact that I reside in one of the most far-removed cities in the world in Melbourne, Australia, I've been able to explore parts of Europe and America quite extensively. Through my travels I've met some wonderful people, tasted some of the world's great culinary delights and experienced some of the best live sport you can imagine.
I'm a big Brooklyn Nets fan and, as you can see in the photo above, I recently attended a game at the Barclays Center. That got me thinking about all the different sports experiences across the globe.
Melbourne has provided me the best opportunity to experience all types of live sport, be it cricket, basketball or Aussie Rules football. I've also gotten to see La Liga and Premier League soccer and NBA games in person. Here are my takes on the good and bad of each experience.
Here are some of my memories from these adventures.
Cricket
Watching live cricket is similar to that of a baseball game. It's a leisurely pursuit where the social aspect of enjoying the food and beverage is as important as the sport itself. The game itself might not be as enthralling as others, but both provide memorable and quirky moments for spectators. Cricket and baseball might be the only sports where you have a chance to catch the game ball in your pint of beer, as you see at 0:42 in the video below. Can't beat that!
Aussie Rules Football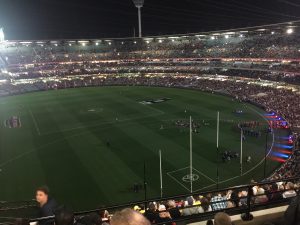 Aussie Rules is not very well-known in the US, but it is one of the most thrilling sports you can watch live. Many NFL teams feature an Australian kicker, and for good reason, as kicking is a crucial element of the sport. But, unlike soccer, it's got all the physicality of American football. It's non-stop action and if you blink you might miss something. It encompasses the physical toughness of American football with the grace and beauty of soccer. The fans at live matches are more frenetic and passionate then what you'll find in any other sporting pursuit. If you ever go to Australia, attending an AFL game is a must. 
NBL (Australian basketball league)
The fan experience of basketball in Australia pales in comparison to that of what's on offer around the United States. The quality just doesn't compare and you can't help but feel shortchanged at the fact there's a much better version of the game happening across the pond. And, of course, our best players (Ben Simmons, Joe Ingles, Patty Mills and more) spend their primes playing in the NBA. 
There isn't the same level of fanaticism either, as the history and quality of the NBL has been inconsistent, to say the least. You do have the added bonus of seeing the next Joe Ingles before he makes it to a bigger league like Spain's or even the NBA, but, of course, players like that are rare. Funnily enough the growing popularity of the NBA has helped coincide with an increased interest in the NBL.
La Liga
Watching Atletico Madrid at their home in Spain was like attending a carnival of sport. The chanting and passion was something to behold. Fernando Torres and Antoine Griezmann strutting their stuff is something I'll never forget. The game has an unmatched beauty and poetry about it that makes it so alluring. However, I've never understood the allure of flares when it comes to enhancing the sporting experience. At many soccer games it's as common as hot dogs at a baseball game.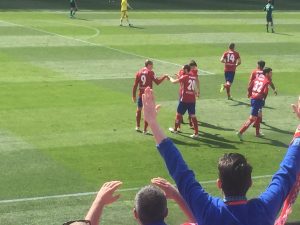 English Premier League
The other soccer match I was lucky enough to see was see Everton play Watford at Watford's stadium in London. As an Everton fan, I sat in the away section. Being an away supporter made the experience more of a tough one, but the fervent nature of the fans was still evident from both sides. The fanatic nature of sports followers is more present in soccer in Europe and the U.K. than in any other sport I've come across. It's quite the experience!
NBA
I'm a huge basketball fan, so to me there's nothing more entertaining than attending a live NBA game. I've been to games in Toronto, New York, Brooklyn, Chicago and Washington and they all have one thing in common: entertainment. NBA games are just flat-out fun. There's t-shirt tosses, acrobatic mascots, crazy halftime shows, overpriced concessions and some of the world's most gifted athletic specimens throwing their bodies and a ball around. You're likely to see a lot of foreign or tourist fans at basketball games as it's high on the list of things to do in any given city. If you're in any NBA town, it's a must-do experience to attend a game, even if you don't care about either team. You will be definitely be entertained.
The beauty of sports in the modern day is that you can pretty much enjoy any sport from anywhere in the world via the internet. But nothing compares to actually experiencing a sporting event in person. What have been some of your most exotic or exciting sporting experiences? What was the strangest sport you've seen live? Let us know in the comments below or on Twitter/Facebook!