Kid Collector of the Week: Trevor from Naugatuck, CT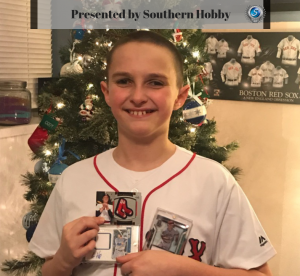 Our Kid Collector of the Week feature focuses on one kid each week from around the country who is deeply involved with the Hobby. Most collectors got involved when they were young and have fond memories of their early years, so we highlight kids who are just getting their start in collecting.
Kid Collector of the Week is brought to you by Southern Hobby who shares a passion for inspiring the next generation of card collectors.
This week's Kid Collector is 11-year-old Trevor from Naugatuck, CT. Keep reading to find out what Trevor's favorite part about going to Remember When? Sports Cards LLC in Brookfield, CT is.
BM: How did you get involved in The Hobby?
TS: My cool, awesome, epic dad is a collector and got me into it! Also, baseball sounded interesting, and I wanted to learn more about the game!
BM: How long have you been collecting?
TS: I've been collecting about 2.5 years.
BM: What do you collect: baseball, basketball, hockey, football, non-sport, other?
TS: I collect a several different sports like baseball, basketball, a little hockey, and football.
BM: What is the first card you remember? 
TS: My Carlton Fisk Sweet Spot Classic baseball card is the first one I remember. It's awesome!
BM: What is the best card you've ever pulled?
TS: My Ian Happ Donruss Promising Pros auto jersey baseball card is the best one I've pulled. It's one of the cards I'm holding in the photo.
BM: What's your dream card, the one you really really want right now?
TS: A Ken Griffey Jr. autograph jersey rookie card, he was a great player so it would be really cool to have this card.
BM: What is something you think that the Hobby could be doing to get more kids your age involved?
TS: I'd love it if they did more autograph shows where kids get free admission, that way we would get to meet more players.
BM: What's your favorite part about going to your local card shop?
TS: The owner and my dad talk baseball and I listen in and learn. Then I like to see if I can get any cards of the players they are talking about.