Canadian Hobby Shop of the Week: Collector's Dreams Cards & Colletables (Richmond Hill, ON)
Christopher started collecting cards in the 1980s. He loved it so much that he opened his own store in 1989. And it's still going strong 30 years later. I recently caught up with Christopher to discuss his shop and the hobby in his area of Richmond Hill, ON.
Canadian Local Card Shop of the Week is brought to you by Universal Distribution, Canada's premier distributor of CCG's, sports cards and non-sports cards, trading card games, role-playing games, comics, toys, figurines and more.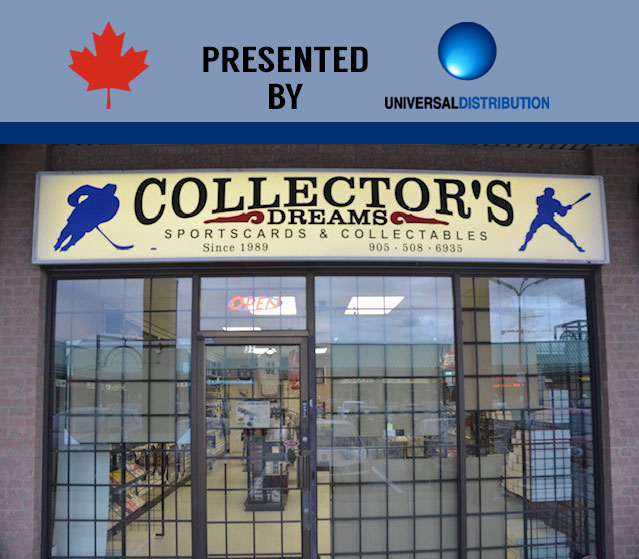 JOEY SHIVER – Thanks for taking the time to talk with us Chris. Can you tell us a little about your collecting background and what led to your decision to open your shop?
Chris – I went to a card show with my cousin who was in to non-sports over 30 years ago and got the collecting bug. From there, I started to visit local card stores, collecting, and then started to do shows from time to time. Decided in 1989 to open a store and here we are 30-plus years later.
JS –Can you tell us a little about your store, your setup and what type of inventory you carry? Also, what services do you provide?
Chris – We carry all sports and a huge selection of supplies, wax boxes, packs, and singles for all sports from hockey, basketball, football, baseball, soccer to UFC, wrestling and select non-sport products like Star Wars and James Bond. Pokemon is also carried along with a large variety of sports figurines, framed memorabilia and Funko figures. We also carry a selection of collectible coins.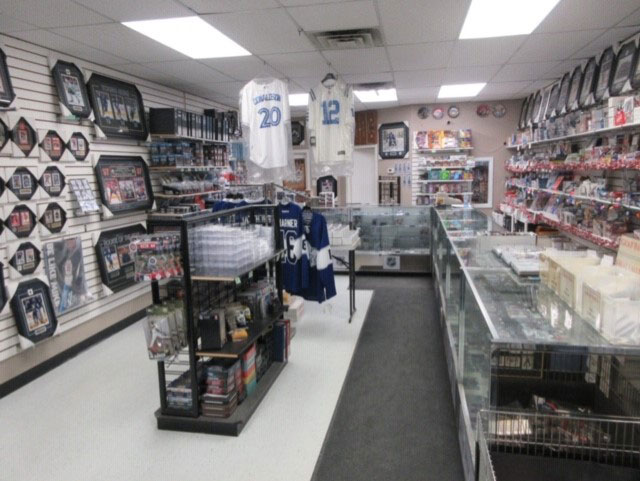 JS – You are located in Ontario, just north of Toronto. When it comes to the "Home Team," who would you say your collectors focus on?
Chris – We are located just north of Toronto in Richmond Hill. Toronto Maple Leafs and the other local teams like the Raptors and Blue Jays are a big focus. Last year, with the Raptors winning the championship, basketball exploded with memorabilia sales. Pictures, hats, cards, etc were at the peak for basketball.
JS – Your Facebook page reveals a lot of cool hits pulled in the shop over the last few months. What are some of the biggest pulls you can remember?
Chris – The store has been very lucky for big hits over the years. I recall an earlier SP Authentic Football product where the store had two autographs hit of Dan Marino serial numbered to 13. Crazy odds considering only 13 were produced and two were hit in the store.
A Connor McDavid 1/1 inscribed beauty was hit by Allan. Two Sidney Crosby '05-06 Crosby Ice Rookie /99 by Paul and Josh. Tim Duncan 1/1 Logoman patch, Harry S. Truman 33rd Presidential Cut Auto 1/1. Paul hit this as well.
Many crazy hits over the years.
We saw upwards of five Luka Doncic auto rookies from Contenders. The same goes for Zion from this year. We had a 2003 Michael Jordan box topper serial numbered 1/4 showing four jerseys: Chicago away/home, North Carolina, Washington autographed and serial numbered. We also had a Pacific Crown Hockey 1/1 Gretzky Cramer.
Back in the early days, one-of-one hits were truly rare and fetched a premium.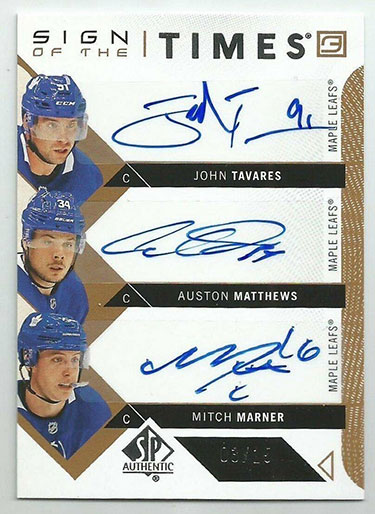 JS – Hockey is always a hot item in Canada, but how well do the other sports fare in your store?
Chris –Hockey is number one. Basketball and baseball also do extremely well, followed by football. During World Cup, soccer outsells all the sports. We do very well with all sports and it really depends on the rookie crops each year, which determines what will be the bigger seller.
JS – How do you view exclusivity in the hobby among card manufacturers as a whole? I know that Upper Deck has a very big presence in Canada. What about the other companies?
Chris – Upper Deck does well because of hockey! Topps, with the variety of baseball products, also does extremely well in our store. This holds true with Panini and basketball. Some of the partial license higher-end products do ok, but typically when it comes to baseball, it revolves around Topps.
JS – What products performed well in 2019? What about those products made them desirable to your collectors?
Chris – Baseball was huge in 2019 because of the rookie crop, as was basketball. Hockey and football to a lesser degree.
JS – What is one thing you think is really going well in the sports card hobby right now? On the contrary, what is one thing you would change, whether from an industry or local perspective?
Chris – The variety of rare cards inserted in various products make for a good chase. Some new, cool products have been introduced but some have been duds.
A major concern is the allocation of products, which is very evident this year with basketball, and even baseball and football in some cases. It seems like when something is hot, you don't get what you tried to preorder.
JS – In closing, can you tell us about any sales or upcoming in-store events you have scheduled for the next couple of months?
Chris – We finished off a great holiday season and rolled out 25% off for the entire month of January on all singles, memorabilia, and figurines in the store.
Collector's Dreams Cards & Collectables
Christopher
(905)508-6935
10520 Yonge St, Unit #31
Richmond Hill, ON L4C 3C7
Hours
Sunday: 12PM-5PM
Monday-Wednesday: 11AM-8PM
Thursday: 11AM-9PM
Friday: 11AM-11PM
Saturday: 11AM-6PM
Facebook – Collector's Dreams Cards & Collectables