Local Card Shop of the Week: Grand Slam Collectibles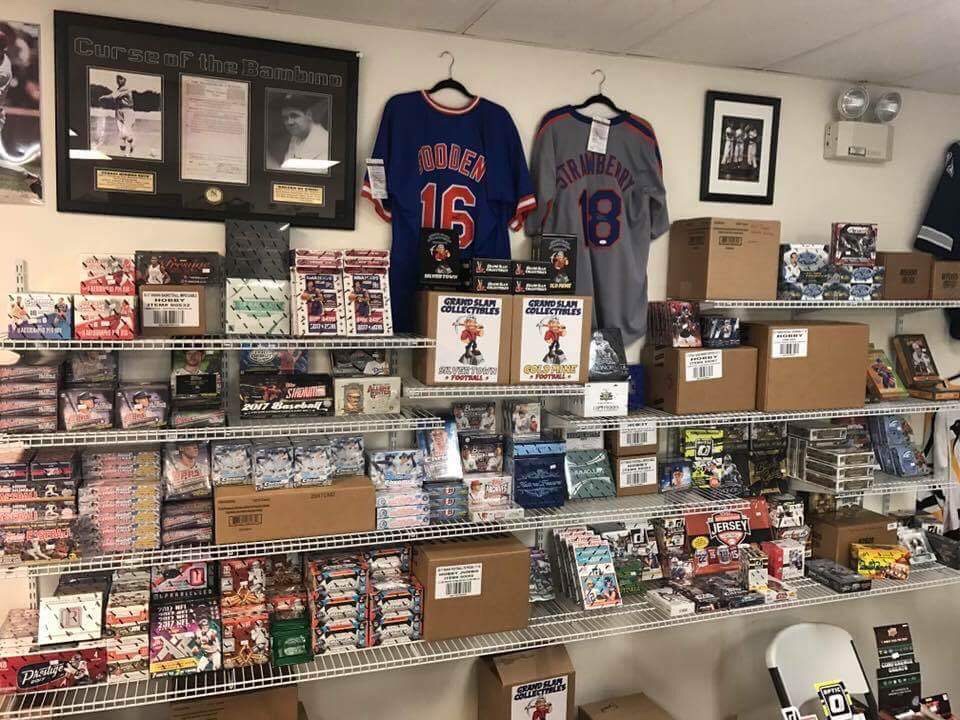 In 1984, Nathan Burns was 7 years old when his father bought him a 1984 Fleer Cello pack at a convenience store in Huntingdon, TN. With that first pack, he pulled a Carl Yastrzemski. His 12-year-old brother really wanted that card so Nathan was hooked at that point. For the next couple of years, all of his money went either to sports cards or He-Man figures. That Christmas, his parents took him to E'Gad's Card Shop in the Harding Mall and he can still remember walking in and realizing for the first time that you could sell baseball cards as a job. He knew at that moment what he wanted to do when he grew up. Thirty-three years later, Nathan is now the proud owner of Grand Slam Collectibles in Murfreesboro, TN and I had a chance to catch up with him and discuss his shop.
JS – Thanks for taking the time to speak with me Nathan. Grand Slam Collectibles is a fairly new LCS on the collecting scene having opened in 2016. Can you tell me a little about what led you to decide to open a card shop?
NB – The moment I walked into E'Gad's was the spark, but there were others that fueled the fire. A neighborhood friend, Gary Selph, would let me tag along to card shows with him and his kids. Thomas Collier, who had a card shop in Bruceton, TN, and Ernest McCaslin here in Murfreesboro at Bellwood Cards were instrumental in showing me it could be done. In 2016, an opportunity presented itself and my wife and my best card friend Robbie convinced me we could do it. So we did it!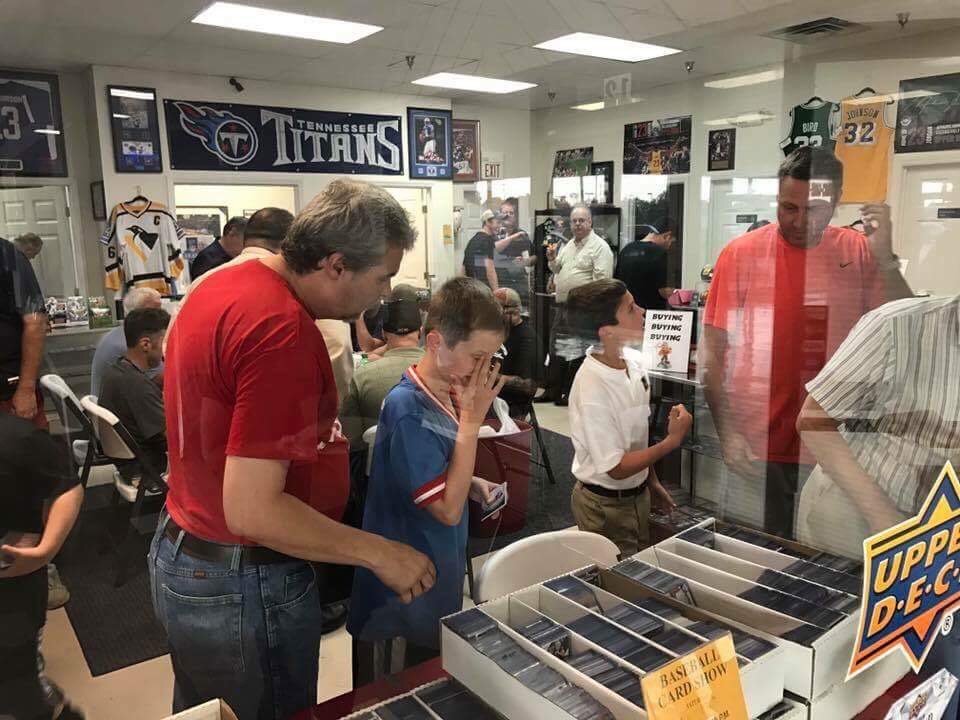 JS – Talk about your first year a little. What have been some of the challenges? What have been some of the rewards? Is being an LCS Owner everything you had hoped?
NB – Our first year was a blast! Our area had not had an LCS in 5-10 years so we all were ready for one. This helped us gain massive support from our local customers. They are the best customers in the country. They work hard for their money and choose to support our business with it. The challenge was getting quality product as the little guy/new store. There have been so many rewards but the biggest is being able to come to work every morning and never dreading the sound of the alarm clock.
JS – Tennessee is a big sports state with professional teams in all the major sports except for baseball. However, I know there are minor league affiliates in your area, as well as major university sports teams. What have been some of the player/team focuses for your clientele?
NB – Our customers' focus has mainly been on Peyton Manning, Jason Witten, Marcus Mariota and Derrick Henry. Alvin Kamara has gotten huge over the past few weeks as well. The customers are passionate about the Tennessee Volunteers, Titans and Nashville Predators. We had a great turnout when Taywan Taylor did a public signing. He came on a Friday Night and three nights later, on Monday Night Football, he caught the game winning touchdown for the Titans!
JS – The Nashville Predators made their first Stanley Cup Final in 2016-17. While hockey is not as prevalent as some other sports throughout the Southeastern United States, I can only imagine that it has a strong presence locally. What has been the impact of the Pred's success on the hockey market in Tennessee?
NB – The Predators caught fire last year in the playoffs and the Upper Deck products were flying off the shelf. That was one of our lucky breaks for sure!
JS – What have been some of the hottest products in your store over the last 12 months and why do you think collectors have been drawn to those?
NB – Panini Prizm Basketball has probably been the hottest product of the last few months. We have also sold between 125-175 boxes of 2017 Panini Certified Football so that has been the biggest seller. All 2017 Topps Baseball products were hot due to Judge Mania. Also, we have trouble keeping the Leaf Full Size Jersey's on the shelves.
JS – What have been some of the biggest hits pulled at Grand Slam Collectibles since you opened? I noticed that you have a Wall of Fame on your website (www.nashvillecardshop.com). Can you share a couple of stories?
NB – One of our customers, Batman, hit a Roger Maris Cut Autograph 1/1 Bat Card out of Tier One. He got that nickname because he was wearing a Batman shirt the first time he came in. Tim hit a Brett Favre Black Finite Prizm Autograph 1/1. The very next day, he hit a Brett Favre Donruss Classics Buyback Autograph 1/1. Nathan hit the Orange Refractor Autograph of Cody Bellinger. Al hit a Lou Gehrig Immaculate GU Quad Jersey 1/1 and a Dak Prescott Contenders Cracked Ice Rookie Autograph. Heath pulled a Michael Jordan PSA 6 Rookie out of Gold Mine. Hambone just hit the Mojo Prizm Autograph of Lonzo Ball /25. Shannon hit a Carson Wentz/Mack Hollins Dual NFL Immaculate Logo Shield 1/1. And Dalton hit a Dual Steph Curry/Kevin Durant Immaculate Autograph.
JS – I also noticed something else unique on your website. You offer two products called "Gold Mine" and "Silver Town". What are those products?
NB – Silver Town and Gold Mine released in September. We made 300 Gold Mine boxes ($149) with at least 3 hits and 150 Silver Town boxes ($89) with at least 2 hits. We loaded the boxes with hits like an MJ Rookie, 1953 Mickey Mantle, Connie Mack Cut Autograph, Michael Jordan Autograph and Lebron James Autograph. Also, each football case guaranteed a 1/1 patch or autograph. We sold all 450 boxes in less than a month and a half! It's an alternative for our customers to the normal products available in the store. We have had customers who've left the store disappointed at times when busting high end wax so Gold Mine was our remedy for that. Series 2 comes out in February with double the Michael Jordan rookies!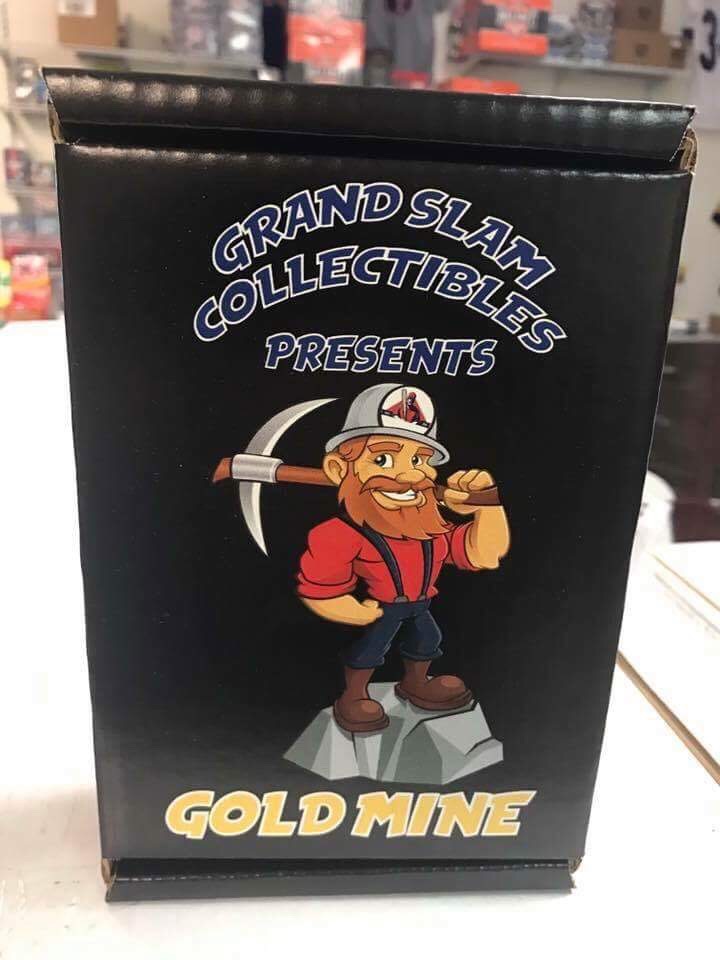 JS – Your Facebook page advertises "Grand Slam After Hours". Can you tell us more about that?
NB – Grand Slam After Hours is a live feed on our Facebook page on Monday and Thursday at 8 pm. We do box breaks, pack wars, box wars (where 2 collectors face off and best card wins the entire box), pack auctions (where top bid wins packs up for auction) and card auctions. We all just get together and have a great time. The After Hours events have grown exponentially over the past few months.
JS – Let's talk a little about your personal collection. You started collecting in 1984 so you have been a part of several ups and downs. What is your primary focus now on a personal level? Are you more into vintage/junk wax/modern? What are some of the highlights?
NB – When we opened the store, every card in my personal collection went into inventory. We did this without a business loan so there was no choice. The first day we opened, we sold a Michael Jordan Rookie PSA 4 that my father had bought me for Christmas one year. That is the only sale that I have ever regretted. When the business grew, we acquired a PSA 5 and made a trade for my PSA 4 and it remains in my PC. The PC has grown with the store and we have a dozen or so Joey Votto autograph's (my favorite baseball player). We also have quite a few Tyler Ulis rookie autographs. He is my favorite Kentucky Wildcat of all time. I do still enjoy all the 1980's key rookies in all three sports. Also, the 1991 Donruss Elite set is just about complete again. That set has some sentimental value because I chased them so much in 1991.
JS – Along with those ups and downs, you have also seen a lot of product changes since 1984. What changes have been most surprising to you in the industry? What products have changed the hobby for you?
NB – The single biggest change I felt was the 1989 Upper Deck Ken Griffey Jr. That card changed the industry. Then the 1990 Leaf Frank Thomas, because it was the absolute height of collecting. Those packs were $5-$10 each during the boom. The Griffey card fueled the Stadium Club, Finest, etc. craze that pushed most kids out of collecting. It's ironic that the most iconic baseball card was the beginning of the end of that golden era. In the past few years, some of the dad's who collected in the 1980's have come back to share the hobby with their son/daughter. So in my opinion, we have this 5-6 year window where we can really grow the hobby. It will take all card shop owners/collectors doing their part but we have an opportunity to really grow the industry, in my opinion. Our goal is to provide that for the Middle Tennessee area.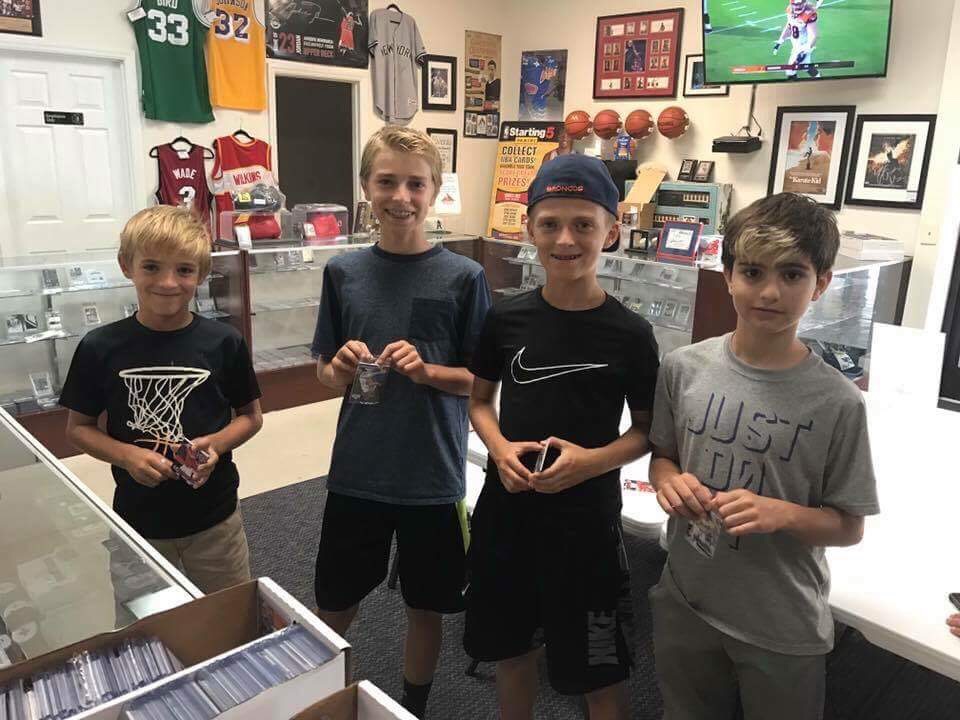 JS – In conjunction with the changes you've seen, what would you like to see from card companies in the future to help the hobby continue to grow and keep it strong?
NB – The card companies are doing quite a bit to grow the industry. It's really on the shop owners/card show dealers at this point. The companies offer pack promotions, Black Friday packs, etc. It's on us to give the packs out and do the right thing. As I mentioned above, we have a golden opportunity right now with the 80's collector becoming the father who wants to share those moments with their children. At Grand Slam, we are committed in doing our part!
JS – If you could give a future shop owner one piece of advice, what would that be?
NB – The advice I would give is pretty simple. If you have a passion for this hobby, it can be done. It's not easy but nothing worthwhile ever is. Don't listen to the people who give you reasons it won't work. They're mistaken.
JS – What else does Grand Slam Collectibles offer that helps bring in new collectors and keep them coming back? Do you have any in-store events or promotions you can share? Anything coming up?
NB – We have trade nights once a month, usually on the third Thursday. At the moment, we have a Topps Holiday Pack for customers who spend $10 on Topps packs. We also have our Christmas Party coming up where we give away $1,000 in supplies, packs, boxes singles and break credit.
Grand Slam Collectibles
Owner – Nathan Burns
1238 NW Broad Street
Murfreesboro, TN
(615)809-2362
Facebook – Grand Slam Collectibles
Hours of Operation
Sunday – 1pm:5pm
Monday – 11am:6pm
Tuesday – 1pm:6pm
Wednesday-Friday – 11am:6pm
Saturday – 10am:5pm