Local Card Shop of the Week: Jacksonville Sports Cards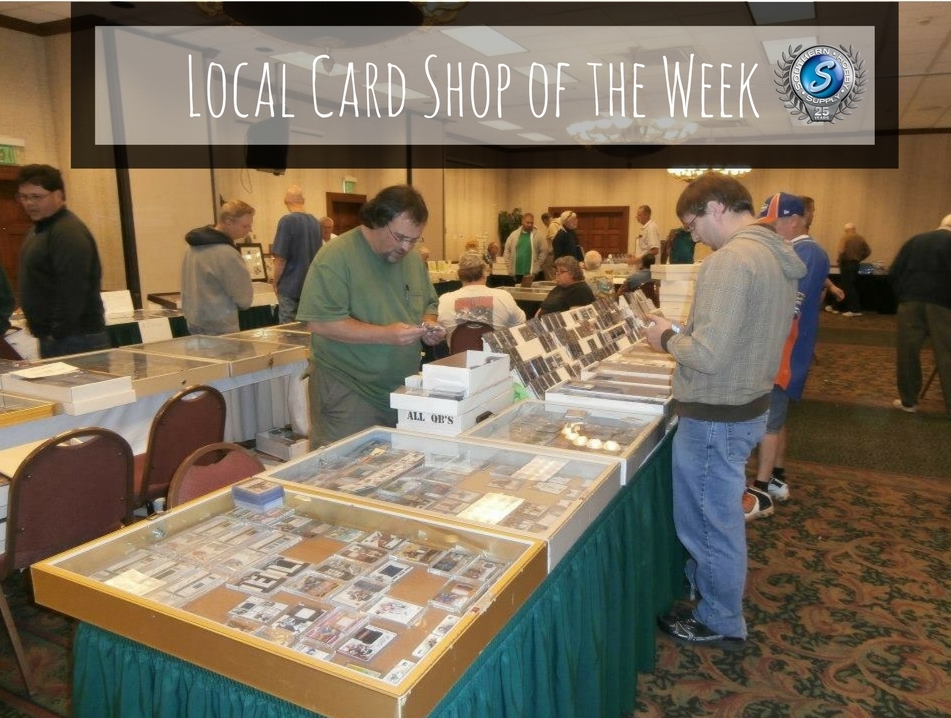 Frank Bray began collecting sports cards in 1960 when his parents owned a little corner grocery store/sub shop in Springfield, MA. They sold baseball cards in the shop and a company named Diamond National, who was printing cards at the time, was right across the street and they would bring uncut sheets and cases for the store from Topps when printing was complete. He has continued collecting since then, even after having to downsize during his family's move to Florida. Frank is now the owner of Jacksonville Sports Cards and I caught up with him to find out the state of the hobby in his region.
JS – Thanks for taking the time to speak with me Frank. Could you tell me about how you got started in the card shop business?
FB – My first store was opened in 1988. I bought the shopping center where my original store was but decided to sell and retire at 50. It only took about 30 days post retirement to realize that I didn't have anything to go and do because all of my friends were still working at that age. I ended up coming over to the current shop I own and worked for the gentleman who owned the store then. I purchased this store about 5 years ago.
JS – What have been some of the hotter products in your store over the last 12-24 months?
FB – Football is very hot because of the Jacksonville Jaguars. They are only about 15 minutes from my shop so there are a lot of fans close by. The NFL itself is just very hot right now. We also have the minor team of the Miami Marlins so we do real well in baseball too. I can't even get enough products in baseball right now. Diamond Kings from Panini is blowing out the store and I can't even keep it in stock at the moment.
JS – You mentioned the Jaguars and the minor league affiliate for the Marlins. I have also been down for the annual Georgia/Florida football rivalry as well. What player would you say is currently the most sought after in your store?
FB – Currently, that would be Leonard Fournette. He is the guy everyone wants right now.
JS – Some of the pre-draft college products have been releasing the last month or so with Elite, Sage and Leaf. How do college football products do in your area? 
FB – They do real well. As you mentioned, we have the Florida/Georgia game (*JS – I think he means the Georgia/Florida game) and I can just enjoy the game when it comes because I am a Miami Hurricane fan and I'm not invested in who wins or loses. We do real well with FSU as well. We have customers here who are fans of all of those teams and Elite is flying out of the door because collectors want those players before the draft. There are a lot of players from those colleges in that set.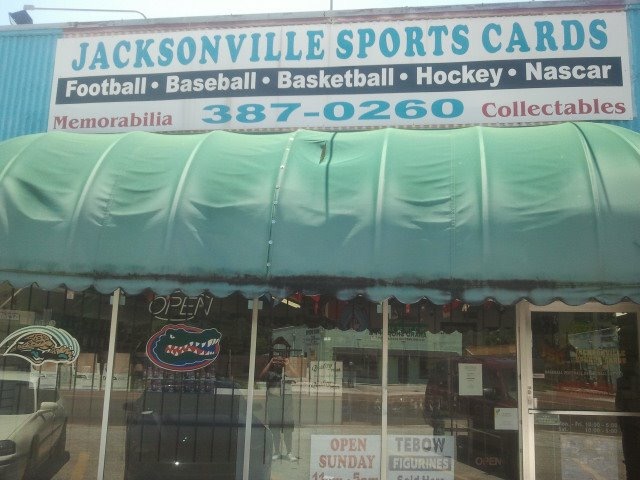 JS – In relation to products, you have been collecting since the 60's and have owned a shop since the late 80's. What are some of the changes or innovations you have seen that you never thought we would see when you were early in your career? 
FB – I never thought that the jersey and autograph cards would take over from the set builders. I have a library in my store for set builders and I have collectors send me lists and come in to search for needs to complete their sets. I had a gentleman in earlier this morning filling out sets, but that is not as prevalent as it was when I was a kid. Our library currently has over 4,000,000 singles available for set builders.
JS – Do you have many card shows in the Jacksonville area you can discuss?
FB – We have one every month that we put on at the Ramada Inn Conference Center here in Jacksonville. We have about 55 tables show up every month and we have the show on the first Saturday of the month. We have vendors and attendees from Georgia, Gainesville, South Florida, Daytona and many other areas that participate in it. JSA also attends some of our shows for authentication. Our next show is on May 5, 2018. The only month where we don't have a show the first Saturday of the month is in August, which is when the National takes place.
JS – Do you have any in store events or promotions that you can tell us about?
FB – We do a case break in store every three weeks in the store. It is $45 and we go around the room with teams in it and we let the participants trade amongst themselves before we open the product. These events are held on Wednesday nights and we serve pizza, soft drinks and dessert and the duration is about 2 to 2 ½ hours. After that, we will take some of the higher end products like National Treasures and so forth and we will break those by division with those divisions being drawn as well.
JS – Have you had any in store appearances or athletes at the card shows for signings?
FB – We have had Jaguar players in the past and even had a Green Bay Packer a couple of years ago. The challenge here is that the Jaguars are already so accessible to the public locally that it wouldn't be a major enhancement to have them at the show or the shop. You can attend most practices and get autographs from the players. They are pretty accessible to collectors and fans. They are very fan friendly.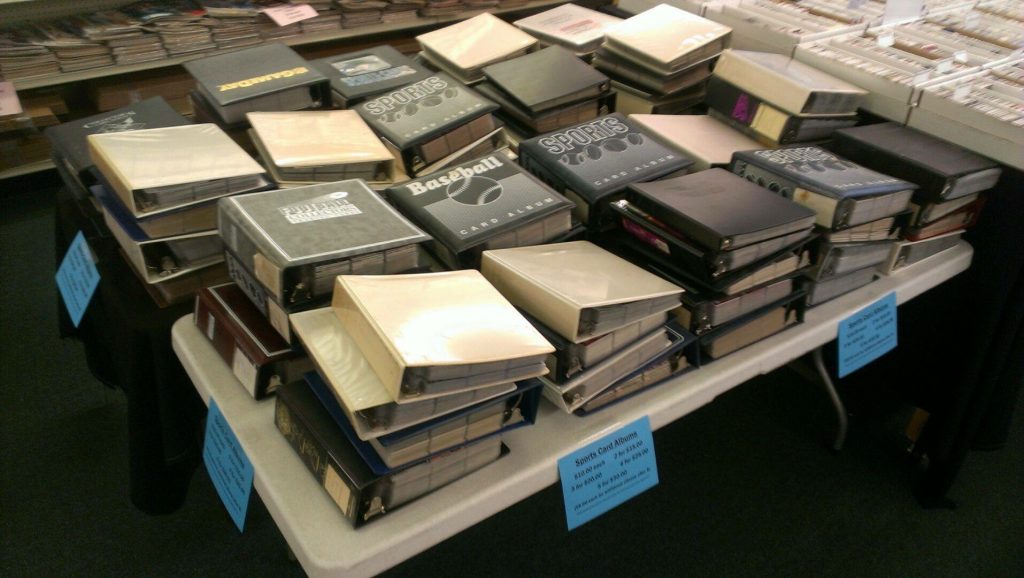 JS – What are some things that are really going well in the Hobby right now and the card companies are getting right? In contrast, what do you hear from your customer base that they would like to see offered or presented differently to collectors?
FB – I think the companies are getting better with getting autographs in the boxes. Panini also had a good idea with the point cards, but there seem to be too many point cards and collectors have to have too many points to actually get anything decent. Also, when you sell someone a $200-$300 box and the hits add up to $50, it's pretty hard to look your customer in the eye. Finally, when companies say there are going to be 4 autographs and there may only be 3, the customer contacts the company and may receive a $5 card in return. I think that hurts.
JS – If you could give one piece of advice to a potential shop owner, a new owner or even a seasoned owner that is looking for help, what would that be? 
FB – I have a friend opening a shop in Gainesville and I've told him to go do shows in the area and get a feel for the market and customer base and get an understanding of the appetite there. I was told to go out to a Flea Market for a year to see if I liked it and that's what I did and it got me in the business.
JS – In closing, is there anything going on in store during the next few weeks or months that you want to tell us about?
FB – We have our next Football Case Break on Wednesday, April 25th! That will be followed up by our May Card Show.
Jacksonville Sports Cards
Frank Bray
1370 Cassat Ave
Jacksonville, FL
(904)387-0260
Hours of Operation
Sunday – 10am:5pm
Monday – Friday 10am:6pm
Saturday – 10am:5pm
Facebook – @JacksonvilleSportsCards
Email – jaxsportscards@aol.com
Website – www.jaxsportscards.com