BGS Diary: Chasing Amy, metal minis, USA Baseball green and, of course, Crimson Tide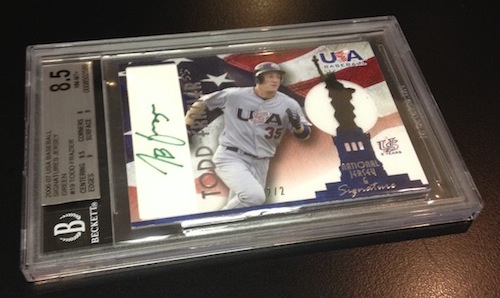 By Chris Olds | Beckett Sports Card Monthly Editor | Commentary
For the last few months, I've submitted a few cards a month to Beckett Grading Services to finally get some of the cards I like into slabs. Selecting which cards to submit has been easier said than done — and the results can be interesting, too.
Here is the batch I got back from BGS for February — so here is my latest BGS Diary entry. See which five cards I decided to submit … after the jump.
—
2006-07 USA Baseball Signatures Jersey Green #19 Todd Frazier /2, $N/A
This year's USA Baseball set is one that I ripped in volume — as in multiple cases. I managed to track down one last case of this one recently and pulled a pretty notable card of the Cincinnati Reds infielder during what turned out to be a career year. These cards can be somewhat condition sensitive with their high-gloss and their colored edges and the inset cut autograph, so I figured this one would simply "feel" better to me if it were in a slab. It's a rare green-ink version and the auto graded a 10.
Pop Report: Since there are only two copies of the card, this one has little competition. The pop report shows it being the lone slabbed card, though I swear I saw its twin in a BGS slab on eBay earlier this year.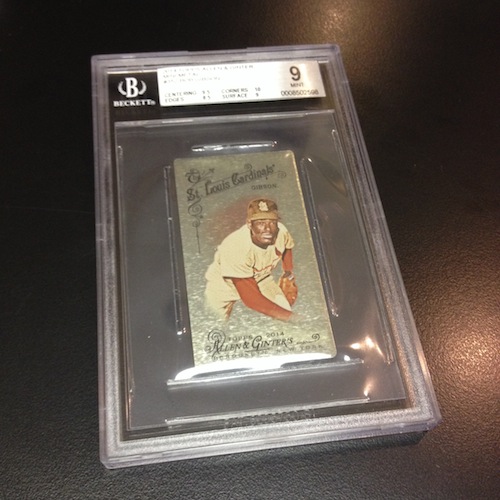 2014 Topps Allen and Ginter Mini Metal #352 Bob Gibson, $N/A
I had a good year pulling unusual cards out of Allen & Ginter in 2014 and this is just one of those odd pulls. It's a metal mini that was found inside a Rip Card and this was the first year these were made. They're relatively rare but not numbered. This year Topps says they'll be limited to only three copies per card. The metal surface is a clean one but the thing that makes these cards a tad condition sensitive is the white paint on the backs. It doesn't adhere to the metal perfectly, resulting in what looks like minor chipping. My edges here were an 8.5. lowering my Hall of Famer's card grade down to a BGS 9.
Pop Report: It's the only one graded for Gibson. A total of 15 cards from the set have been slabbed with none above a 9.5. The most-common grade has been a BGS 9, though cards as low as a BGS 7 have been slabbed.
—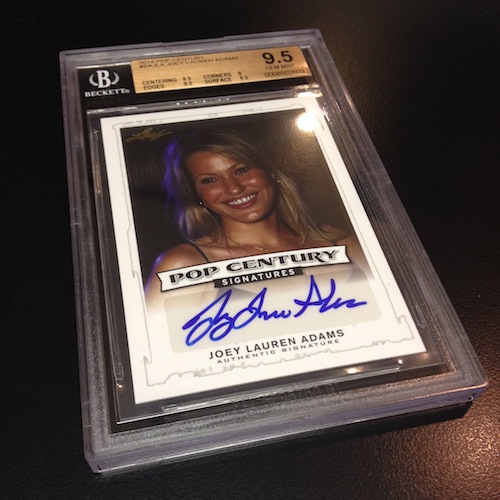 2014 Pop Century #BAJLA Joey Lauren Adams, $15
The first certified autograph for the Chasing Amy star can be found in this product and it was my highest-graded card of the month coming back a BGS 9.5. I figured the card was different enough from others in my collection that it would be an even more-interesting one in a slab.
Pop Report: This is the only copy of this card graded. A Silver parallel also is out there somewhere in a BGS 9.5 slab.
—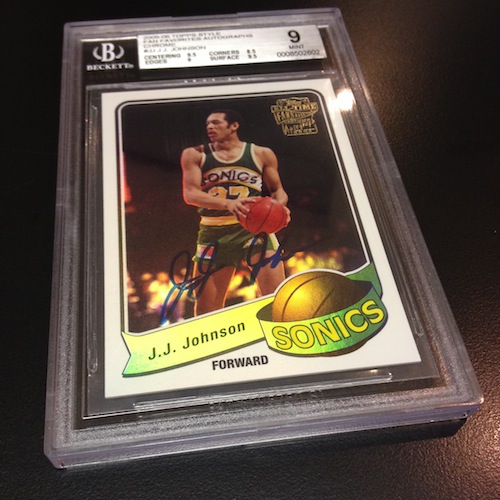 2005-06 Topps Style Fan Favorites Autographs Chrome #JJ John "J.J." Johnson /10, $N/A
School ties are all about this and my next two BGS Diary entries. Johnson was a member of the NBA champion 1979 Seattle SuperSonics, the first player ever drafted by the Cleveland Cavaliers, a dominating star at the University of Iowa and, before all that, a player at little Northwest College in Powell, Wyo. I got my start there, too. He has just five certified autos — though I am convinced one doesn't exist — and this is the rarer version of his Topps auto.
Pop Report:  Of the 10 copies that exist, this is the only one that has been graded.
—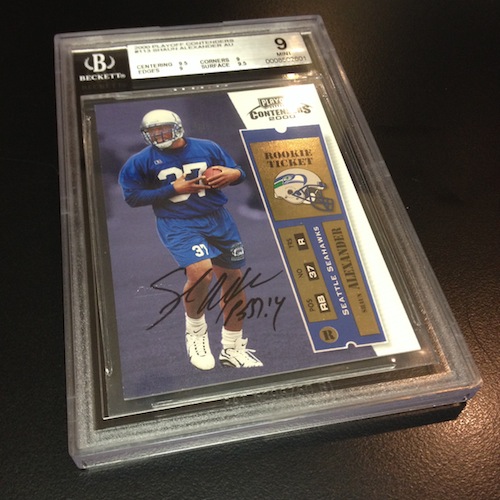 2000 Playoff Contenders #113 Shaun Alexander AU RC, $25
This is one of his most-touted Rookie Cards of the former Seattle Seahawks and Alabama Crimson Tide star. I picked it up a few years ago and decided it was time for it to be in a slab. Simple as that.
Pop Report: Only 72 copies of this card have been graded and only one — a BGS 9.5 — is better. The majority of the cards graded check in at an 8.5, while there are 27 others just like mine.
—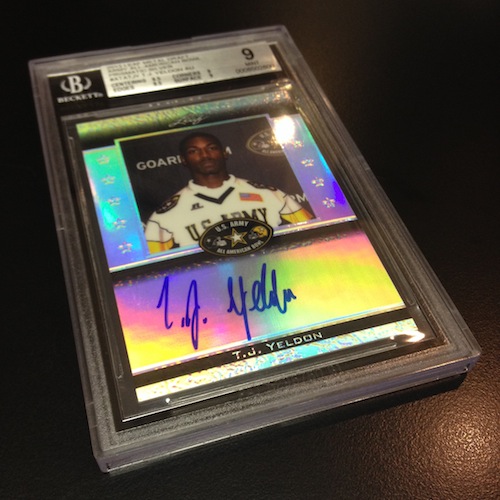 2012 Leaf Metal Draft Army All-American Bowl Prismatic Silver #ATATJY T.J. Yeldon AU /50, $80
The next Alabama Crimson Tide running back to head to the NFL is Yeldon, who ran for 979 yards and 11 touchdowns as a junior last season. He was among many players who appeared on Army All-American cards in recent years — the players' only cardboard appearances before potential NFL releases. I tracked this one down after an impressive showing in the team's 2012 opener against Michigan (111 yards on 11 carries, one touchdown) and decided now's the time for it to finally get slabbed.
Pop Report: Nine of the 50 cards made have been graded with six 9.5s and one 10. That make's mine the lowest-graded specimen of the bunch but I'm fine with that since it's going to go right alongside cards of Alexander and Mark Ingram in the personal collection.
—
So, there's my latest BGS Diary … let me know what you think, or if you want to see more, in the comments below.
Chris Olds is the editor of Beckett Baseball and Beckett Sports Card Monthly magazines. Have a comment, question or idea? Send an email to him at colds@beckett.com. Follow him on Twitter by clicking here.
—
How did Beckett readers do with predicting this batch? Look for a new BGS Diary Predictor next month.
—
February BGS Diary Predictor: What will Olds submit?
2000 Absolute #195 Tom Brady RC /3,000 (21%, 98 Votes)
2014 Immaculate Collection Immaculate Ink #16 Nick Swisher /15 (15%, 73 Votes)
2014 Topps Allen and Ginter Mini Metal #352 Bob Gibson (12%, 57 Votes)
2006-07 USA Baseball Sig. Jersey Green #19 Todd Frazier /2 (10%, 46 Votes)
2015 Country Music Signatures Blue #40 Sara Evans /299 (9%, 41 Votes)
2014 Pop Century #BAJLA Joey Lauren Adams (8%, 39 Votes)
2000 Playoff Contenders #113 Shaun Alexander AU RC (8%, 38 Votes)
2011 Panini Gridiron Gear #243 Chris Matthews RC (7%, 34 Votes)
2012 Leaf Metal Draft Army All-American Bowl Prismatic Silver #ATATJY T.J. Yeldon AU /50 (6%, 28 Votes)
2005-06 Topps Style Fan Fav. Auto Chrome #JJ J.J. Johnson /10 (5%, 22 Votes)
Total Voters: 127
Loading ...
—
PAST BGS DIARY POSTS
— October: Rookie Cards, Moneyball & Watergate
— November: Vintage, booklets Dr. Beckett & more
— December: Saban, Cerrano, Hawk, Animal & practice
— January: Bull Durham, Star hoops, "Macho Man" … and Bill Murray's baseball card?