2021-22 Upper Deck Series 1 Hockey Checklist, Team Set Lists and Details
When you click on links to various merchants on this site, like eBay, and make a purchase, this can result in this site earning a commission.
It's safe to say that the world is ready to get back to some sense of normal. What that looks like and when everyone gets there is still unknown, but it's on the horizon. To find it, we look to traditions and other things that have brought comfort in their consistency. If you're a hockey card collector, 2021-22 Upper Deck Series 1 Hockey might be one of those symbolic returns, even if its arrival is later than usual.
The sport's longest running set arrives with a lot of its hallmarks. Young Guns are back. So are some familiar inserts and parallels like Exclusives, UD Canvas and Portraits.
And while much of it from a configuration standpoint is like you expect and remember, there's still room for some tweaks and additions.
2021-22 Upper Deck Series 1 Hockey Checklist Overview
The first installment of hockey's flagship card set, the base set is one of those parts where not much has changed.
It totals 250 cards with a shell of 198 veterans and a pair of checklists.
The rookies are back with the iconic Young Guns banner. As usual, there are 49 players plus a checklist. Like past years, Young Guns are short prints but not dreadfully rare. Hobby boxes average six of the RCs.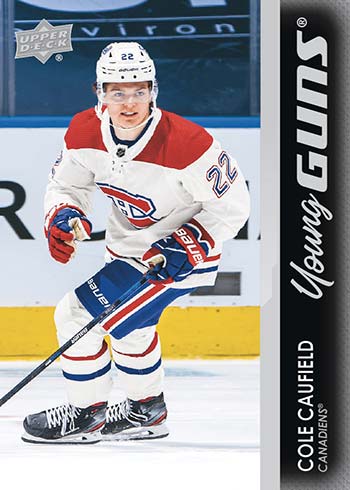 Parallels come in a variety of levels. French cards, which have aptly translated text, are one per hobby box. Acetate Clear Cut versions are only in hobby packs for another year. On the serial-numbered side, Exclusives (/100) and High Gloss (/10) are both back.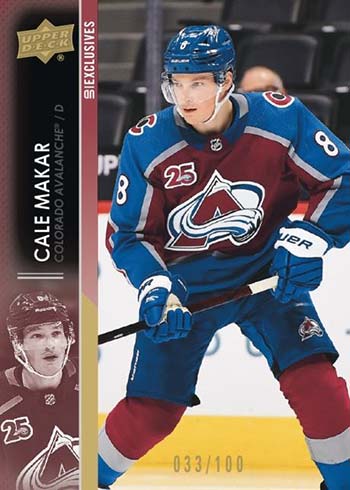 Inserts
The expansive UD Canvas gets another round of cards. This includes more Young Guns as well, typically a slightly different assortment than those found in the base set. A small number of UD Canvas autographs, which come with on-card signatures, are also available. A total of four UD Canvas inserts can be expected in each hobby box.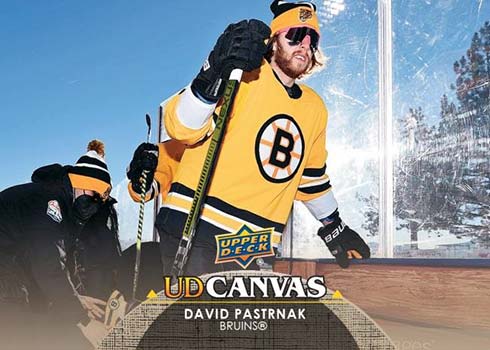 UD Portraits also returns. These have a two-tiered checklist with Stars and short-printed Superstars. Black and White parallels make their debut with Stars are numbered to 250 and just 25 for Superstars.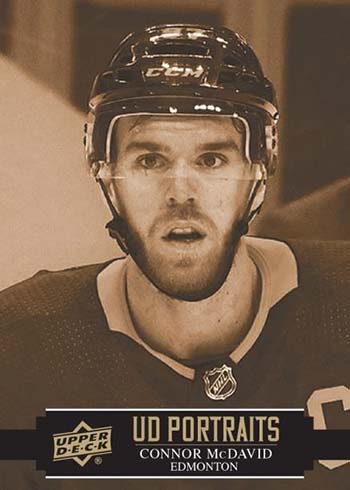 A handful of Clear Cut themes combine to land as case hits. Clear Cut Picks is new for 2021-22. The checklist for these is only players taken in the first round of the NHL Draft. Clear Cut Foundations, Clear Cut Honoured Members and Clear Cut Leaders all get new installments.
Among the new insert sets in 2021-22 Upper Deck Series 1 Hockey are the superstar-centric Electromagnetic and Hundo P, focusing on players who hustle and give "100 percent." Both have additional Gold parallels.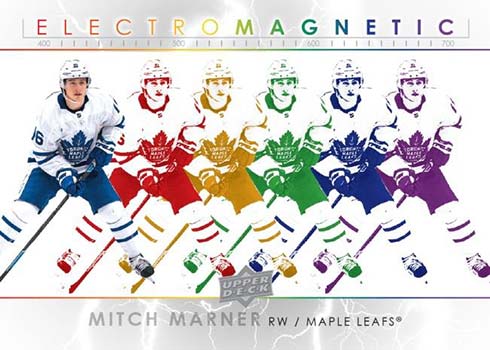 Honor Roll makes a comeback and has Rainbow (/250) and Gold Rainbow (/25) parallels.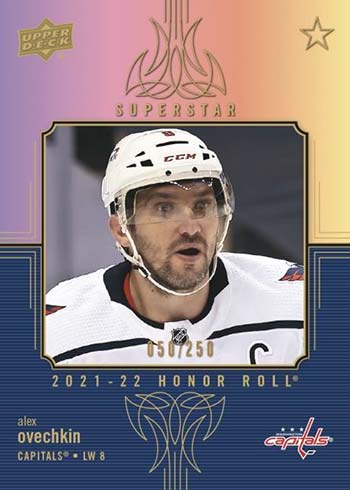 Brightly colored Dazzlers return. Blue (1:24 hobby and retail packs) and Pink (1:144 hobby and retail packs), Red (1:12 retail packs), Green (1:6 blaster packs), Orange (1:8 tin packs, 1:10 fat packs) are among the versions.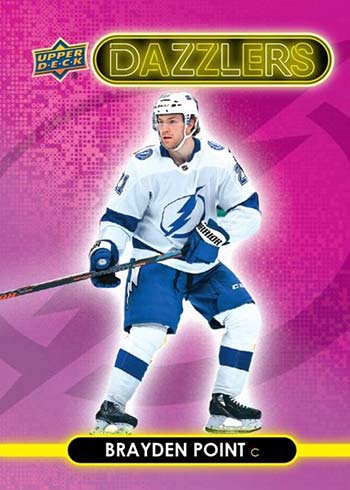 Each 2021-22 Upper Deck Series 1 Hockey tin includes a bonus pack of three exclusive O-Pee-Chee Glossy inserts. These have additional Bronze (1:9) and Gold (1:27) parallels.
There's also Daylight Nightlight. Other than being extremely rare, Upper Deck isn't saying too much about these, but it sounds like you might want to look at them a couple of ways.
UD Game Jersey cards bring some memorabilia to the checklist. These also have Patch and 25th Anniversary Patch versions.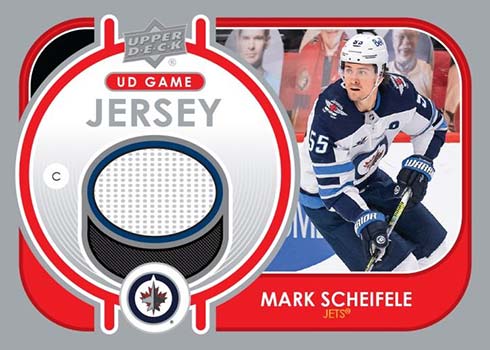 2021-22 Upper Deck Series 1 Hockey at a glance:
Cards per pack: Hobby – 8, Retail – 8, Blaster – 8, Tins – 8, Fat Packs – 26
Packs per box: Hobby – 24, Retail – 24, Blaster – 6, Tins – 8, Fat Packs – 18
Boxes per case: Hobby – 12, Retail – 20, Blaster – 20, Tins – 12, Fat Packs – 6
Set size: 250 cards
Release date: March 2, 2022
Shop for 2021-22 Upper Deck Series 1 Hockey boxes on eBay:
What to expect in a hobby box:
Clear Cut, Memorabilia Cards or Other Premium "Hit" – 1 Total
Dazzlers – 1
Honor Roll – 2
UD Canvas – 4
UD Portraits – 2
French Parallels – 1
Young Guns Rookie Cards – 6
2021-22 Upper Deck Series 1 Hockey Checklist
You can also download a customizable spreadsheet copy of the checklist:
Please note that print runs for cards without serial numbers have not been announced.
Recent Upper Deck Series 1 Hockey releases: