2020-21 Upper Deck Series 1 Hockey cards really get the new season going. While the checklist parts bring a lot of familiarity, there's a refreshed look in several places filled with bright colors. One of those spots? The cornerstone Young Guns Rookie Cards. And, yes, first overall pick in the 2020 draft, Alexis Lafreniere is among them.

2020-21 Upper Deck Series 1 Hockey Checklist Overview
The base set has the usual 250 cards. Veterans take up the first 200 spots on the checklist. This includes two checklists.
Young Guns, which are 1:4 hobby packs, bring the rookie content. A total of 49 players plus another checklist appear here. Typically, players have to make their NHL debuts before they're eligible for their Rookie Cards. However, with the delayed completion of the 2019-20 season and late start for 2020-21, the NHLPA allowed for an exception. This means that Lafreniere and some other players were allowed to make the Series 1 cut.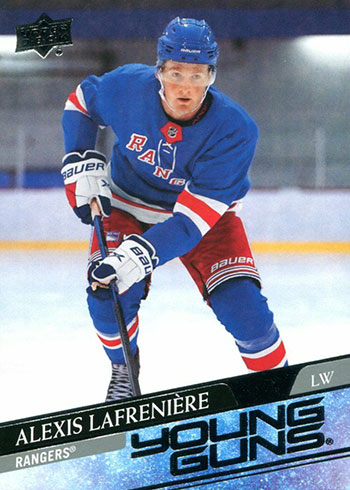 French is a new parallel in 2020-21. Base versions are 1:30 hobby packs while Young Guns land 1:120. Clear Cut (1:96, YG – 1:288), Exclusives (/100) and High Gloss (/10) parallels are also available, although these three are all exclusive to hobby packs.
Variations exist for some base cards as well. These show players in suits and street clothes. Like most of Upper Deck's variations, these are unannounced Easter Eggs. Odds are not known.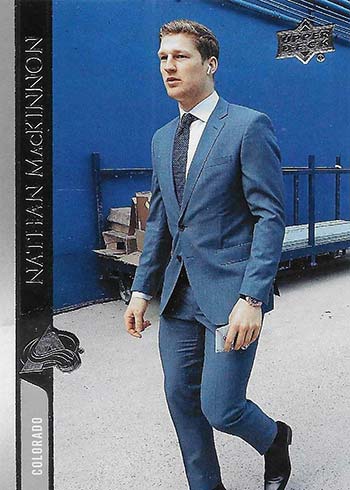 Inserts
Series 1 has a sizeable insert lineup. This includes another installment of UD Canvas. Somewhere between a parallel set and a traditional chase set, these come with an adjusted design and card stock and an expansive checklist. Veterans are 1:7 packs while Young Guns are every other hobby box. Exclusive to hobby are some tough UD Canvas Autographs that are numbered to the player's jersey number. Signatures on these are also on-card.
It's picture day with UD Portraits (1:8 hobby) and UD Portraits Rookies (1:30 hobby). After last year's 1980s Sears studio-inspired "floating head" look, there's some continuity here with the design moving forward to an early '90s laser background. Parallels include Gold Foil (Veterans – /25, Rookies – /99) and Platinum Blue Foil (Veterans – /5, Rookies – /25).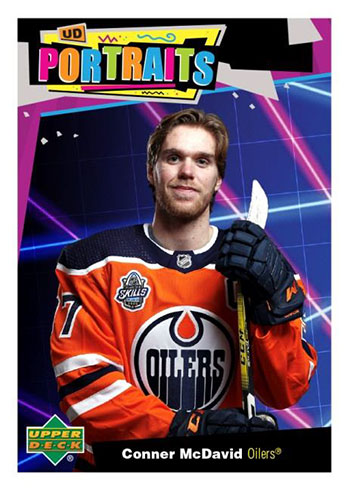 Debut Dates (1:20 hobby) is new for 2020-21. These take it back to the previous season and showcase the first games of 2019-20 rookies. Select cards also have Jersey (1:432) and Patch (/25) memorabilia versions.
Another place that reflects on the previous year's first-year players is Rookie Retrospective (1:27). Like Debut Dates, these also have Jersey (1:432) and Patch (/9) spins.
Acetate inserts return in Series 1 with more Clear Cut cards: Clear Cut Foundation Duos (1:288), Leaders Trios (1:4,000) and Honoured Members Updates (/100). There's also the tough Cup Components (1:900) that are also done on the clear stock.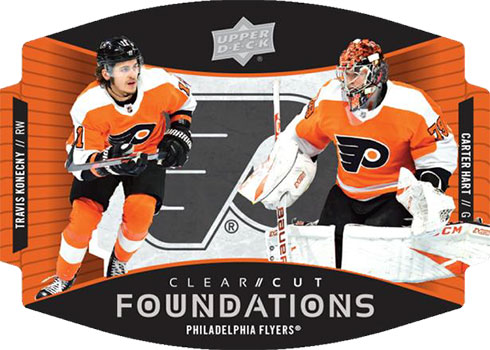 Other rare inserts include Day with the Cup (1:2,880), Ceremonial Puck Drop (1:2,880) and 2020 NHL Draft SPs (1:12,960). Ceremonial Puck Drop Autographs (1:30,000) are among the scarcest cards in 2020-21 Upper Deck Series 1 Hockey.
The usual Day with the Cup inserts are being held for Series 2. However, there is Day with the Cup Tribute with past Oilers and Rangers Stanley Cup wins.
Insert Debuts
2020-21 Upper Deck Series 1 Hockey has some other new inserts. Predominant (1:12) uses black and white backgrounds and an elegant design to put forth stars in full color. These also have Gold (1:260) parallels. NHL Worldwide centers on the global aspect of where players come from with a flag dominating the background. Die-cut (1:270) parallels are also available.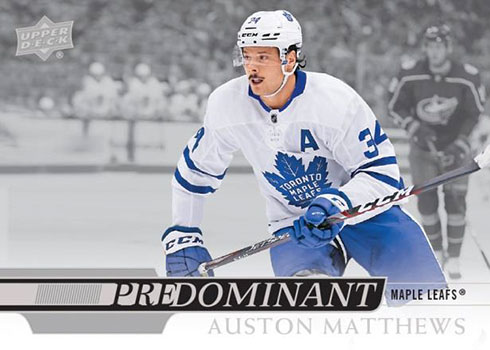 Dazzlers is another place on the checklist where bright colors shine. These have base Blue (1:24) and Pink (1:144) versions. Orange parallels are only in tins (1:10 packs).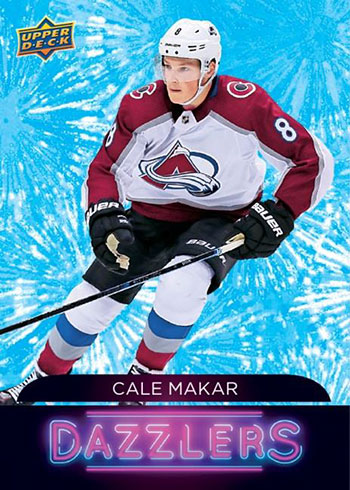 Additional Autographs and Memorabilia Cards
Hits aren't a huge focal point in the product. Even though they're not a promise in every hobby box, they are out there with some regularity. UD Game Jersey return. At 1:36 hobby packs, they're the easiest memorabilia cards to pull. Patch parallels are numbered to 15.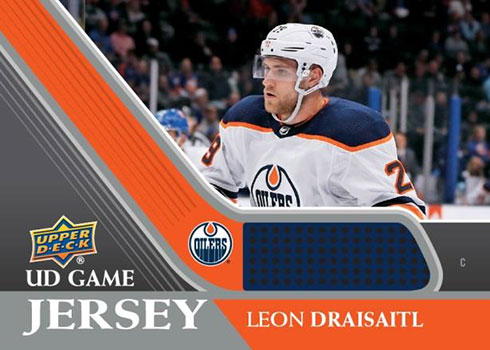 Additional autographs are in Signature Sensations (1:276).
All autographs in 2020-21 Upper Deck Series 1 Hockey are live in packs. The product has no redemptions.
Tins
Hobby boxes aren't the only way to get 2020-21 Upper Deck Series 1 Hockey cards. It has a variety of configurations including the return of tins. These have nine packs plus a pack of three exclusive O-Pee-Chee Glossy Rookies.
The Glossy cards have two levels of parallels: Bronze (1:12 bonus packs) and Gold (1:34 bonus packs).
2020-21 Upper Deck Series 1 Hockey cards at a glance:
Cards per pack: Hobby – 8, Tins – 8
Packs per box: Hobby – 24, Tins – 9
Boxes per case: Hobby – 12, Tins – 12
Set size: 250 cards
Release date: November 18, 2020
Shop for 2020-21 Upper Deck Series 1 Hockey boxes on eBay:
What to expect in a hobby box:
Dazzlers – 1
Debut Dates, NHL Worldwide, Predominant or Rookie Retrospective – 6 Total
UD Canvas – 4
UD Portraits – 4
Young Guns Rookie Cards – 6
2020-21 Upper Deck Series 1 Hockey Checklist
Please note that print runs for cards without serial numbers have not been announced.
You can also download a customizable spreadsheet version of the checklist:
Base
Autographs
Memorabilia
Inserts
Team Sets