2019-20 Upper Deck Series 1 Hockey cards mark 30 consecutive years for the flagship line. And while the checklist is firmly set on the present, there are some understandable nods to the line's history as well.
Overall, the mix is somewhat familiar with many of the same insert themes as recent years and the same general base set structure, too. And that means a fresh batch of Young Guns. The Rookie Cards once again land six per hobby box.

2019-20 Upper Deck Series 1 Hockey Base Set Basics
If you've collected Upper Deck Hockey over the last several years, you know the drill when it comes to the main set. It's 250 total cards split into a couple of parts. The first 200 are veterans. Well, the first 198 cards are. Numbers 199 and 200 are checklists. As always, action photography is one of the set's distinguishing marks.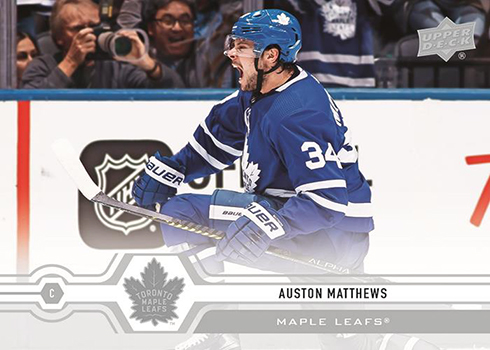 Young Guns Rookie Cards make up the remainder of the set. These are moderate short prints, landing 1:4 hobby packs. The November release date means that some of the start-of-season rookie debuts will make their way into packs. Among them? First overall pick in the 2019 NHL Draft, Jack Hughes.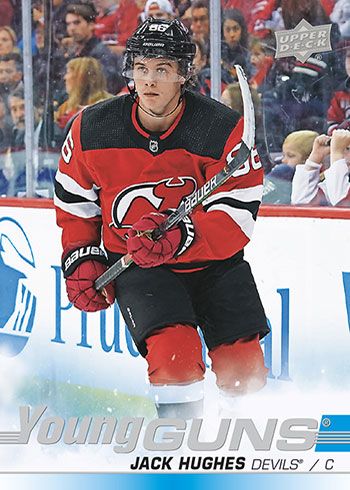 Upper Deck Hockey doesn't do a lot of parallels, but there are some. Clear Cut cards, which are done on acetate, fall 1:72 hobby packs — roughly every third box. Exclusives (/100) and High Gloss (/10) both return as well.
Inserts
UD Canvas is among the returning inserts. These are kind of like a set within the set. The checklist has 120 cards, 30 of which are Young Guns. Canvas cards combine to land 1:6 packs. Similar to the main set, Young Guns are short prints (1:48).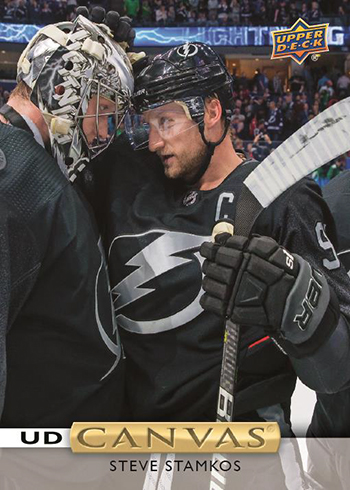 Shooting Stars returns. Hobby packs feature Centers (1:64), Right Wingers (1:96) and Defencemen (1:192). All three also have red parallels. Collectors can expect to find remaining positions in retail configurations.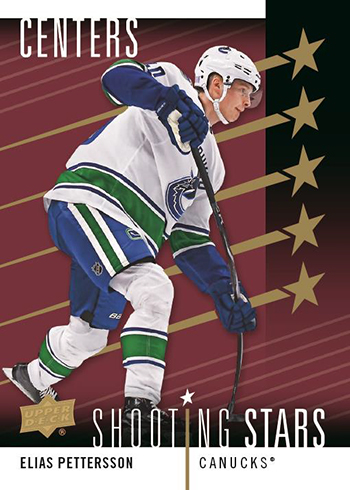 Another perennial insert is UD Portraits. Between the veteran and rookie versions, these are among the more common inserts, falling 1:6 packs. Additional parallels are available in Gold Foil (/25, Rookies – /99) and Blue Foil (/5, Rookies – /25).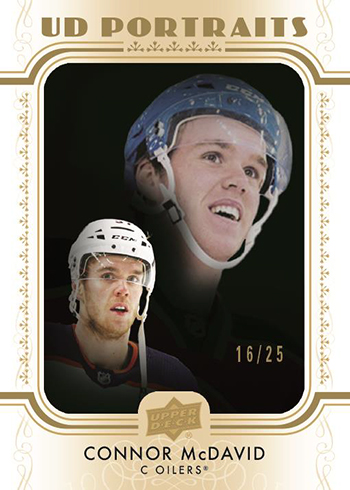 Collectors should find a couple of other insert sets in every hobby box. Pure Energy (50 cards, 1:6 hobby packs) is new for 2019-20. Generation Next (1:15 hobby packs) makes its return, putting the spotlight on young players.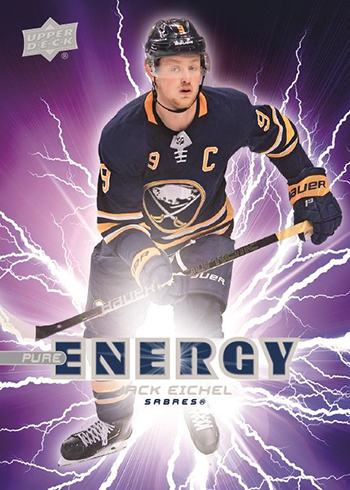 Four separate Clear Cut inserts are all on the tough side: Clear Cut Foundation Duos (1:424), Clear Cut Leaders Trios (1:4,752), Cut Components (1:1,008), and Clear Cut Honoured Members Update (/100).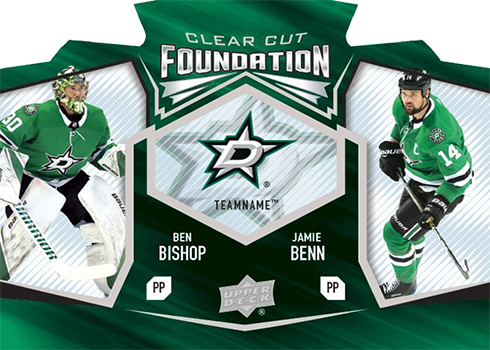 Other rare inserts include Day with the Cup (1:2,880), Ceremonial Puck Drop (1:2,880) and 2019 NHL Draft SP (1:12,960, Gold Variation – 1:60,000).
To tie in with its anniversary, 2019-20 Upper Deck Series 1 has inserts covering past designs using three of the company's spokesmen: Wayne Gretzky, Patrick Roy and Connor McDavid. Inserts for each player are 1:30 hobby packs.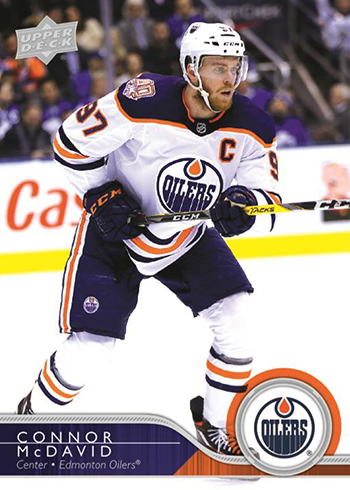 Autographs and Memorabilia Cards
Hits take a bit of a back seat in Upper Deck Hockey. This set is no different, however there are some autographs and memorabilia cards to be found.
On the autograph side, there's Signature Sensations. These land 1:276 hobby packs, which is a little better than one per case. Ceremonial Puck Drop Autographs (1:30,000 packs) and UD Canvas Signatures (limited to player's jersey number) are also available, but extremely scarce.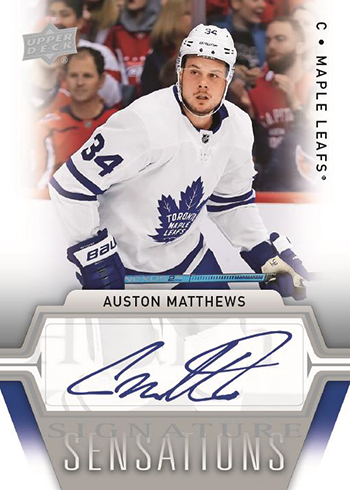 UD Game Jersey (1:40) lead the relics. Once again, these have tough Patch parallels (/15).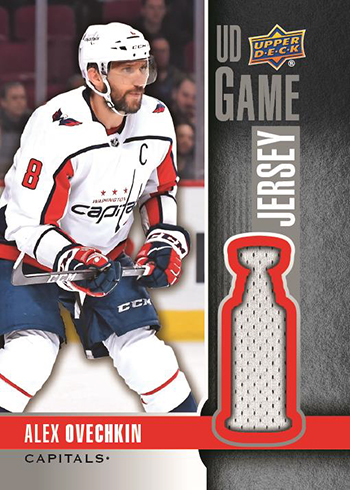 Other memorabilia inserts include Rookie Retrospective Jersey (1:576, Patch – /18) and Generation Next Jersey (1:576, Patch – /10).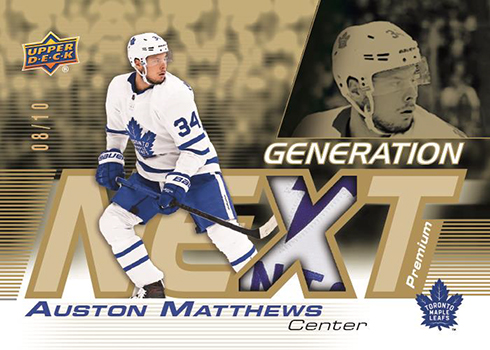 2019-20 Upper Deck Series 1 Hockey cards at a glance:
Cards per pack: Hobby – 8
Packs per box: Hobby – 24
Boxes per case: Hobby – 12
Set size: 250 cards
Release date: November 6, 2019
What to expect in a hobby box:
Generation Next – 1
Pure Energy – 4
Shooting Stars – 1
UD Canvas – 4
UD Portraits – 4
Young Guns Rookie Cards – 6
2019-20 Upper Deck Series 1 Hockey Checklist
Base
Autographs
Memorabilia
Inserts
Team Sets