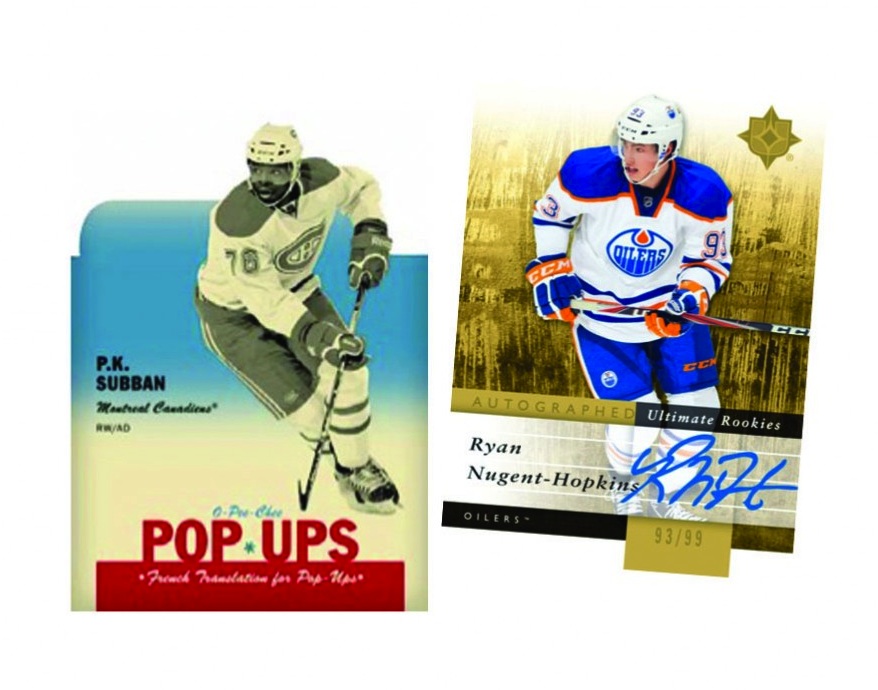 By Andrew Tolentino | Hockey Editor
Lots of things are heating  up this time of year. The Stanley Cup Playoffs are steaming right along in the semifinals. People are firing up their grills for late-spring burger flipping. And the oppressive summer heat is already starting to spike temperatures in Texas.
But in the spirit of keeping cool, Upper Deck hit the hobby with details about its upcoming summer releases, 2011-12 Ultimate Collection and 2012-13 O-Pee-Chee. Put on those Ray Bans, hockey collectors. It's bright out there.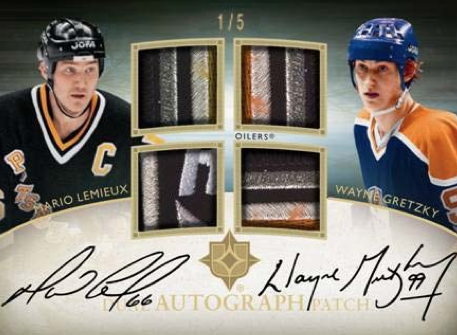 2011-12 Ultimate Collection
SCHEDULED RELEASE: Late June
BOX PROMISES
Four cards per pack/box
One autograph card
One Rookie Card
One memorabilia card
CASE STUDY
Four or more Patch cards
One-two 1997 Legends Autographs
One Ultimate Auto Rookie SP (numbered to 99)
One autographed Memorabilia card
THE RUNDOWN
Designed for the high-end, high-reward ripper, Ultimate Collection offers a number of desirable legends, veterans and rarer rookie hits. Shorter print runs and quality materials are key components in the otherwise meh-morabilia game. It's not quite The Cup, but it's a brand that's bound to produce some highly sought-after singles when it hits hobby shelves. — AT
OTHER FINDS
Ultimate Signatures
New 1997 Legends Signatures
Ultimate Autographed dual jerseys
Ultimate Autographed Patches and Duals
Jumbo Premium Swatches and Patches
Ultimate Duos, Trios, Rookies, Rookie Duos and Rookie Trios Jerseys
Jumbo Autographed Ultimate Debuts Threads Jerseys
Ultimate Debuts Threads Patches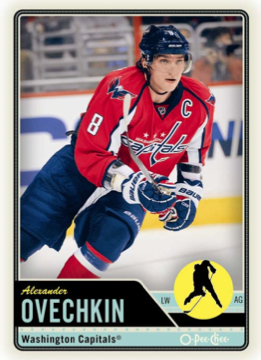 2012-13 O-Pee-Chee
SCHEDULED RELEASE: Mid August
BOX PROMISES
Eight cards per pack (32 packs per box)
32 1950s-era Retro parallels
Eight Marquee Rookies
Eight Marquee Legends
Eight Rainbow Foil parallels
10 OPC Stickers (New)
Two OPC Pop-Ups (New)
CASE STUDY
Four Team Logo Patches (New)
Two OPC Signatures
One Team Canada Signatures card
THE RUNDOWN
How could anyone fault a product like this? Reasonably priced O-Pee-Chee always affords any hockey fan of any age the opportunity to rip with a sense of humor and fondness for the hobby's gimmicky past. But for cynics who might view kitschy stickers, pop-up cards and the overall retro vibe as unnecessary schtick, the brand does boast a few case-level selling points. On top of team logo patches and other signatures, OPC buyback autographs are bound to win over the most critical of collecting critics.    — AT
OTHER FINDS
Rare OPC Buyback autographs (new)
Black Border Rainbow parallels (numbered to 100)