2020 Panini On the Horizon Rises as a Rewards-Exclusive
2020 Panini On the Horizon is a multi-sport set that strolled onto the scene as an exclusive to the Panini Rewards program. Following in the footsteps of the company's Downtown and Kaboom! inserts from the past few years, On the Horizon combines illustrations and bright patterned foil card stock. The result? A bold set that's tough to miss.
The 2020 Panini On the Horizon checklist has 50 cards covering five different sports. Basketball and football make up the majority of the set, although baseball, soccer and hockey also have a presence. Covering so much ground, player selection is limited to key rookies and superstars.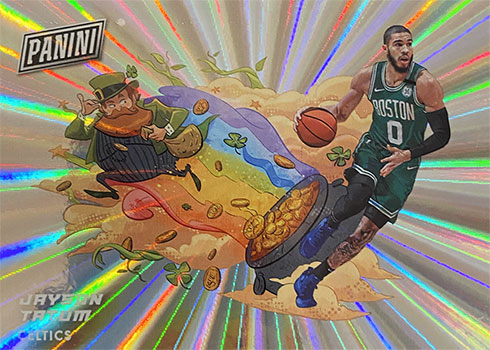 Like Downtown, cards have illustrations that touch on the player's home city. However, this time out they may be a little more abstract. Living up to the set's name, cards are orientated horizontally.
In addition to the base versions, which have a silver background, there are Gold (/10) and Green (1/1) parallels.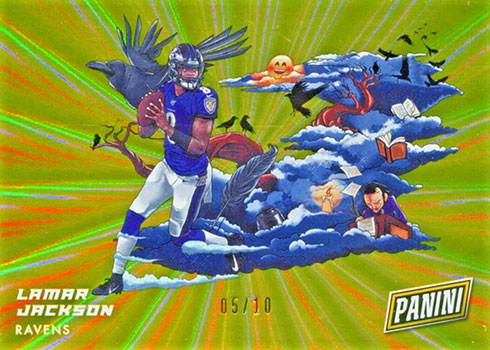 Outside of the secondary market, the only way to get packs is through the Panini Rewards catalog, using points found in packs or given out by customer service. On the Horizon packs, which have two cards, run 4,000 points.
The format and distribution is similar to the 2018 Panini Kaboom! set, which was also a Rewards-only release. Usually, Kaboom! is a short printed insert set in larger releases.
2020 Panini On the Horizon at a glance:
Cards per pack: 2
Set size: 50 cards
Release date: December 18, 2020
2020 Panini On the Horizon Checklist
Checklist
Base Set Checklist
50 cards.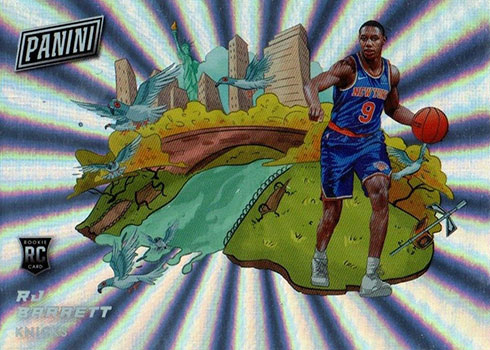 Parallels:
OH-1 Patrick Mahomes II, Kansas City Chiefs
OH-2 Tom Brady, New England Patriots
OH-3 Aaron Rodgers, Green Bay Packers
OH-4 Russell Wilson, Seattle Seahawks
OH-5 Baker Mayfield, Cleveland Browns
OH-6 Lamar Jackson, Baltimore Ravens
OH-7 Christian McCaffrey, Carolina Panthers
OH-8 Dalvin Cook, Minnesota Vikings
OH-9 Saquon Barkley, New York Giants
OH-10 Michael Thomas, New Orleans Saints
OH-11 Amari Cooper, Dallas Cowboys
OH-12 Kyler Murray, Arizona Cardinals
OH-13 Daniel Jones, New York Giants
OH-14 Josh Jacobs, Oakland Raiders
OH-15 Gardner Minshew II, Jacksonville Jaguars
OH-16 Giannis Antetokounmpo, Milwaukee Bucks
OH-17 LeBron James, Los Angeles Lakers
OH-18 Luka Doncic, Dallas Mavericks
OH-19 Zion Williamson, New Orleans Pelicans
OH-20 RJ Barrett, New York Knicks
OH-21 Ja Morant, Memphis Grizzlies
OH-22 De'Andre Hunter, Atlanta Hawks
OH-23 Jarrett Culver, Minnesota Timberwolves
OH-24 Rui Hachimura, Washington Wizards
OH-25 Cam Reddish, Atlanta Hawks
OH-26 Coby White, Chicago Bulls
OH-27 Russell Westbrook, Houston Rockets
OH-28 Ben Simmons, Philadelphia 76ers
OH-29 Kawhi Leonard, Los Angeles Clippers
OH-30 Charles Barkley, Phoenix Suns
OH-31 Darius Garland, Cleveland Cavaliers
OH-32 Stephen Curry, Golden State Warriors
OH-33 Jayson Tatum, Boston Celtics
OH-34 James Harden, Houston Rockets
OH-35 Kevin Durant, Brooklyn Nets
OH-36 Mike Trout, Los Angeles Angels
OH-37 Vladimir Guerrero Jr., Toronto Blue Jays
OH-38 Pete Alonso, New York Mets
OH-39 Bryce Harper, Philadelphia Phillies
OH-40 Kris Bryant, Chicago Cubs
OH-41 Alex Bregman, Houston Astros
OH-42 Ronald Acuna Jr., Atlanta Braves
OH-43 Yordan Alvarez, Houston Astros
OH-44 Mookie Betts, Boston Red Sox
OH-45 Gleyber Torres, New York Yankees
OH-46 Christian Pulisic, United States
OH-47 Cristiano Ronaldo, Portugal
OH-48 Lionel Messi, Argentina
OH-49 Kaapo Kakko, New York Rangers
OH-50 Vitali Kravtsov, New York Rangers
Sport Sort
2020 Panini On the Horizon Checklist – Sorted by Sport
Baseball
OH-36 Mike Trout, Los Angeles Angels
OH-37 Vladimir Guerrero Jr., Toronto Blue Jays
OH-38 Pete Alonso, New York Mets
OH-39 Bryce Harper, Philadelphia Phillies
OH-40 Kris Bryant, Chicago Cubs
OH-41 Alex Bregman, Houston Astros
OH-42 Ronald Acuna Jr., Atlanta Braves
OH-43 Yordan Alvarez, Houston Astros
OH-44 Mookie Betts, Boston Red Sox
OH-45 Gleyber Torres, New York Yankees
Basketball
OH-16 Giannis Antetokounmpo, Milwaukee Bucks
OH-17 LeBron James, Los Angeles Lakers
OH-18 Luka Doncic, Dallas Mavericks
OH-19 Zion Williamson, New Orleans Pelicans
OH-20 RJ Barrett, New York Knicks
OH-21 Ja Morant, Memphis Grizzlies
OH-22 De'Andre Hunter, Atlanta Hawks
OH-23 Jarrett Culver, Minnesota Timberwolves
OH-24 Rui Hachimura, Washington Wizards
OH-25 Cam Reddish, Atlanta Hawks
OH-26 Coby White, Chicago Bulls
OH-27 Russell Westbrook, Houston Rockets
OH-28 Ben Simmons, Philadelphia 76ers
OH-29 Kawhi Leonard, Los Angeles Clippers
OH-30 Charles Barkley, Phoenix Suns
OH-31 Darius Garland, Cleveland Cavaliers
OH-32 Stephen Curry, Golden State Warriors
OH-33 Jayson Tatum, Boston Celtics
OH-34 James Harden, Houston Rockets
OH-35 Kevin Durant, Brooklyn Nets
Football
OH-1 Patrick Mahomes II, Kansas City Chiefs
OH-2 Tom Brady, New England Patriots
OH-3 Aaron Rodgers, Green Bay Packers
OH-4 Russell Wilson, Seattle Seahawks
OH-5 Baker Mayfield, Cleveland Browns
OH-6 Lamar Jackson, Baltimore Ravens
OH-7 Christian McCaffrey, Carolina Panthers
OH-8 Dalvin Cook, Minnesota Vikings
OH-9 Saquon Barkley, New York Giants
OH-10 Michael Thomas, New Orleans Saints
OH-11 Amari Cooper, Dallas Cowboys
OH-12 Kyler Murray, Arizona Cardinals
OH-13 Daniel Jones, New York Giants
OH-14 Josh Jacobs, Oakland Raiders
OH-15 Gardner Minshew II, Jacksonville Jaguars
Hockey
OH-49 Kaapo Kakko, New York Rangers
OH-50 Vitali Kravtsov, New York Rangers
Soccer
OH-46 Christian Pulisic, United States
OH-47 Cristiano Ronaldo, Portugal
OH-48 Lionel Messi, Argentina