The release of 2014 Score Football signals the start of the Panini Rewards program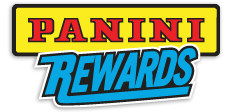 The first NFL-licensed football trading card set isn't scheduled to come out until Wednesday, but that has never stopped people from listing cards early on eBay.
2014 Score Football has June 11 release date, but a few people on eBay have gotten their hands on the product early, giving collectors a sneak peek. As expected, Score relies heavily on the 2014 rookie class.
But what is more intriguing than the release of Score this week is the start of Panini's point system meant to replace redemptions.
Panini Rewards points cards are randomly inserted into packs of 2014 Score.
Collectors can use a Panini Rewards smartphone app to scan the QR code on the cards to claim the points or enter their cards on the Panini Rewards website (https://exchange-paniniamerica.net/), according to a press release. Collectors can exchange their points immediately for any available single cards in the Panini Rewards inventory, or accumulate points to earn higher-value cards, other collectibles and unique Panini experiences.
Card currently in the system include a Walter Payton jersey card (400 points), a Hope Solo autograph memorabilia card (4,200 points), a Secretariat memorabilia card (2,500 points) or a Devin Hester jersey card (150 points). There are more than 1,300 options currently in the reward system for collectors to choose from.
The points will never expire.