2018 Panini Kaboom is a special multi-sport set exclusive to the Panini Rewards program.
Kaboom has been one of the most popular insert sets to debut over the past few years. But this time around, it's a small standalone set. Top players from football, basketball, baseball and soccer are all part of the 2018 Panini Kaboom checklist. The trademark cartoon action illustrations are back as well as the wild foil background pattern.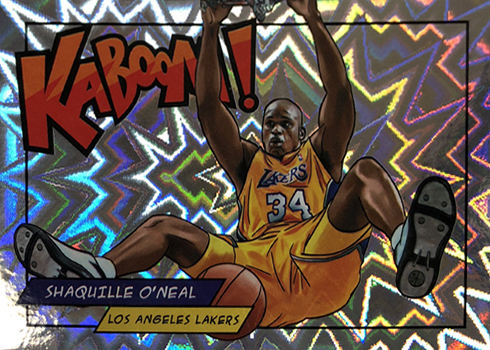 At 50 cards, the set might not be huge. That said, the limited distribution is going to ensure its still a challenge for those wanting to undertake it.
2018 Panini Kaboom packs have two cards. They cost 2,500 Panini Rewards points. There's a daily limit of five packs per household.
In addition to the base cards that have silver backgrounds, Kaboom! is getting its first parallels as well. Gold versions have ten copies each. Green are one-of-ones.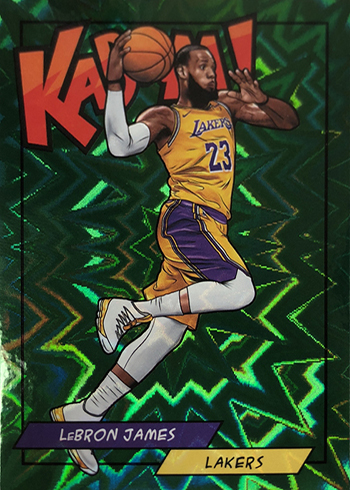 According to Panini, packs will be available on the Panini Rewards site starting on Friday, December 14 at 5 PM EST (2 PM PST).
2018 Panini Kaboom at a glance:
Cards per pack: 2
Set size: 50 cards
Release date: December 14, 2018
2018 Panini Kaboom Checklist
50 cards.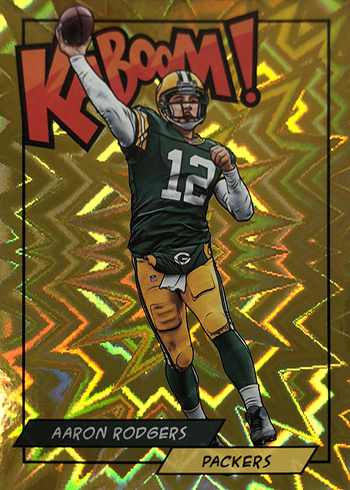 Parallels:
1 LeBron James, Los Angeles Lakers
2 Kevin Durant, Golden State Warriors
3 Giannis Antetokounmpo, Milwaukee Bucks
4 Donovan Mitchell, Utah Jazz
5 Jayson Tatum, Boston Celtics
6 Dennis Smith Jr., Dallas Mavericks
7 Kyle Kuzma, Los Angeles Lakers
8 Ben Simmons, Philadelphia 76ers
9 Lonzo Ball, Los Angeles Lakers
10 James Harden, Houston Rockets
11 Russell Westbrook, Oklahoma City Thunder
12 Dirk Nowitzki, Dallas Mavericks
13 Kyrie Irving, Boston Celtics
14 Stephen Curry, Golden State Warriors
15 Anthony Davis, New Orleans Pelicans
16 Chris Paul, Houston Rockets
17 Devin Booker, Phoenix Suns
18 Markelle Fultz, Philadelphia 76ers
19 Charles Barkley, Phoenix Suns
20 Kobe Bryant, Los Angeles Lakers
21 Shaquille O'Neal, Los Angeles Lakers
22 Klay Thompson, Golden State Warriors
23 Kristaps Porzingis, New York Knicks
24 Lauri Markkanen, Chicago Bulls
25 Joel Embiid, Philadelphia 76ers
26 Tom Brady, New England Patriots
27 Patrick Mahomes II, Kansas City Chiefs
28 Ezekiel Elliott, Dallas Cowboys
29 Aaron Rodgers, Green Bay Packers
30 Russell Wilson, Seattle Seahawks
31 Josh Rosen, Arizona Cardinals
32 Baker Mayfield, Cleveland Browns
33 Sam Darnold, New York Jets
34 Lamar Jackson, Baltimore Ravens
35 Peyton Manning, Indianapolis Colts
36 Brett Favre, Green Bay Packers
37 Jerry Rice, San Francisco 49ers
38 Rob Gronkowski, New England Patriots
39 Josh Allen, Buffalo Bills
40 Saquon Barkley, New York Giants
41 Vladimir Guerrero Jr., Toronto Blue Jays
42 Fernando Tatis Jr., San Diego Padres
43 Bo Bichette, Toronto Blue Jays
44 Tim Tebow, New York Mets
45 Eloy Jimenez, Chicago White Sox
46 Cristiano Ronaldo, Juventus
47 Lionel Messi, FC Barcelona
48 Kylian Mbappe, Paris Saint-Germain
49 Neymar Jr, Brazil
50 Christian Pulisic, United States