10 Most Valuable Panini Kaboom Inserts
When you click on links to various merchants on this site, like eBay, and make a purchase, this can result in this site earning a commission.
Panini's Kaboom inserts are some of the boldest in the hobby today. And that's saying a lot considering how many sets out there are going to design extremes. Mixing those big looks with some attractive rarity, Kaboom is playing a big role in making autograph-less inserts cool again. They're making some big waves on the secondary market as well.
Boom Town
In the 1990s, an exceptionally rare insert from a top player was as good as it got. In most instances, autographs were so scarce they were the thing of legend you'd hear about happening three cities over but never in your circle of collecting friends. Over time, though, hits became the norm and other inserts became more of an afterthought.
But they're coming around again. As card makers look for ways to grow and expand without relying quite as heavily on autographs and memorabilia, which can be hard to get and expensive, inserts are back en vogue. For manufacturers, they provide an alternative and additional opportunities to add top players onto checklists. For collectors, rare inserts can provide an unexpected surprise and either provide a cornerstone PC piece or something that can be traded or sold for a good return.
But there has to be a balance for it to work. Inserts have never gone away, even with the introduction of hits. They've just often been relegated to being overlooked parts of checklists — too easy to pull and not much different from base cards to make much of an impact.
Kaboom cards are not easy to pull, often landing as a case hit. And the combination of the player illustrations and the bright foil explosions in the background are anything but base.
Prices on Panini Kaboom cards vary based on the set and player. But even the common ones are fetching more today than a lot of autographs and memorabilia cards. Land a top-tier player in some products and you're looking at a card that could net four figures.
Here's a look at the most valuable Panini Kaboom inserts.
Top 10 Most Valuable Panini Kaboom Cards
Rankings are base primarily by values in the Beckett price guide as of October, 2020.
10. 2019 Absolute Football Kaboom Kyler Murray #K-KM, #K-KM2
Like a handful of rookies in 2019 Absolute Football to have a pair of Kaboom inserts. Both fetch similar prices. On the hobby side, Kaboom cards are approximately one per hobby case but with a 50-cards checklist, it makes individual cards tough to come by. These also have Gold (/10) and Green (1/1) parallels.
Buy on: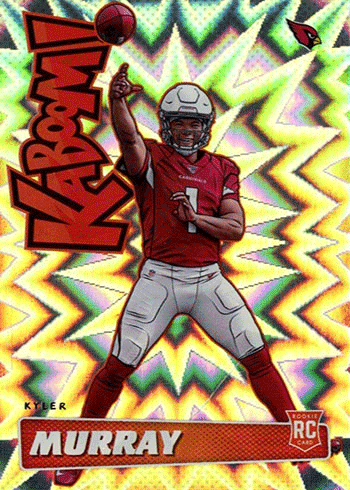 9. 2017-18 Select Soccer Kaboom Cristiano Ronaldo #1
2017-18 Select is the first time Kaboom cards appeared in a soccer product. And while the likes of Lionel Messi and Christian Pulisic stand out on the checklist, it's Cristiano Ronaldo that tops them all when it comes to value.
Buy on: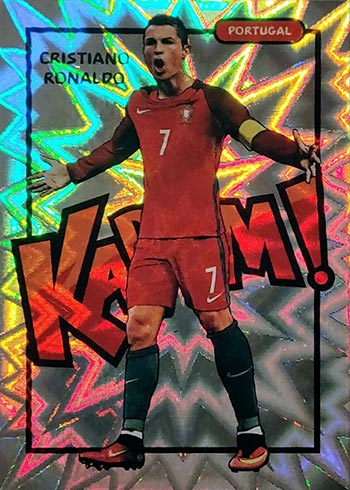 8. 2019-20 Crown Royale Basketball Kobe Bryant #16
The 2019-20 Crown Royale Kaboom Kobe Bryant can be seen with multiple layers. Yes, it's a tough insert. But it can also be seen as a tribute. Crown Royale came out shortly after Bryant's tragic passing. The winning pose and flash in the background really do symbolize a lot of who Bryant was on the court.
Buy on: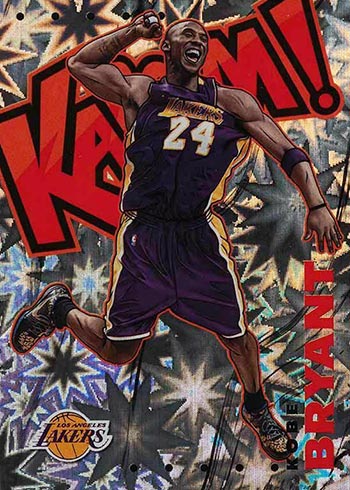 7. 2019-20 Crown Royale Basketball Luka Doncic #15
Luka-mania isn't limited to just stuff from his rookie year. This isn't even his first Kaboom card. But it's still a big one, coming from a loaded 2019-20 Crown Royale lineup.
Buy on: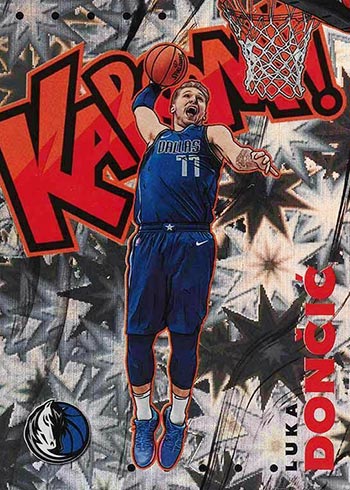 6. 2014-15 Excalibur Basketball Kaboom LeBron James #1
2014-15 Excalibur marks the second year for Kaboom in basketball. The comic stylings continue today, but there's definitely an edgier look to some of the early cards that make players like LeBron look even more like superheroes.
Buy on: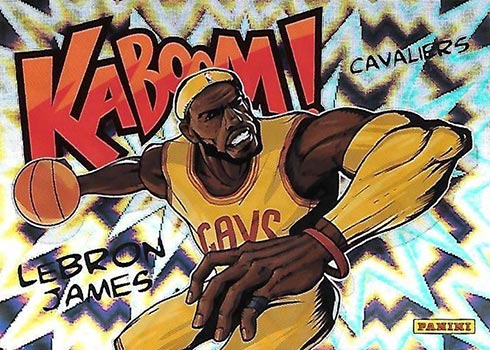 5. 2018-19 Crown Royale Basketball LeBron James #2
LeBron James has been part of Kaboom from the beginning. His insert in 2018-19 Crown Royale marks his first in a Lakers uniform, adding a layer of appeal (and dollars).
Buy on: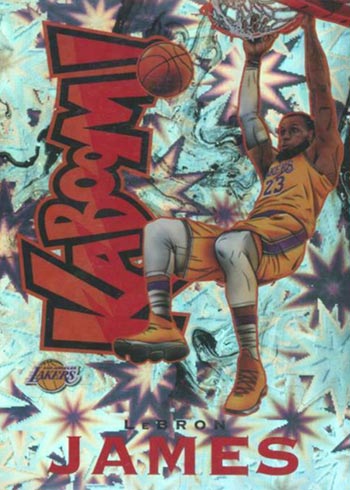 4. 2018-19 Crown Royale Basketball Luka Doncic #23
It might not be a traditional Rookie Card, but this is definitely one of the key Luka Doncic cards from his first season in the NBA. Rarity, pop and the growing establishment of the Kaboom name all go together.
Buy on: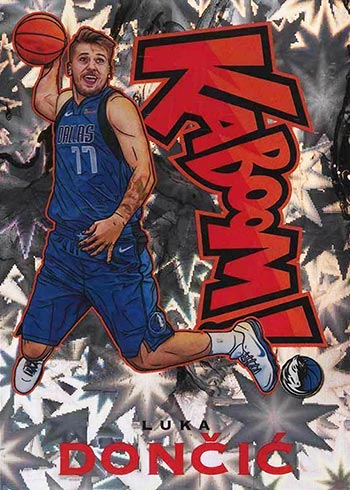 3. 2019-20 Crown Royale Basketball Kaboom Ja Morant #10
Kaboom has a big design that lends itself especially well to powerful players. It's the sports card equivalent of the big action lines in a piece of manga or anime. It's the holographic version of an Adam West "ZOK!!" on the old Batman TV show. And that's why the 2019-20 Crown Royale Kaboom Ja Morant is so aesthetically pleasing. Sure, there's the rookie aspect as well, but even in the growing number of cards in the insert line, this one's a visual standout and emblematic of the player.
Buy on: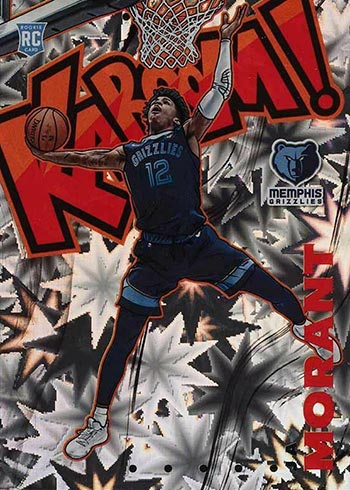 2. 2019-20 Crown Royale Basketball Kaboom LeBron James #9
It's not his first — or even fifth — Kaboom card. It's not even his first in a Lakers uniform. So why is the 2019-20 Crown Royale LeBron James his most valuable? It's tough to say exactly. It could be that it's on the newer side so there's lots of activity. The card also came out after the secret on the line was out. There's also the fact that it's a 2019-20 card. All products went up so quickly that key cards from top players followed suit, even those who aren't rookies.
Buy on: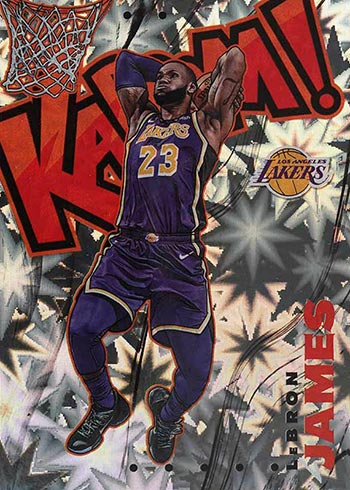 1. 2019-20 Crown Royale Basketball Kaboom Zion Williamson #18
The hobby hasn't seen anything like Zion Williamson in a long time. You'd probably have to go back to 2003-04 and LeBron James to find any player make this sort on an impact on the collecting world in his rookie season. So it shouldn't come as a surprise that his first foray into the world of Kaboom sits atop the list. If you're looking to buy one, expect to spend several thousand dollars, maybe even five figures if you opt for one in a top grade.
Buy on: