2020-21 Upper Deck Series 2 Hockey Checklist and Details
When you click on links to various merchants on this site, like eBay, and make a purchase, this can result in this site earning a commission.
For the most part, 2020-21 Upper Deck Series 2 Hockey is a continuation from where Series 1 left off. It makes the base set bigger, brings in new rookies and adds to some of the existing inserts. The expansion theme continues to 2020-21 O-Pee-Chee Hockey as well, with new cards for that early-releasing set as well.

2020-21 Upper Deck Series 2 Hockey Checklist Overview
Like every flagship Upper Deck Hockey release, the base set is the core of Series 2. It doubles the overall set size by adding another 250 cards. The first 200 are veterans not found in Series 1.
Young Guns, the popular Rookie Cards, make up the final 50. These fall 1:4 hobby packs, meaning there's six per box. They're definitely short prints, but at the same time attainable. Highlights include Kirill Kaprizov, Dylan Cozens and Tim Stutzle.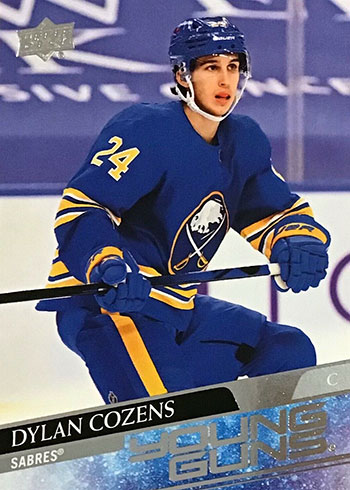 Base parallels include French, hobby-exclusive Clear Cut, Exclusives (/100) and High Gloss (/10).
UD Canvas
UD Canvas inserts are one of the key places where Series 2 expands. Adding new base versions as well as short print subsets for Young Guns, retired players and Team Canada Program of Excellence, these combine to land four per hobby box.
Additional Inserts
UD Portraits Rookies are also 1:6 hobby packs. Continuing the numbering from Series 1, the overall set size jumps by another 50 cards. Numbered parallels for these include Gold Foil (/99) and Platinum Blue Foil (/25).
Dazzlers, which made its debut in Series 1, also gets a checklist expansion with 50 additional cards. These are among the brightest cards in the product. Blue and Pink parallels add a further chase. Orange versions are also available in retail tins.
Another place with colorful designs is Fluorescence. These come in four levels: Gold (/150), Blue (/50), Green (/15) and Magenta (/5).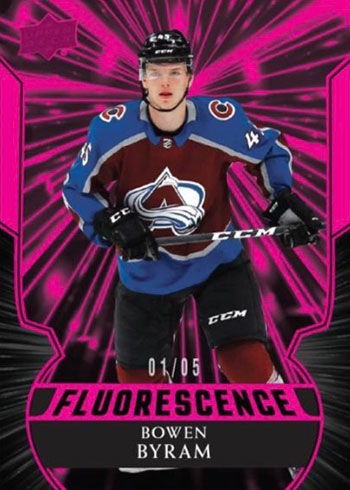 2020-21 Upper Deck Series 2 isn't all about expansion. It does have new designs as well. This includes Box Fillers, a set done on plastic stock. The theme here is hockey enforcers, both current and from the past. These are extremely tough, landing 1:359 hobby packs.
The Tampa Bay Lightning get hockey cards for their Stanley Cup celebrations in the always tough Day with the Cup (1:1,000 hobby).
Retail tins come with a pack of three O-Pee-Chee Glossy Rookies not found anywhere else. Numbering continues from Series 1, adding #11-20. Parallels include Copper (1:13) and Gold (1:50).
Series 2 does have hits. However, they're not plentiful enough to be a box guarantee. They're not particularly rare, either. But for those strictly chasing traditional premium hits, the focus here is different.
Memorabilia starts with Rookie Materials and Rookie Dual Materials, both of which have patch parallels.
Rookie Photoshoot Flashback Materials go back in time to players who participated in past versions of the event. These also have patch versions.
O-Pee-Chee Update
O-Pee-Chee is one of the first sets out each year. As such, the main release isn't able to include debuting rookies. That's where Upper Deck Series 2 comes in. Offering new cards for not only fresh debuts but vets on new teams, another 50 cards have been added to the checklist.
O-Pee-Chee Update parallels include Blue and Retro as well as hobby-exclusive Red and Retro Black Border.
Each hobby box should have at least four rookies, one veteran and one Award Winners.
2020-21 Upper Deck Series 2 Hockey cards at a glance:
Cards per pack: Hobby – 8, Tins – 8
Packs per box: Hobby – 24, Tins – 9
Boxes per case: Hobby – 12, Tins – 12
Set size: 250 cards
Release date: March 24, 2021
Shop for 2020-21 Upper Deck Series 2 Hockey boxes on eBay:
What to expect in a hobby box:
UD Canvas – 4
UD Portraits Rookies – 4
Young Guns Rookie Cards – 6
O-Pee-Chee Update – 6
2020-21 Upper Deck Series 2 Hockey Checklist
You can also download a customizable spreadsheet copy of the checklist:
Please note that while confirmed unannounced Easter Eggs are included, for the team set breakdowns, they are in a separate tab of the spreadsheet.
Please note that print runs for cards without serial numbers have not been announced.