2020-21 Upper Deck Extended Series Hockey Checklist, Team Set Lists and Details
When you click on links to various merchants on this site, like eBay, and make a purchase, this can result in this site earning a commission.
This isn't your regular hockey season. So when it comes to documenting things via cards, it's not necessarily business as usual. 2020-21 Upper Deck Extended Series Hockey is proof of that.
Part flagship Series 3, part something of its own, there's a lot happening on its checklist — including the resurrection of several brands that haven't been seen in a while.

2020-21 Upper Deck Extended Series Hockey Checklist Overview
The main part of the release is to act as a 2020-21 Upper Deck Hockey bookend, wrapping up what started in Series 1 and Series 2. Put it all together and the full flagship set has over 700 cards.
Included among Extended Series' base cards are more Young Guns Rookie Cards. This brings the total for the year up to 125 between the three releases. Eligible players are those who have made their NHL debuts through February 12, 2021.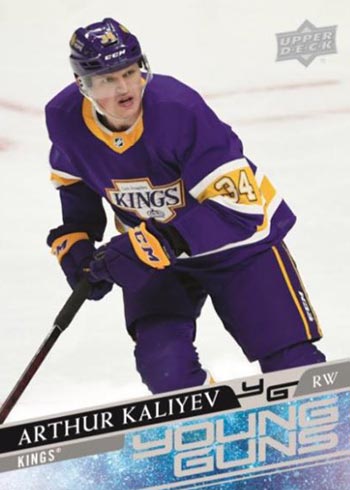 Young Guns are 1:4 hobby packs, which works out to six per box.
Base set parallels, for both rookies and vets, include:
French – (Veterans – 1:30 hobby, Young Guns – 1:120 hobby)
Clear Cut – (Veterans – 1:64 hobby, Young Guns – 1:192 hobby)
Exclusives – /100
Clear Cut Exclusives
High Gloss – /10
Inserts That Throw It Back
The 2005-06 Upper Deck Hockey design gets the Tribute treatment with a series of inserts. These are four per hobby box, one of which is a rookie boasting the Young Guns logo. Exclusives (/100) and High Gloss (/10) parallels are found here as well.
Dazzlers return with another batch of cards. Blue are 1:48 hobby packs while Pink parallels are 1:144.
Much of the other insert content in 2020-21 Upper Deck Extended Series Hockey takes a deep dive into the card maker's portfolio, breathing new life into lines from the late '90s and early '00s.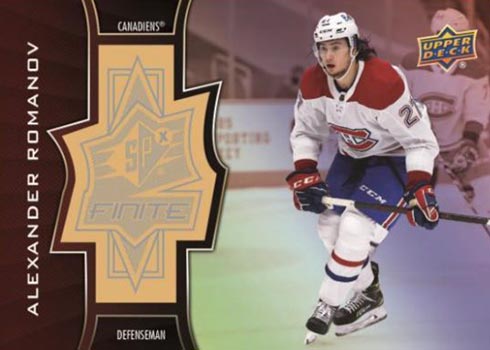 The following have a mix of both current stars and rookies (parallels are also noted):
HoloGrFx (Gold)
Ovation (Standing Ovation)
Pros and Prospects
SPx Finite (Spectrum, Radiance)
Triple Dimensions Reflections (Ruby, Amethyst, Emerald, Gold)
Ultimate Victory (Silver, Gold)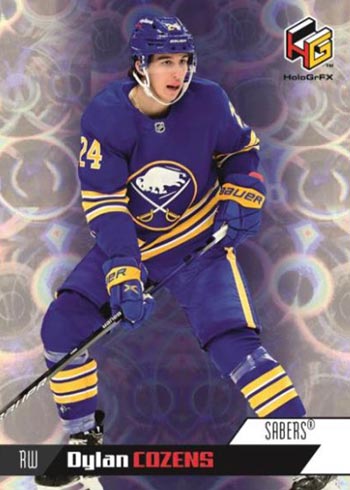 Falling under the Ultimate Victory banner are Connor McDavid MMXXI inserts (1:80 hobby) that offer highlights from the Oilers superstar. These also have Silver and Gold parallels.
Two additional inserts consist exclusively of first-year players. Rookie Class SE (1:12 hobby) have both serial numbered Gold and Spectrum Autograph (1:432 hobby) parallels. Numbered Top Shelf Rookies are also available.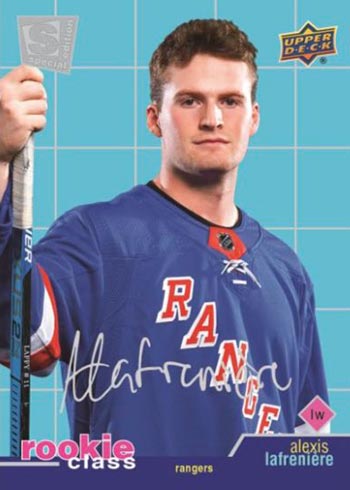 2020-21 Upper Deck Extended Series Hockey cards at a glance:
Cards per pack: Hobby – 8
Packs per box: Hobby – 24
Boxes per case: Hobby – 12
Set size: 230 cards
Release date: July 7, 2021
What to expect in a hobby box:
2005-06 Upper Deck Tribute – 4
HoloGrFx – 2
Ovation – 1
Rookie Class SE – 2
SPx Finite – 1
Ultimate Victory – 3
Dazzlers or Clear Cut – 1 Total
UD3, Pros and Prospects or Triple Dimensions Reflections – 1 Total
French Parallels – 1
Young Guns Rookie Cards – 6
2020-21 Upper Deck Extended Hockey Checklist
You can also download a customizable spreadsheet copy of the checklist:
Please note that print runs for cards without serial numbers have not been announced.