For the second year in a row, Topps is asking collectors to look into their crystal balls and predict who's going to be making the nightly  baseball highlights package. And for those who guess correctly, the 2019 Topps Home Run Challenge offers up exclusive cards not available in packs. And someone will also win a trip to the 2020 Home Run Derby.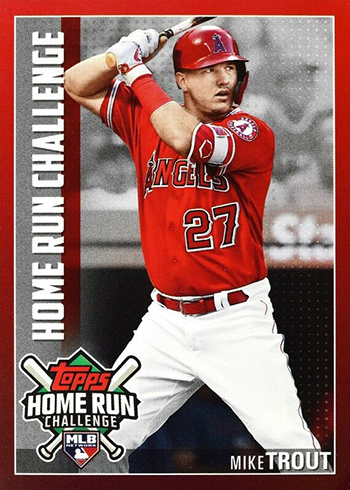 But first, you need to find the inserts with the code on the back. And to do that, you need to open packs of 2019 Topps Series 1 and Series 2 Baseball.
How the 2019 Topps Home Run Challenge Works
The 2019 Topps Home Run Challenge Code cards checklist has 35 players. All are known for being able to show some pop. Once you get the player, the next step is to decide when you're going to play.
When you think the schedule, pitching matchup and winds are favorable, scratch the back of the card to reveal its code. You then enter that code online at the Home Run Challenge website. Codes can only be used once.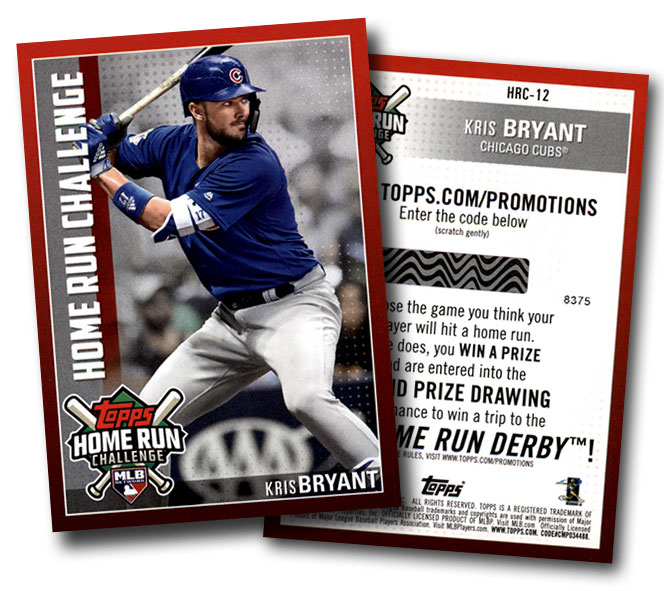 Next, you select the date you think they'll hit a home run. It has to be during the regular season. If they do indeed get a homer on the day you picked, a few weeks later you'll get a special parallel in the mail.
Be careful not to wait until the last second. The cut-off to make a selection for any given day is 4 AM EST/1 AM PST.
Like last year, each month gets its own parallel (except March and April, which are combined into one). This makes for six different parallel levels. Theoretically, this should keep the prize parallels to relatively small numbers, even if a player goes on a tear. Last year, most had less than 30 copies each. A couple one-of-ones were also in the mix.
Other Considerations
A couple of things to consider when picking a date. If a game is cancelled, you don't win. 2019 Topps Home Run Challenge cards count towards a specific date, not a game number. Also, if a player is injured or benched, you don't win. The team on the front doesn't matter either. By the time Series 1 released, Paul Goldschmidt had already been traded away from the Diamondbacks and neither Bryce Harper or Manny Machado had signed. You're just picking a day on the calendar.
But you can potentially increase your chances with a double-header. The date rule still applies.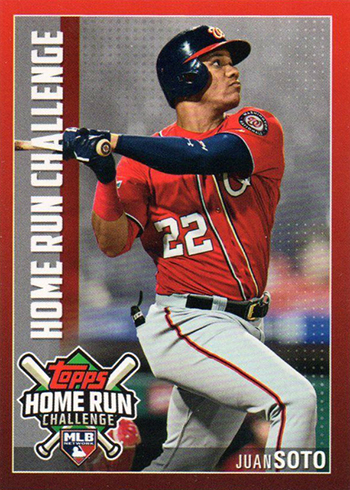 Should your player hit more than one home run on the day you picked, it doesn't mean you get multiple parallels. You still get just one.
Another thing to think about is whether to scratch the card at all. Some collectors may want to keep things in tact as a scratched card isn't a top-condition card. As more are used for entries, the number of original cards shrinks. That doesn't mean they're overly rare, though. According to the official rules, 478,000 total code cards are in Series 1 packs. Series 2 is slated to have approximately 285,500.
In 2019 Topps Series 1 Baseball, Home Run Challenge Code cards are inserted 1:24 hobby packs, 1:10 hobby jumbo and 1:10 in the various retail configurations.
Grand Prize Draw
In addition to prognosticating for the 2019 Topps Home Run Challenge parallels, there's also the grand prize draw for a trip to the 2020 Home Run Derby in Los Angeles. It comes with airfare, two nights hotel and tickets to the derby.
Everyone who enters a code is eligible for the grand prize. You don't have to correctly pick a home run to win.
For the full ins and outs, fine print and legal stuff, Topps has a full rules document.
2019 Topps Home Run Challenge Code Card Checklist
Looking for a particular player? Click on the link to see what's available on eBay. You can also find 2019 Topps Home Run Challenge Code cards in the Beckett Marketplace.
HRC-1 Mike Trout, Los Angeles Angels
HRC-2 J.D. Martinez, Boston Red Sox
HRC-3 Giancarlo Stanton, New York Yankees
HRC-4 Jose Ramirez, Cleveland Indians
HRC-5 Khris Davis, Oakland Athletics
HRC-6 Aaron Judge, New York Yankees
HRC-7 Bryce Harper, Washington Nationals
HRC-8 Manny Machado, Los Angeles Dodgers
HRC-9 Nolan Arenado, Colorado Rockies
HRC-10 Paul Goldschmidt, Arizona Diamondbacks
HRC-11 Mookie Betts, Boston Red Sox
HRC-12 Kris Bryant, Chicago Cubs
HRC-13 Javier Baez, Chicago Cubs
HRC-14 Alex Bregman, Houston Astros
HRC-15 Francisco Lindor, Cleveland Indians
HRC-16 Ronald Acuña Jr., Atlanta Braves
HRC-17 Rhys Hoskins, Philadelphia Phillies
HRC-18 Shohei Ohtani, Los Angeles Angels
HRC-19 Carlos Correa, Houston Astros
HRC-20 Anthony Rizzo, Chicago Cubs
HRC-21 Gleyber Torres, New York Yankees
HRC-22 Andrew Benintendi, Boston Red Sox
HRC-23 Ozzie Albies, Atlanta Braves
HRC-24 Joey Votto, Cincinnati Reds
HRC-25 Trevor Story, Colorado Rockies
HRC-26 Freddie Freeman, Atlanta Braves
HRC-27 Jose Altuve, Houston Astros
HRC-28 George Springer, Houston Astros
HRC-29 Matt Carpenter, St. Louis Cardinals
HRC-30 Gary Sanchez, New York Yankees
HRC-31 Kyle Schwarber, Chicago Cubs
HRC-32 Cody Bellinger, Los Angeles Dodgers
HRC-33 Miguel Andujar, New York Yankees
HRC-34 Christian Yelich, Milwaukee Brewers
HRC-35 Juan Soto, Washington Nationals