Bowman Chrome Bargains from MLB.com's Top 3 Prospects – Beckett Pricing Insider
This edition of the Beckett Pricing Insider is sponsored by MVP Sports Collectibles.
MLB.com recently announced their Top 100 Prospects heading in to the 2019 season. Surprising no one, Vladimir Guerrero Jr. topped list, followed by Fernando Tatis Jr. and Eloy Jimenez.
All three have been Beckett Baseball Hot List regulars, off and on, over the last few seasons. But the cards that always seem to be the hottest are also, unfortunately, usually some of the most expensive. Let's take a look a key card from each of these potential future stars that's not going to break the bank, but could provide a nice return down the line.
2016 Bowman Chrome Prospects #BCP55 Vladimir Guerrero Jr. ($10-$25)
Sure, Vlad also has a Bowman Chrome Prospect Autograph in this product, but not many collectors have $800 to drop on it. His base Chrome Prospect card has been picking up steam on the secondary market and has been on the Beckett Baseball Hot List for the last couple months.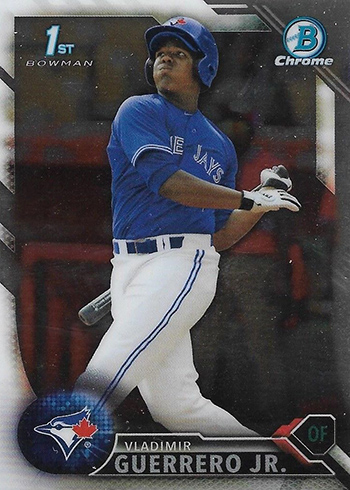 2016 Bowman Chrome Prospects #BCP17 Fernando Tatis Jr. ($8-$20)
The 2016 Bowman Chrome Prospects insert set is stacked. While Tatis Jr.'s Prospect Autograph card from this year will set you back $250, it's not too difficult to find his Chrome Prospect insert card in the $8 to $20 range — for now.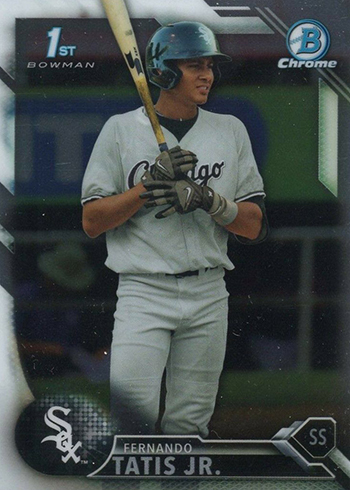 2014 Bowman Chrome Draft Top Prospects #CTP33 Eloy Jimenez ($5-$12)
At 22-years old, Jimenez is considered the old man of this trio, with cards in the Beckett Online Price Guide dating all the way back to 2013. His first Bowman Chrome Prospect Autograph wasn't be released until 2017. Collectors can pick up his first Bowman Chrome Prospect insert, which came out in 2014, for just $12 or less.