Early 2019 Topps Series 1 Baseball Notes and Observations
2019 Topps Series 1 Baseball has arrived. That means spring is just around the corner. As packs get shredded and cool cards get shared, there are some things to take note of if you're undertaking the set or just busting a few packs.
Big Insert Sets, Fewer Packs
On the hobby side, 2019 Topps Series 1 Baseball packs have undergone a change. Instead of 36 packs of ten cards, they consist of 24 packs with 14 cards.
If you're working on some insert sets, this could prove to make a significant difference versus past years. For starters, there are some large chase sets. 150 Years of Baseball has 150 cards. 1984 Topps Baseball has 100 cards. Neither are particularly tough to pull as far as singles go.
But spread it out over the course of the set, and you've got something tough, especially 150 Years of Baseball as you can expect to find only three or four per hobby box.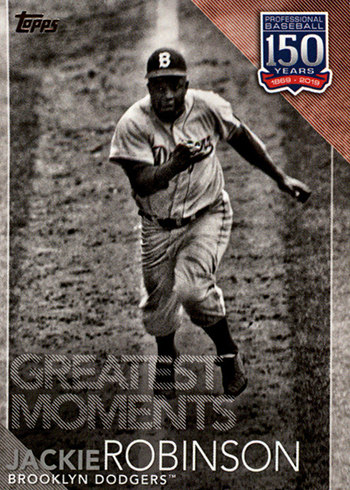 Short Print Variations MIA in 2019 Topps Series 1 Baseball Hobby Jumbo Packs
According to what's printed on hobby jumbo wrappers, short print variations (not the tougher legends SSP cards) are supposed to fall 1:17 packs. That's a little better than every other box.
It turns out they might not be in the packs at all. There are numerous people who have opened hobby jumbo boxes and cases in significant quantity and not found any. This points towards the issue being more than just a small, bad run.
There are no reports of regular hobby packs or retail configurations having similar issues.
Adam Jones' Number
In the base set, Adam Jones is #8. There's nothing strange there. It's as it should be.
Like 74 other current players in the main set, Jones has a variation short print. But it's #262 on the back, not #8.
So it's an Adam Jones variation for Mitch Moreland's spot on the checklist.
Numbers of the Revolution
The Revolution of the Game insert set tracks some of the changes baseball has seen over the years. It has ten cards with some varied subject matter.
But if you're building it, the numbers won't add up quite right. Things lined up nicely on the checklist Topps released. But on the actual cards, it's not quite as straightforward.
For starters, there's no #REV-1. It was supposed to be Henry Chadwick. But he's actually #REV-7 — just like Tony LaRussa.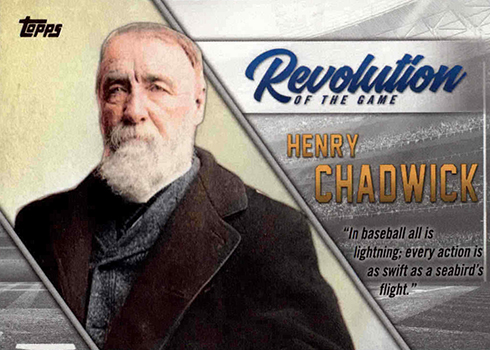 Also missing is #REV-4. Instead, Happy Chandler is #REV-11.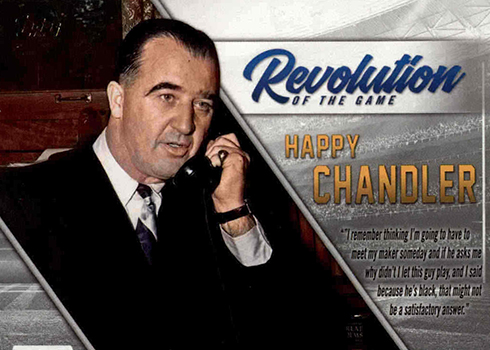 Revolution of the Game is a ten-card set. According to the card backs, the checklist is as follows:
REV-2 Kenesaw Mountain Landis
REV-3 Casey Stengel
REV-5 Albert Spalding
REV-6 Tommy Lasorda
REV-7 Henry Chadwick
REV-7 Tony LaRussa
REV-8 Joe Torre
REV-9 Bill James
REV-10 Branch Rickey
REV-11 Happy Chandler
Stars of the Name
One other switch between Topps' checklist and the final cards is the name of the retail-only Stars of the Game chase set. You may also see them called as Superstars of Baseball. That's what Topps listed them as on the checklist. Also, the numbering prefix 'SSB-' suggests that probably was the name at some point.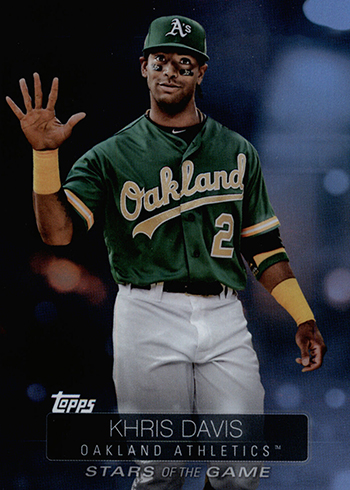 But the fronts of the cards say Stars of the Game instead.