Pete Alonso Leads 2019 Topps All-Star Rookie Team
It turned out to be a big year for rookies in baseball. And that becomes apparent when you look down the 2019 Topps All-Star Rookie Team.
To no surprise, Pete Alonso of the New York Mets headlines the squad of MLB freshmen. But that's what happens when you hit 53 home runs and break the rookie record.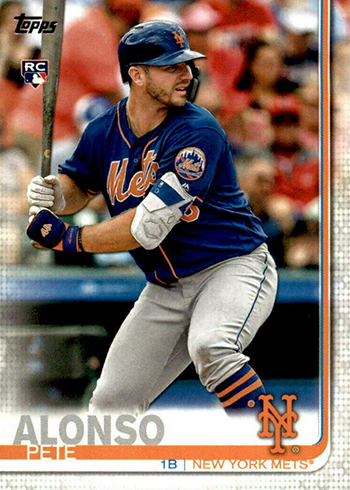 With Alonso at first base, other infielders include Vladimir Guerrero Jr. (3B), Keston Hiura (2B), Fernando Tatis Jr. (SS) and Will Smith (C).
Eloy Jimenez, Victor Robles and Pittsburgh's Bryan Reynolds were the outfielders named to the 2019 Topps All-Star Rookie Team. Astros slugger, Yordan Alvarez, is the designated hitter.
Pitchers Mike Soroka, John Means and Nick Anderson round things out.
All 12 players will have the Rookie Cup included on their 2020 Topps Baseball cards. But that's not the only place the Rookie Cup will appear alongside these players. They all have Topps Now cards commemorating their accomplishment. Base versions and autographs will roll out over the next several days.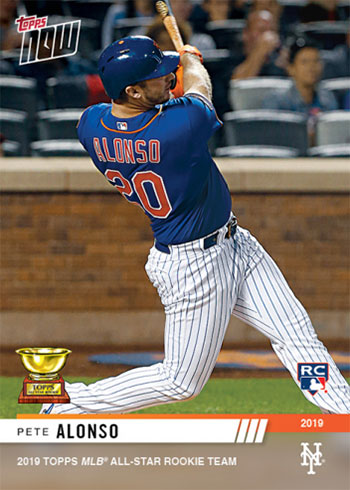 2019 Topps All-Star Rookie Team
1B Pete Alonso, New York Mets
2B Keston Hiura, Milwaukee Brewers
3B Vladimir Guerrero Jr., Toronto Blue Jays
SS Fernando Tatis Jr., San Diego Padres
C Will Smith, Los Angeles Dodgers
OF Eloy Jimenez, Chicago White Sox
OF Bryan Reynolds, Pittsburgh Pirates
OF Victor Robles, Washington Nationals
P Nick Anderson, Tampa Bay Rays
P John Means, Baltimore Orioles
P Mike Soroka, Atlanta Braves
DH Yordan Alvarez, Houston Astros