2015 Topps All-Star Rookie Team includes Kris Bryant, Carlos Correa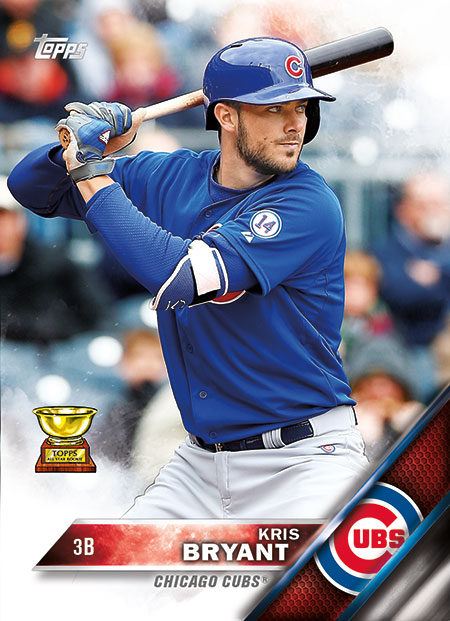 By Ryan Cracknell | Hobby Editor
Fresh off their Rookie of the Year honors, Kris Bryant and Carlos Correa are among the players named to the 2015 Topps All-Star Rookie Team.
With such a strong year for rookies, there are several other notable names on the roster as well.
Bryant is joined by two of his teammates, Kyle Schwarber and Addison Russell. The Mets and Marlins are the only other teams with multiple representatives.
Since 1960, the Topps All-Star Rookie Team has noted top first-year players at every position. Each player will get a Rookie Cup on their 2016 Topps Baseball card.
2015 marks just the second time that a designated hitter has been included. This time it's Miguel Sano. Eddie Murray was the last back in 1977.
Because there is just one player per person, it can sometimes lead to some notable omissions. This year, Francisco Lindor is the clearest. However, it's tough to argue against Correa's accomplishments at shortstop.
Here's a look at all the players getting the Rookie Cup next year.
2015 Topps All-Star Rookie Team Roster
C J.T. Realmuto, Miami Marlins
1B Justin Bour, Miami Marlins
2B Addison Russell, Chicago Cubs
3B Kris Bryant, Chicago Cubs
SS Carlos Correa, Houston Astros
OF Kyle Schwarber, Chicago Cubs
OF Randal Grichuk, St. Louis Cardinals
OF Michael Conforto, New York Mets
LHP Carlos Rodon, Chicago White Sox
RHP Noah Syndergaard, New York Mets
RP Roberto Osuna, Toronto Blue Jays
DH Miguel Sano, Minnesota Twins