Cheap Wax Wednesday Box Breaks – 2008 Upper Deck Draft Edition Football
Since the World Series has ended (Congratulations to all you Nationals fans! I was actually rooting for the Nats to win.), we have switched over to football breaks through the end of the NFL playoffs. Baseball breaks will be back after the Super Bowl.
We're kicking off football with 2008 Upper Deck Draft Edition Football, a product that mixes college and NFL uniforms.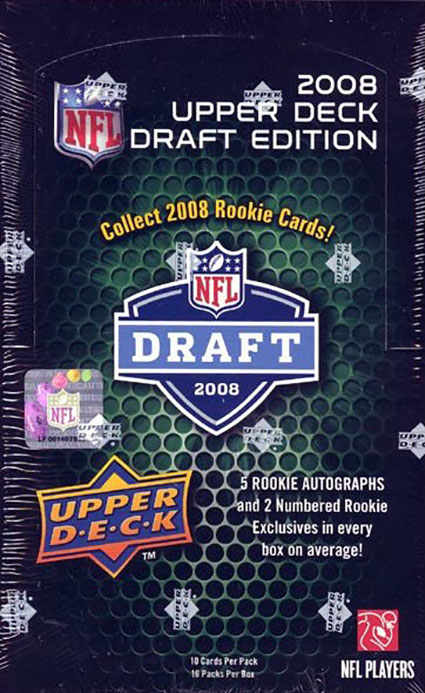 2008 Upper Deck Draft Edition Football Box Break
Cards per pack: 10
Packs per box: 16
Price paid: $40

Pack 1 highlights:
Champ Bailey, Santonio Holmes, Matt Forte & Sam Baker/Jake Long Pigskin Pairings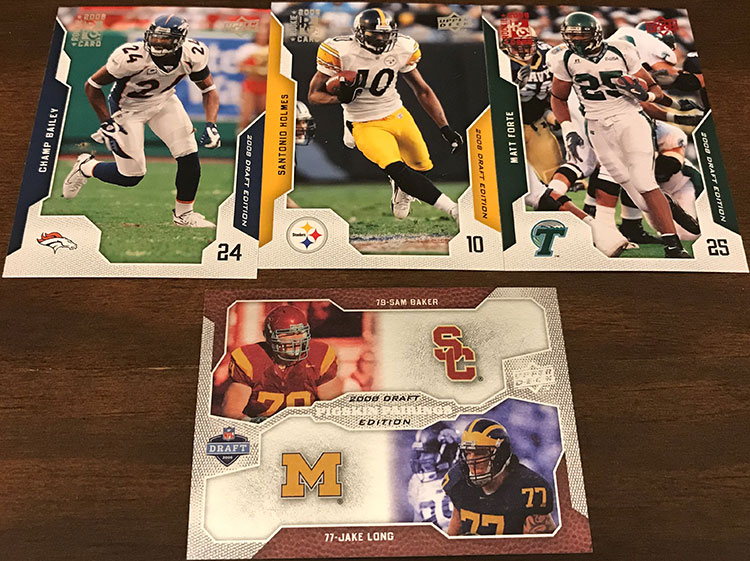 Pack 2:
Patrick Willis, Larry Fitzgerald, Quintin Demps & Antoine Cason/Terrell Thomas Franchise Foundations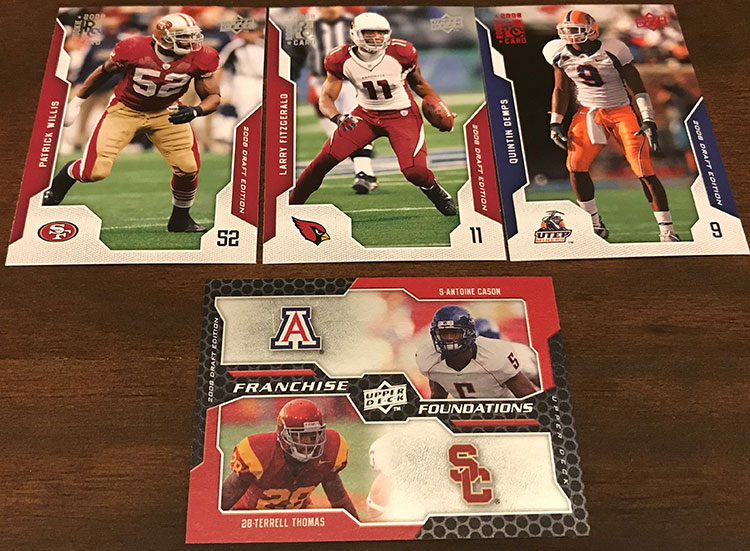 Pack 3:
Joe Flacco, Davone Bess, Fred Davis/John Carlson Franchise Foundations & Early Doucet Autograph (1 in every 4.18 packs)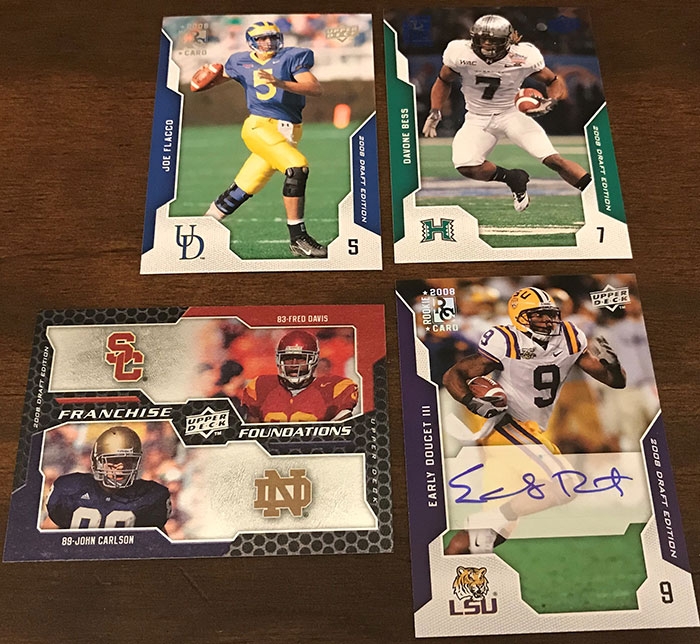 Pack 4:
Jonathan Stewart, Matt Forte, John David Booty/Fred Davis Alumni Association & Harry Douglas/Mike Jenkins Conference Clashes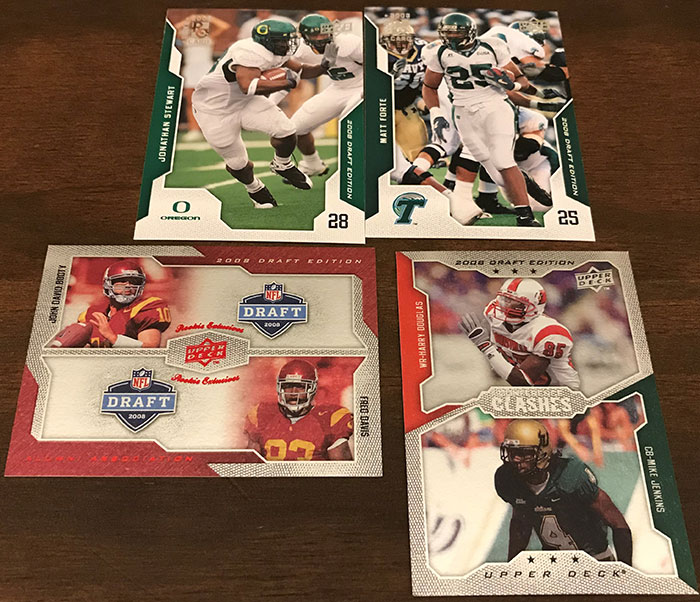 Pack 5:
Early Doucet/Glenn Dorsey Alumni Association & Donnie Avery Autograph (1:4.18 packs)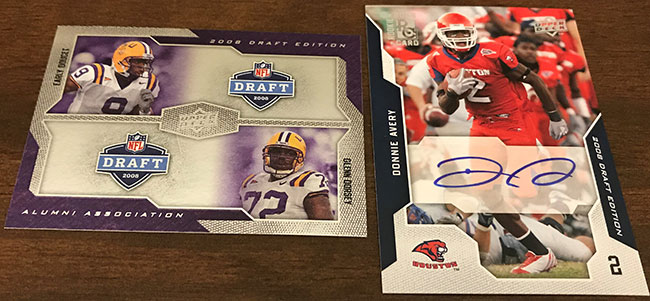 Pack 6:
Ed Reed, Jordy Nelson, Peyton Hillis/Felix Jones Campus Combos & Colt Brennan/Dennis Dixon Pigskin Pairings #ed 022/100 (1:8 packs)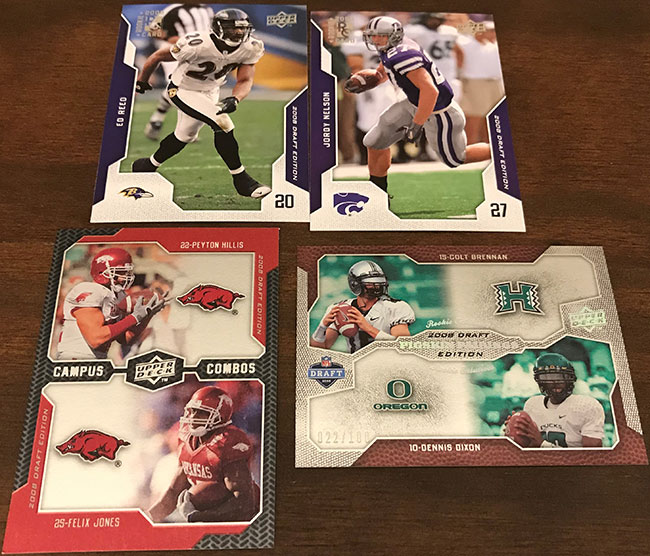 Pack 7:
Maurice Jones-Drew, Jamaal Charles, Brian Brohm/Mario Urrutia Alumni Association & Jonathan Hefney/DJ Hall Conference Clashes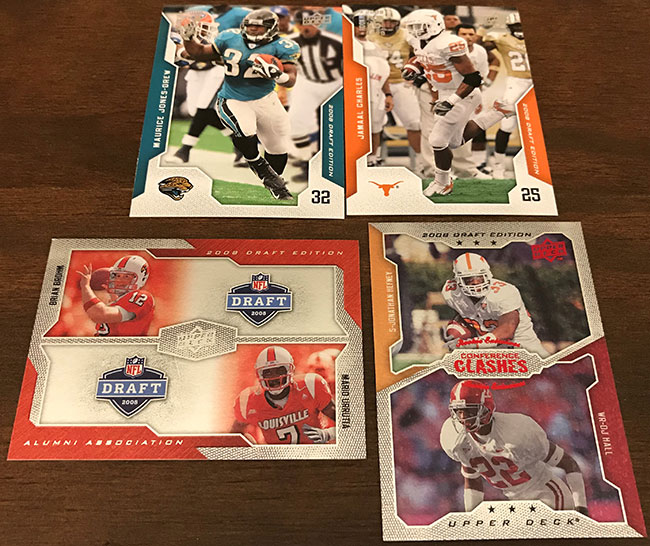 Pack 8:
Colt Brennan/Dennis Dixon Pigskin Pairing & Glenn Dorsey Autograph (1:4.18 packs). Dorsey was the 5th overall pick in the 2008 NFL Draft.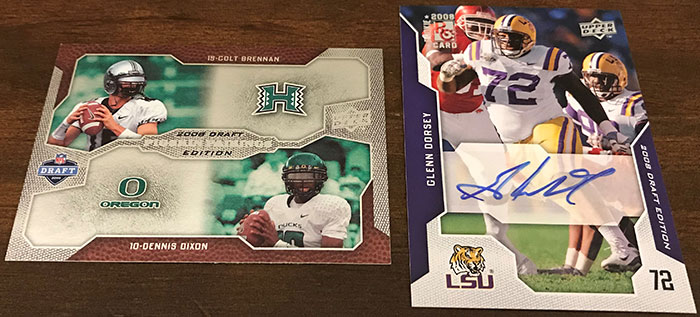 Pack 9:
Aqib Talib, Chris Long, Craig Steltz/Kenny Phillips Franchise Foundations & Tashard Choice/Darren McFadden Franchise Foundations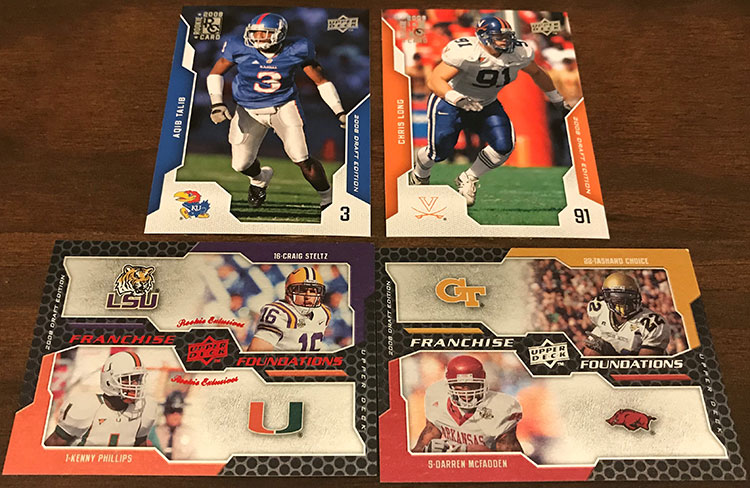 Pack 10:
Jay Cutler, Mario Urrutia/Harry Douglas Campus Combos & Jack Ikegwuonu Gold Autograph #ed 21/50 (1:4.18 packs)

Pack 11:
Darren McFadden & John David Booty/Antoine Cason Conference Clashes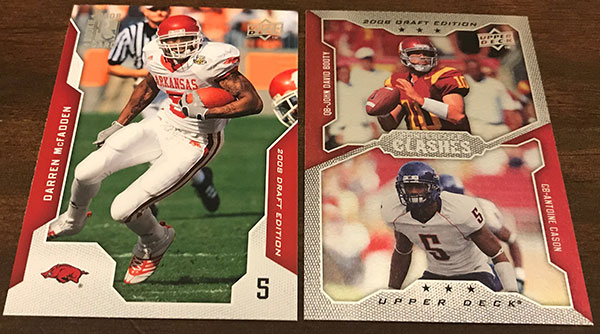 Pack 12:
DeSean Jackson, Drew Brees, Ray Lewis, Tom Brady/Braylon Edwards Alumni Association & Brian Brohm/Andre Woodson Franchise Foundations #ed 059/175 (1:8 packs)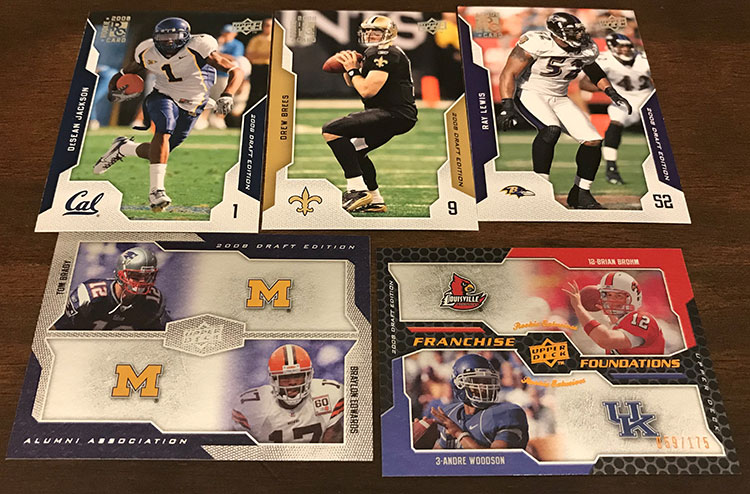 Pack 13:
Wes Welker, Lavelle Hawkins/DeSean Jackson Campus Combos & Kentwan Balmer/Glenn Dorsey Pigskin Pairings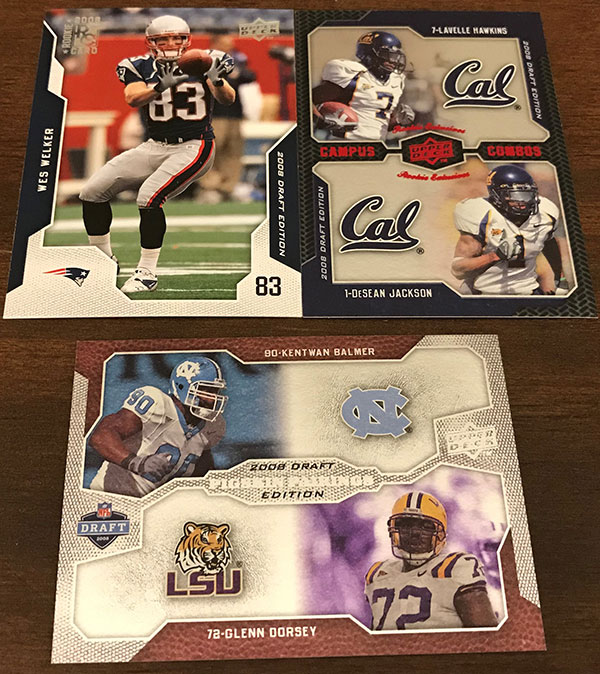 Pack 14:
Matt Ryan, Kenny Phillips Autograph (1:4.18 packs) & Ali Highsmith/Dan Connor Franchise Foundations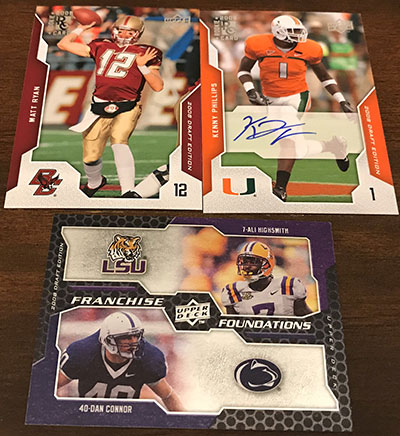 Pack 15:
Ronnie Brown & Vince Hall/Xavier Adibi Campus Combos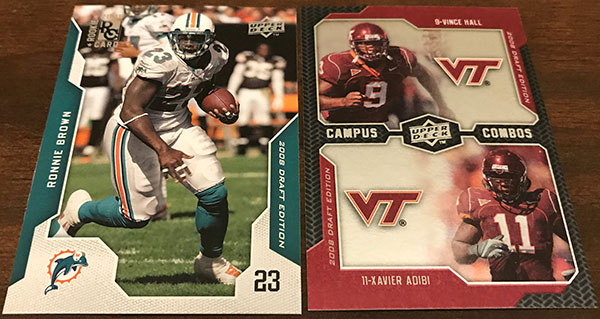 Pack 16:
Charles Woodson, Dennis Dixon/Keith Rivers Conference Clashes & Jake Long/Mike Hart Alumni Association
Finally, the Matt Ryan card back. As you can see, "Matty Ice" wasn't always the stud QB at Boston College.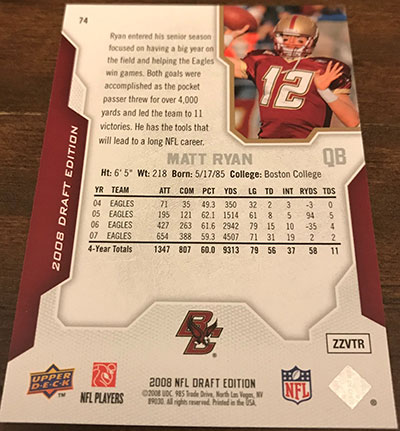 Back in 2008 this box would have been pretty hot! Looking at the autographs now, though, they don't look all that impressive. There are some big names to be found in this product though, including Matt Ryan, Matt Forte and Joe Flacco, to name a few. It's certainly worth a shot.
Shop for 2008 Upper Deck Draft Edition Football on:
Want more installments of Shane Salmonson's Cheap Wax Wednesday? Check out his other breaks in the archives. He also has lots more on his website, CheapWaxWednesday.com.