2015-16 Fleer Showcase Hockey Details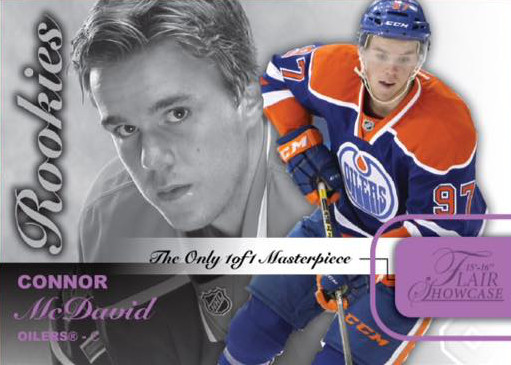 By Stephen Laroche | Beckett Hockey Editor
Collectors who love old school inserts are about to get their annual fix from Upper Deck with 2015-16 Fleer Showcase Hockey as it is set to deliver today's biggest stars and rookies on classic designs.
The brand is swiftly becoming an annual tradition as it offers autographed rookie patch cards plus more freshman content than any other hockey card release. This is the place to find rookies that may have only played a handful of games and each box will contain three autograph or memorabilia hits.
See Also: 2015-16 Fleer Showcase Hockey Checklist
Base Set
Traditionally, Fleer Showcase offers a small base set made up of top names and the Hot Prospect Autograph Patch cards will be numbered to 499 or less. Those hits come once per box on average. Expect to also find unsigned rookie cards which could contain up to three players on them and are numbered.
Every pack also has a chase card and the retro content starts with Metal Universe Rookies (3:box) which echo some of the most visually striking designs that came out in the 1990s. Each of them will have limited Precious Metal Gems parallels which come in Red, Blue, Green, and the all-new Purple edition which will be numbered to five copies.
Other old school brands tapped for 2015-16 Fleer Showcase Hockey include SkyBox Premium, Fleer Ultra, and Flair. Those cards will also have tough-to-find parallels. Boxes will contain three Flair Row 1 or Row 0 rookies. SkyBox Premium has both Star Rubies and Sparkling Diamonds versions, Flair has Blue Ice and 1-of-1 Masterpieces, while Ultra gives collectors Platinum and Ultra Violet Medallions.
Get a fully sortable 2015-16 Fleer Showcase Hockey checklist and price guide access.
Memorabilia
In addition to base cards having several memorabilia parallels, there are up to 30 Flair Rookie Autograph Patches to pull in 2015-16 Fleer Showcase Hockey. Numbered to 65 copies or less, the chase will be on for players such as Connor McDavid, Nikolaj Ehlers, and Dylan Larkin.
2015-16 Fleer Showcase Hockey at a glance:
Packs per box: 12
Cards per pack: 5
Boxes per case: 16
Set size: 100 card base set, 200 with rookie short prints
Release date: April 6, 2016
What to expect in a hobby box:
Rookie Autograph Patch – 1
Additional Autographs and Memorabilia Cards – 2 Total
Metal Universe Rookies Inserts – 3
Flair Inserts – 3
Stephen Laroche is the editor of Beckett Hockey, Beckett Basketball, and Beckett Sports Card Monthly magazines. Have a comment, question or idea? Send an e-mail to him at slaroche@beckett.com or follow him on Twitter @Stephen_Laroche.