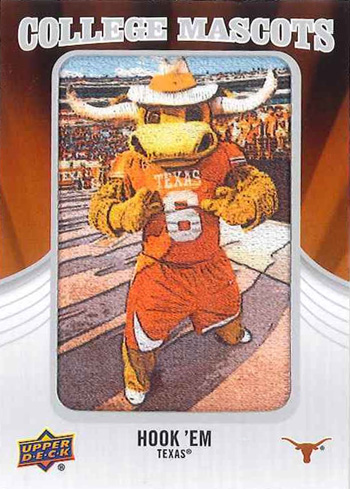 By Andrew Tolentino | Football Editor
Early signs indicate that the short-printed College Mascot patches in 2012 Upper Deck Football are seeing significant love on the secondary market. Yesterday, the manufacturer behind these intricate collegiate threads supported the chase with a detailed rarity report.
From Albert E. Gator to Willie the Wildcat, this list has enough school spirit to last Lee Corso for a lifetime.
| | | |
| --- | --- | --- |
| Name | Card # | Rarity per pack |
| Big Al | CM-1 | 1:99 |
| Tusk | CM-4 | 1:99 |
| Aubie | CM-7 | 1:99 |
| Cosmo | CM-11 | 1:99 |
| Oski | CM-12 | 1:99 |
| Albert E. Gator | CM-17 | 1:99 |
| Hairy Dawg | CM-19 | 1:99 |
| Buzz | CM-20 | 1:99 |
| Herky Hawk | CM-21 | 1:99 |
| Mike the Tiger | CM-24 | 1:99 |
| Sparty | CM-26 | 1:99 |
| Bully | CM-28 | 1:99 |
| Truman the Tiger | CM-29 | 1:99 |
| Herbie Husker | CM-31 | 1:99 |
| The Leprechaun | CM-34 | 1:99 |
| Brutus Buckeye | CM-35 | 1:99 |
| Sooner Schooner | CM-36 | 1:99 |
| Pistol Pete | CM-37 | 1:99 |
| The Duck | CM-38 | 1:99 |
| Roc the Panther | CM-40 | 1:99 |
| The Tiger | CM-41 | 1:99 |
| Purdue Pete | CM-42 | 1:99 |
| Smokey | CM-46 | 1:99 |
| Reveille | CM-47 | 1:99 |
| Hook 'Em | CM-49 | 1:99 |
| Raider Red | CM-50 | 1:99 |
| Joe and Josephine Bruin | CM-51 | 1:99 |
| Trojan warrior | CM-53 | 1:99 |
| CavMan | CM-54 | 1:99 |
| HokieBird | CM-55 | 1:99 |
| Demon Deacon | CM-56 | 1:99 |
| Harry the Husky | CM-57 | 1:99 |
| Big Red | CM-58 | 1:99 |
| Bucky Badger | CM-59 | 1:99 |
| Handsome Dan | CM-60 | 1:99 |
| Sparky | CM-2 | 1:158 |
| Willie the Wildcat | CM-3 | 1:158 |
| Bruiser | CM-8 | 1:158 |
| Buster Bronco | CM-9 | 1:158 |
| Baldwin the Eagle | CM-10 | 1:158 |
| Knightro | CM-13 | 1:158 |
| Ralphie | CM-14 | 1:158 |
| PeeDee | CM-16 | 1:158 |
| The Wildcat | CM-22 | 1:158 |
| Goldy Gopher | CM-27 | 1:158 |
| Monte | CM-30 | 1:158 |
| Rameses | CM-33 | 1:158 |
| Cocky | CM-43 | 1:158 |
| Rocky D. Bull | CM-44 | 1:158 |
| Super Frog | CM-45 | 1:158 |
| Black Jack | CM-5 | 1:1,752 |
| War Eagle | CM-6 | 1:1,752 |
| YoUDee | CM-15 | 1:1,752 |
| Sebastian the Ibis | CM-25 | 1:1,752 |
| Benny Beaver | CM-39 | 1:1,752 |
| Uga | CM-18 | 1:7,595 |
| Mike the Tiger | CM-23 | 1:7,595 |
| Lil' Red | CM-32 | 1:7,595 |
| Bevo | CM-48 | 1:7,595 |
| Traveler | CM-52 | 1:7,595 |