First Look: 2014-15 O-Pee-Chee Platinum Hockey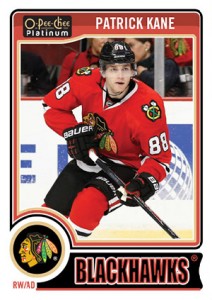 By Stephen Laroche | Beckett Hockey Editor
One of the most popular hockey card releases each season has traditionally come under the O-Pee-Chee banner and Upper Deck is taking the collector favorite to a new level in April with the debut of 2014-15 O-Pee-Chee Platinum.
With every card printed on chromium stock, this product will certainly evoke memories of when Topps owned the brand in years past and issued their Chrome version that was well-received by collectors. The company has also stated that every autograph in the product is signed on-card and the presence of strong rookie and veteran autograph content along with compelling inserts and parallels is bound to help this one become a hit.
What can be found in packs of 2014-15 O-Pee-Chee Platinum Hockey? Find out after the jump.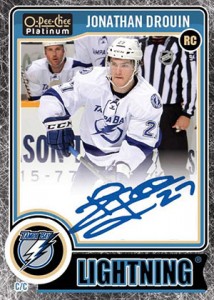 O-Pee-Chee Platinum's base set will, for the most part, be a parallel of the regular 2014-15 O-Pee-Chee Hockey set, but there will be a manageable 200 cards instead of 600. It is expected that the some of the content will be updated to reflect trades and off-season signings and there will be 30 Autographed Rookies featuring top members of this year's freshman class.
Upper Deck has also created eight different parallel versions for each card in the set which will provide a serious challenge to player collectors. The easiest to pull are the Rainbows at six per 20-pack box and a Rainbow Trax card will fall once per box as well. The White Ice cards will be numbered to 199 copies and are available over multiple SKUs, but the remainder are in hobby boxes only and are set to include Red Prisms (#'d to 135), Blue Cubes (#'d to 65), Seismic Gold (#'d to 50), Black Ice (#'d to 25) and Golden Treasures (one-of-ones).
For this release, Upper Deck also decided to give the O-Pee-Chee Retro parallel version of the set a new look as compared to the cards issued in packs a few months ago and that set will only be made up of 100 cards that boasts 30 rookies. Parallels of these cards will come in Rainbow (1:20), Black (#'d to 100), Red (1:160) and Rainbow Auto (1:160) variations.
Fans of die-cut cards will not be left out, either, as there will be cards such as Stanley Cup Champs to chase down. Even more compelling are some of the die-cut autograph cards that are on the way such as Platinum Legends and Platinum Superstars that are sure to be scarce.
Each box of 2014-15 O-Pee-Chee Platinum is expected to contain a hit in each pack on average which includes six Rainbow parallels, one Rainbox Trax parallel, two serial-numbered Rainbow cards (#'d to 135 or less), six O-Pee-Chee Retro cards, one O-Pee-Chee Retro Rainbow parallel, one additional Rainbow parallel, one die-cut chase card and one Rookie Auto.
A 16-box case will give a greater shot at some strong parallel pulls and will yield an average of 12 or more White Ice, 18 or more Red Prisms, nine Blue Cubes, three Seismic Golds and one Black Ice card. There will also be six or more O-Pee-Chee Retro Black Rainbows, two O-Pee-Chee Retro Red Rainbows and two O-Pee-Chee Retro Autographed Rainbows. The 16 autographed cards within the case will include 10 or more Rookies, two or more Rainbow Rookies (#'d to 99), one or more Red Rainbow Rookies (#'d to 50) and one or more additional autographed card numbered to 25 or less.
Stephen Laroche is the editor of Beckett Hockey and Beckett Basketball magazines. Have a comment, question or idea? Send an e-mail to him at SLaroche@beckett.com. Follow him on Twitter @Stephen_Laroche.